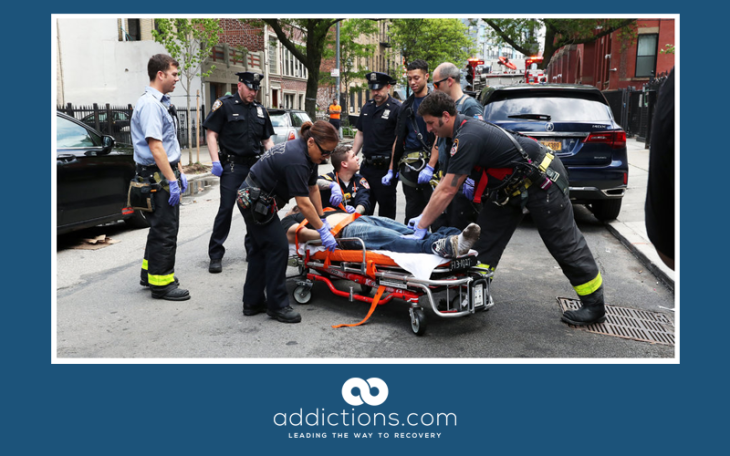 A deadly strain of K2 marijuana has caused over 56 overdoses in New York, says NYPD. Five more people were taken to a Brooklyn hospital after they suffered overdose symptoms on Monday.
The five victims, from Crown Heights, were found near another area where as many as 25 people overdosed using K2, or synthetic marijuana, over the weekend. Police arrested six people in connection with those weekend synthetic marijuana overdoses, which took place in the Bedford-Stuyvesant area.
New York police officers arrested Benjamin Hudgins, 25, Ray Powell, 43, Keon Primus, 30, Angel Iglesias, 27, Kareem Lee-Chianese, 19, and Jorge Rosario, 24 – all six were charged Monday over drugs. Hudgins, Powell, and Primus were charged with selling drugs, while the others were charged with criminal possession of marijuana.
New York's mayor, Bill de Blasio, recently told the police to deemphasize arrests for marijuana possession or public smoking, although in cases where overdoses occur, or people possess large amounts the police will still act. De Blasio sees the full legalization of recreational pot as inevitable in New York City, given the current political and social climate, and he expects New York Gov. Andrew Cuomo to take steps soon to ease restrictions on the drug statewide.
The Bed-Stuy neighborhood, which borders Crown Heights, has suffered several overdoses in recent years. Thirty-three victims went to the hospital in the summer of 2016 after smoking K2 in that area.
The Saturday night mass overdose happened near the Big Boy Deli at the intersection of Broadway and Myrtle Ave., according to local news reports.
Monday's five suspected overdose victims were picked up and transported to the hospital in the middle of the afternoon from 1380 Eastern Parkway in Crown Heights.
City officials, including Terence Monahan of the NYPD, warned people living in the area to watch out for this potentially harmful synthetic pot, or K2. A total of 49 people in five places in Brooklyn have been affected so far, the city said. According to local news reports, three of the locations where overdoses took place are near homeless shelters.
In the Monday night warning, Monahan said all K2 is potentially deadly, but this particular batch is particularly so.
NYPD has arrested a total of 13 people in connection with K2 sales in the last few days. Officers are still investigating leads in hopes of finding the source of this particular toxic batch of K2.
Monahan warned all residents to be particularly watchful and to call emergency services immediately if anyone they know shows symptoms of a possible overdose.