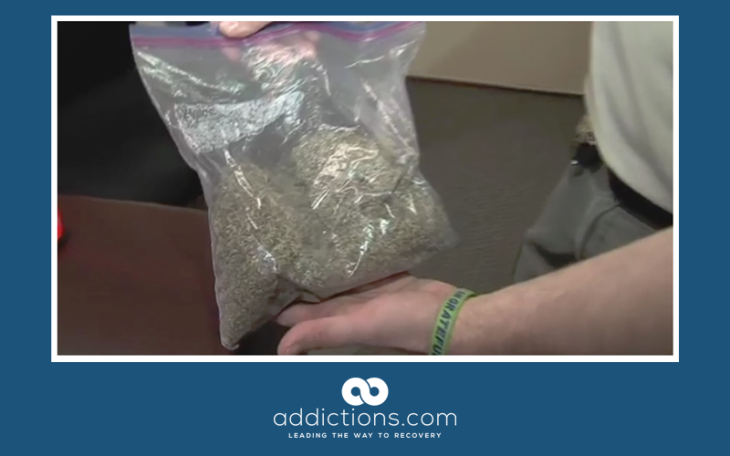 Police have confirmed that emergency services responded to 14 drug overdoses within five hours on Saturday afternoon in the area close to Wheeler Men's Mission, Indianapolis.
As the reported overdoses continued to be reported on Saturday, extra narcotic officers were drafted in to patrol the downtown Indianapolis area, and ambulances were placed on standby to assist the victims.
The Indianapolis Metropolitan Police Department's narcotics division continues to investigate the events on Saturday which, it is believed, were caused by drug users experiencing alarming reactions after inhaling a form of a synthetic drug known as Spice.  Although seven of the 14 victims were hospitalized, police have confirmed that there were no fatalities reported.
The synthetic drug known as Spice is usually a combination of herbs or plant material and mind-altering synthetic chemicals.  Often known as 'synthetic marijuana' because of its appearance, like marijuana, Spice is usually rolled into cigarettes and smoked.  Due to the variations of chemicals used, Spice can be unpredictable and can lead to assorted health problems and, in extreme cases, death.
The overdoses at the weekend began at around one o'clock in the afternoon when an emergency call saw six people treated near the men's shelter.  Calls continued to come in until after five o'clock that afternoon and, the victims ranged in age from between 22 and 47.
Drug issues hit the Wheeler Mission men's shelter previously when a staggering 27 people were treated after overdosing on what was thought to be bath salts.
Narcotics divisions across the country report a worrying increase in synthetic drugs being distributed.  Some States, including Chicago, have reported casualties and, even fatalities caused by these dangerous synthetic drugs. In Chicago earlier this year, two people died after smoking a type of synthetic marijuana and, during a three-day period, over 100 people (mostly in their teens and early twenties) in Lancaster County, Pennsylvania, were treated after overdosing on a tainted batch of synthetic marijuana.
The Centers for Disease Control (CDC) say that the problem is becoming so widespread that they have issued a warning for people to be on the lookout for tainted synthetic marijuana and other drugs which contain human-made chemicals.