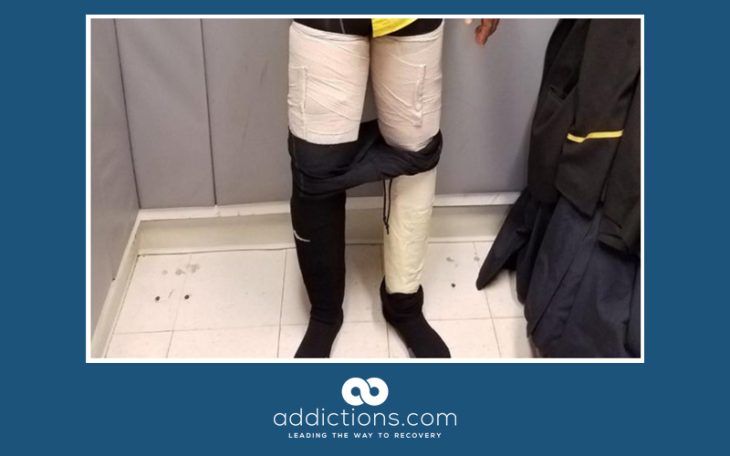 A crewmember on a Fly Jamaica Airways flight into New York's John F. Kennedy International Airport tried to walk through a customs checkpoint March 17 with $160,000 worth of cocaine in his pants.
The drugs, weighing 9 pounds, were in four separate packages taped to Hugh Hall's legs, according to authorities. U.S. Customs and Border Protection officers detected the stash and detained Hall, who was later arrested and charged with attempting to smuggle a controlled substance into the country.
Hall, a resident of Jamaica, was taken into custody by agents of the U.S. Department of Homeland Security.
Customs and Border Protection officials said Hall, who flew in with a crew from Montego Bay, on Jamaica's northwest coast, arriving on St. Patrick's Day, "could not get a leg up on" its officers, who either noted irregularities in his clothing or his behavior. When suspicious officers took him into a private search room, they found the four packages taped to his legs. Testing the white powder inside, they discovered it was cocaine.
Because he faces federal charges of drug smuggling, Hall's prosecution will be handled by the U.S. Attorney's Office in the U.S. Eastern District Court of New York.
Customs and Border Protection authorities released a photograph of Hall's legs on March 21, showing his thighs and left calf swaddled in a white tape that held the packages in place underneath his clothing. Hall appears to have worn a tight black undergarment over the tape to hide the drugs and keep them more securely while he walked through the customs checkpoint.
Leon Hayward is acting director of operations in New York for the U.S. Customs and Border Protection service, which is part of the Department of Homeland Security. Hayward praised the vigilance of CBP officers who spotted Hall and searched him.
Besides intercepting smugglers like Hall, the CBP secures all U.S. borders and ports of entry to keep out terrorists and to enforce immigration laws.