Choosing a rehab center can prove challenging when you or your loved one is coping with addiction at the same time. The effects of drugs and alcohol can interfere with your memory, concentration, and overall health, and make the task of finding a rehab center overwhelming and near to impossible. Finding a rehab can be even more difficult if you or your loved one lacks general knowledge about how rehab works, or about the services and treatments needed to successfully fight addiction.
Addiction treatment has been proven successful at helping individuals overcome physical dependency on drugs and alcohol, along with psychological root causes of addiction. Addiction treatment helps lower the risk for health complications associated with withdrawal symptoms, and can lower one's risk for relapse down the road. Best of all, drug and alcohol rehab centers can help you or your loved one get back to living happier, more fulfilling addiction-free lives.
September is National Recovery Month — a national observance aimed at raising awareness about the benefits of substance abuse treatment for those who struggle with addiction and co-occurring mental health conditions. This annual observance sponsored by the Substance Abuse and Mental Health Services Administration also celebrates the gains and successes of those who have overcome addiction and improved the quality of their lives.
In honor of National Recovery Month, here's how to choose among the best rehab centers armed with all the services and treatments you need to successfully combat addiction.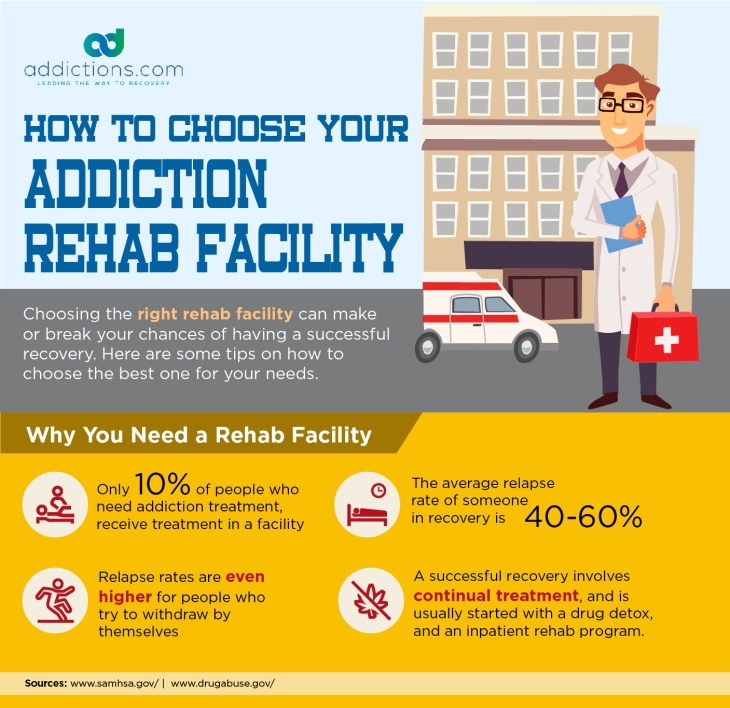 Determine the Right Program Type
Addiction treatment is generally conducted in an inpatient or outpatient setting. The program type you choose can make all the difference in your recovery and ability to stay clean following treatment. Inpatient and outpatient settings are both highly effective at treating addiction, as long as you can determine which program works best for you.
Inpatient Rehab
At inpatient drug rehab, you or your loved one can live at the facility for the duration of treatment. Inpatient rehab gives you 24/7 access to medical care, and offers a safe, controlled environment away from drugs, alcohol, and negative people who influence your addiction. Inpatient rehab also helps patients establish structured daily routines that don't involve alcohol and drug use.
Those who have struggled with addiction for many years, or who have been to rehab in the past can greatly benefit from the customized treatments available at inpatient rehab. Many times, inpatient rehab offers a variety of therapies to introduce patients to new interests while helping them overcome addiction at the same time.
Outpatient Rehab
Outpatient drug rehab allows you or your loved one to live at home and manage important daily responsibilities while also recovering from addiction. Many patients in outpatient programs are prescribed medications that help them detox and overcome chemical dependency gradually over a period of time. Patients may visit the facility daily or several times per week to take their medications, and to participate in individual, group, and family therapy sessions.
Patients who are also managing careers, education, and family lives may benefit most from outpatient rehab, as well as those overcoming short-term addictions to mildly addictive substances. Since patients generally live at home, many outpatient clinics offer family therapy to educate loved ones on addiction and recovery, and to help repair family relationships affected by addiction.
Which Program Type Should You Choose?
Choose the program type you feel most comfortable with, and that you think would be most effective at helping you or your loved one achieve sobriety for life. For instance, if your loved one has been struggling with alcohol abuse for several years or decades, choose an inpatient program that can help them establish a healthier daily routine, and that helps them discover new hobbies and interests to replace drinking. This program type helps your loved one overcome physical dependency on alcohol, and learn how to cope with stressors and common life problems without relying on alcohol.
On the other hand, if your loved one recently started using marijuana to relieve anxiety and is now suffering a decline in work or school performance as a result, choose an outpatient program that offers counseling and therapy aimed at reprogramming negative thoughts and behaviors that lead to marijuana use. Outpatient care will allow your loved one continue attending work or school, while learning the skills needed to relieve anxiety in healthier ways that don't involve marijuana.
Find the Right Services and Therapies
Each rehab center offers its own unique therapies and services for treating addiction. Look for rehab centers that treat addiction as a whole using detox and counseling, since these two therapies address both the physical and psychological components of addiction, and can lower the risk for relapse.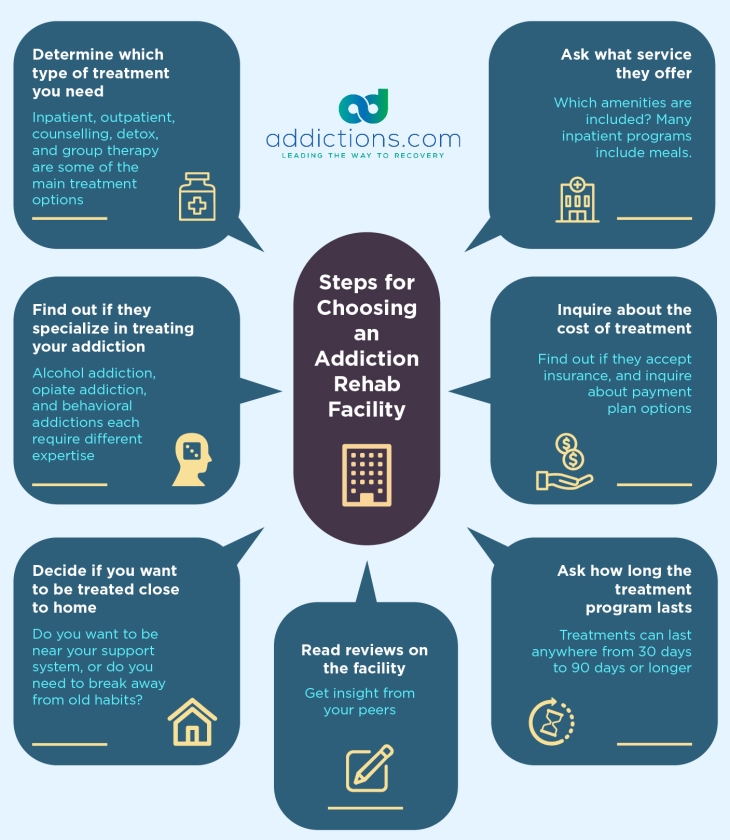 Detox
Detox is often the first stage of addiction treatment, and helps you or your loved one overcome physical dependency on drugs and alcohol. Detox treatment is different for everyone based on their unique addiction type and personal treatment preferences. For instance, detox can be conducted using medications that relieve cravings, nausea, and other unpleasant withdrawal symptoms, or can be conducted rapidly within two to three days to accelerate recovery.
Heroin and opioid addiction is commonly treated using medications such as methadone, buprenorphine, and naltrexone — all of which are effective at relieving opioid withdrawal symptoms so patients can go about their daily lives without suffering severe symptoms. Prescription drug addiction involving benzodiazepines, barbiturates, and sleep aids is commonly treated using a detox tapering method, in which doctors reduce your loved one's dosage gradually over time until they're no longer dependent on the medication.
Ask rehab centers about their available detox methods, and how they can help you or your loved one avoid discomfort associated with drug and alcohol withdrawal.
Counseling and Therapy
Individual and group counseling, cognitive-behavioral therapy, and 12-step support groups like Alcoholics Anonymous are common therapies used in addiction treatment to address psychological causes of addiction. Addiction is defined as a chronic relapsing brain disease, which means detox alone is often not enough to help you or your loved one identify and overcome the root causes of addiction.
Those who suffer from addiction are nearly twice as likely to also suffer from a co-occurring disorder — a mental health disorder like bipolar disorder or obsessive-compulsive disorder that may be driving the addiction. If you or your loved one suffers a co-occurring disorder, look for rehab centers that offer behavioral counseling and similar therapies that teach you how to manage both conditions.
Some rehab centers even offer recreational therapies and other specialized therapies proven effective at treating addiction. Horse therapy, relaxation therapy, and exercise therapy are just some therapies that allow you to have fun and learn new skills while recovering from addiction.
Amenities
Ask rehab centers about any special amenities and accommodations they offer — especially if you or your loved one is seeking inpatient care. Amenities can make all the difference in your comfort level and recovery. Nutrition, exercise, and daily activities are some factors to consider when exploring amenities.
Nutrition is a vital part of recovery, since healthy whole foods like fruits and vegetables are packed with the nutrients your body needs to recover more quickly from drug and alcohol abuse. Look for rehab centers that provide you or your loved one with nutritious, gourmet food options that promote a healthy recovery. Exercise helps repair the mind and body, and can also accelerate your recovery when paired with good nutrition. Look for rehab centers that offer gyms and fitness centers, and that offer yoga, hiking, and similar activities.
Examples of other amenities available at rehab centers are daily housekeeping, private rooms, and dance studios. Choose among rehab centers that offer the amenities you feel confident will enhance your recovery.
Choose the Right Program Length
Choose a program length that fits best with your lifestyle. Addiction treatment programs can be as short as 28 days, or can last 180 days or longer depending on the amount of time you need to fully recover from addiction. The National Institute on Drug Abuse says patients experience more successful outcomes when participating in treatment for at least 90 days.
28 to 30 Days
Programs that last around a month usually give patients enough time to complete detox, and participate in counseling and relapse prevention training. Thirty-day programs are often ideal for those strongly motivated about recovery and achieving sobriety, and for those overcoming a mild addiction.
60 Days
Sixty-day programs are structured similarly to 30-day programs, but last longer so you or your loved one have more time to fully detox and establish new daily routines free of drugs and alcohol.
90 Days
Treatment programs that last 90 days are ideal for those who have relapsed after overcoming addiction in the past, or who are fighting long-term addictions. Ninety-day programs are also ideal for those who feel they need more than 60 days to learn how to go about daily life without turning to drugs and alcohol.
120 Days and Up
Long-term programs that last 120 days, 180 days, or longer are most helpful for those who have relapsed within a short time after completing rehab treatment. Longer programs can help you identify important triggers that lead to continued relapses so you can stay sober indefinitely following treatment.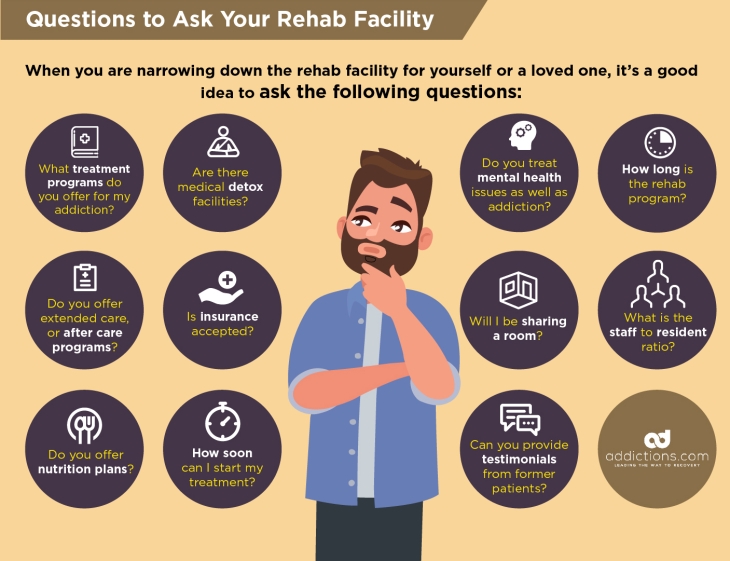 Find Treatment You Can Afford
Many Americans assume they are unable to receive addiction treatment due to financial problems or lack of health insurance. Today, those struggling with addiction now have more options than ever when it comes to paying for drug and alcohol rehab.
First, many rehab centers offer sliding scale payment systems that adjust the cost of treatment based on income — making treatment an affordable option for nearly anyone. Some rehab centers even offer free addiction treatment to qualifying individuals on behalf of federal, state, and private funding.
Health insurance plans from major providers are accepted by most rehab centers, and all facilities featured on Addictions.com. All health plans purchased online through the Healthcare Marketplace cover the cost of drug rehab, while private and state-financed health plans may cover some or all treatment costs.
Most rehab centers are willing to discuss all your financing options so you or your loved one can receive addiction treatment as deserved. Payment installment plans, military insurance, and government-funded health plans from Medicare and Medicaid are other options you can use to pay for addiction treatment. Ask rehab centers about their available payment options, and about other ways they can help make treatment affordable for you.
Consider Your Ideal Location
Would you like to recover near your home so you can stay close to friends and family? Or would you benefit more from recovering at a facility in another city or state away from distractions and negative influences? Choose a rehab center located somewhere that makes you feel safe, comfortable, and positive about your recovery from addiction.
Local rehab centers are ideal for those who wish to stay in touch with supportive friends and family throughout recovery. Local rehabs are also ideal for those balancing work, school, and family, and who are unable to travel far from home for treatment.
Remote rehab centers provide you or your loved one with a fresh start away from negative influences and distractions that could interfere with recovery. Many times, visiting a rehab far from home can help you stay focused on recovery, and offer the refuge you need away from dangerous situations involving violence, drugs, and alcohol.
Read Patient Reviews
Research shows that 88 percent of people trust online reviews as much as personal recommendations and that these individuals involve online reviews as part of the decision-making process when choosing products and services. Patient reviews on rehab centers can offer you all the insight you need to arrive at the best decision for you or your loved one. Patient reviews can reveal whether a facility is kept clean, whether its treatments are effective, and whether the staff is professional in regards to the way they treat patients.
Before choosing a rehab center, search online for patient reviews associated with the rehab center, or visit Addictions.com to read patient reviews about select facilities. Our caring addiction counselors can also help you learn more about certain rehab facilities so you can make the best decision.