Expert Insights

I was horrified to read that opioid-related deaths are now the leading cause of death in Pierce County. In the state of Washington, overdose deaths are growing most among young people, aged just 18 to 24. It looks like the rise in fentanyl is the main reason for the rapid increase in deaths, according to the Tacoma-Pierce County Health Department. But when I look at their website for treatment services, there is just one state walk-in clinic and a telephone number to call for treatment. Frankly, I think there needs to be more than a walk-in clinic and harm reduction supplies. I know harm reduction saves lives, but with the rapidly increasing rate of overdose deaths, I think Tacoma needs more treatment centers, clinics, and resources if we stand a chance at really tackling opioid overdoses.

~ Olivia Pennelle
Top 5 Drug Rehabs in Tacoma
Below are the top five addiction treatment centers in Tacoma based on the following criteria:
Offering evidence-based treatment
Accreditation
Certifications
Client testimonials / reviews
Tacoma Recovery Café
Tacoma Recovery Café is an alcohol and drug recovery community located in Tacoma, Washington. They provide nearly 30 circle groups each week, facilitated by a staff member, peer lead, or trained peer recovery coach. Specialty support groups include grief loss, Bible study, women's support, Veterans support, anger management, and Colored Girls Support Group.

Treatment programs include:

Peer Support

Recovery Groups

Location and contact information:
813 M.L.K. Jr Way
Tacoma, WA 98405
(253) 533-9361
Prosperity Counseling Services
Prosperity Counseling Services, located in Tacoma, Washington, specializes in treatment for men and women struggling with drug abuse, alcohol abuse and mental health issues. They focus on patient-directed individualized care to create abstinence and improved health. Those with low income are encouraged to seek assistance.

Treatment programs include:

Location and contact information:
5001 112th St E
Tacoma, WA 98446
(253) 536-5448
Bayview Recovery
Bayview Recovery offers gender-specific mental health and substance use disorder treatment in Tacoma, Washington. They provide proven outpatient programs with various levels of care that offer a structured path for reintegration back into society. Those struggling with unresolved trauma and dual diagnosis are welcome.

Treatment programs include:

Partial Hospitalization

Intensive Outpatient

Outpatient

Aftercare

Medication Assisted Treatment

Sober Living

Treatment programs are supported by:

Location and contact information:
2156 Pacific Ave
Tacoma, WA 98402
(855) 478-3650
Sea Mar Community Health Center
Sea Mar Tacoma Adult Treatment Center is a leading provider of integrated and multidisciplinary health treatment available for those seeking recovery from alcohol and drug use disorder or mental health conditions in Tacoma, Washington. Evidence-based practices from psychology and the medical field are blended with clinical addiction treatments to treat the mental and physical aspects of addiction.

Treatment programs include:

Inpatient

Outpatient

Affordable Housing

Treatment programs are supported by:

Location and contact information:
1415 Center Street
Tacoma, WA 98409
(253) 280-9860
Serenity Counseling Services
Serenity Counseling Services offers substance abuse disorder treatment and mental health treatment in East Fife, Washington. They provide psychological examinations and treatment, domestic violence services, and DUI assessments, in addition to drug and alcohol rehabilitation.

Treatment programs include:

Intensive Outpatient

Relapse Prevention

DUI Services

Domestic Violence Services

Psychological Assessments

Location and contact information:
5005 Pacific Highway
East Fife, WA 98424
(253) 922-6522
How Does Tacoma Compare in Alcohol and Drug Use?
In 2021, the number of drug overdose deaths in Washington State topped 2,000. Today, that number continues to grow as the state battles rising cases of addiction to drugs ranging from traditional street drugs like heroin and cocaine to prescription medications like oxycodone and fentanyl.1 Fortunately, there are 148 options for alcohol and drug rehab in Tacoma to meet the needs of almost everyone seeking treatment for substance abuse.
The port city of Tacoma, of Pierce County, is experiencing an uptick in the number of people using illegal drugs and misusing prescription ones, especially fentanyl, a powerful synthetic opioid that's often used for lacing street drugs like heroin for greater potency.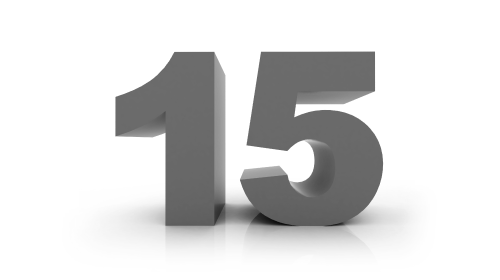 Washington State's national ranking is15th in the nation for drug abuse.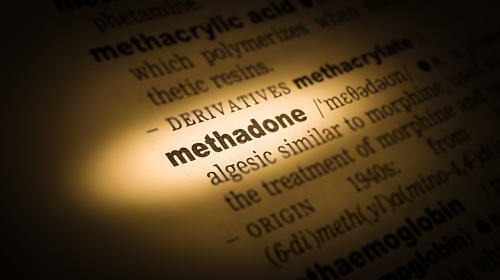 Methadone accounts for more than half the drug seizures in Pierce County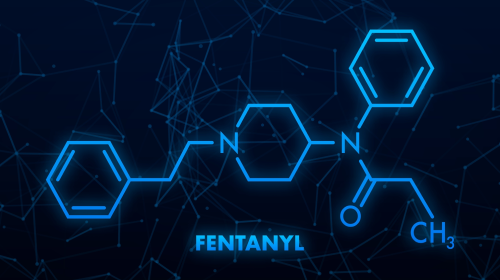 Fentanyl seizures have jumped from just 9% in 2020 to 25% in 2021.2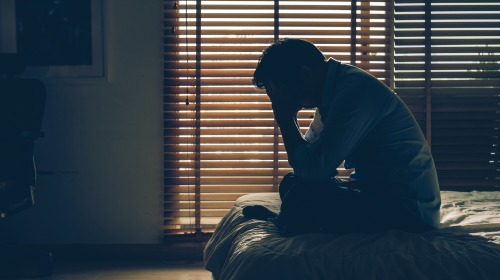 19% of all adults have used an illicit substance in the previous year.3
How Expensive is Drug Rehab in Tacoma?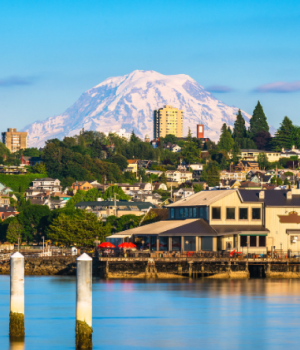 Tacoma drug rehab costs can range from zero in a free, government-funded program to many thousands for a luxury inpatient drug or alcohol rehab with plenty of amenities. Tacoma offers these kinds of rehabs and a variety of others as well. The cost of rehab depends on the type of program you choose and how you plan to pay for it.
Residential or inpatient treatment centers are typically the most expensive since they provide room, board, and around-the-clock support. Outpatient programs generally are considerably less costly than residential programs since clients can stay at home and meet with therapists and counselors regularly. Rehab programs can also vary across the spectrum of their services, such as when a person in an inpatient rehab continues with aftercare through an outpatient program or a sober living arrangement.
The cost of Tacoma alcohol rehabs or drug rehabs can also depend on the kind of payment options available. For example, insurance, payment plans, sliding fee scales, or financial aid can reduce upfront and out-of-pocket costs for rehab or eliminate those costs.
Are There Low-Cost and Free Drug Rehab Centers in Tacoma?
Free and low-cost drug and alcohol rehab programs can put recovery within reach of just about anyone. These rehabs may be funded by state or federal grant money for mental health and social services or run by nonprofit or faith-based organizations using donations, endowments, and other private funding sources.
These low-cost and free drug rehab options can include the full range of treatments, including:
Inpatient and outpatient programs
Detox and withdrawal
Medical management for detox, withdrawal, and recovery
State and federally funded free rehabs offer standard rehab treatment in a no-frill inpatient or outpatient environment. These programs often have a long waiting list, especially for inpatient treatment.
Find free and low-cost treatment services through local mental health and social service agencies or by contacting the Substance Abuse and Mental Health Services Administration, which maintains an updated directory of state agencies offering rehab help. Also, consider contacting rehab programs or nonprofit organizations directly to find out if they have financial aid or other payment options that can keep your costs to a minimum.
To qualify for free or low-cost rehab programs, you'll be asked to show that you don't have the resources to pay for treatment and provide other information that can include proof of citizenship, residence in Tacoma, and a history of your experience with addiction.
Does Insurance Cover Drug and Alcohol Rehab in Tacoma?
Most addiction treatment programs accept private or government-funded insurance plans, which can cover all or most of the rehab costs, minus the fees and copays specified in your plan.4
Substance abuse treatment is now considered an essential benefit that's covered by the group and individual health plans available through the Affordable Care Act's healthcare marketplace. And according to the Mental Health Parity and Addiction Equity Act, insurers must provide coverage for addiction treatment and mental health conditions that is equal to coverage for standard medical treatments and hospitalization.5
Government-funded healthcare programs such as Medicare, Medicaid, and TRICARE for members of the military and their dependents can also cover the costs of rehab services, including:
Inpatient and outpatient treatment
Medications
Counseling and therapy.6
Private rehab programs establish their own policies about the types of insurance and payment plans they accept, so you'll need to check with individual programs to be sure yours is included.
Medicaid
Medicaid is a government-funded healthcare plan for low-income and disabled people of all ages. Under the Affordable Care Act, Medicare is required to cover essential services for substance abuse disorders, including inpatient and outpatient rehab and treatment for detox and withdrawal.
Medicaid is administered by the state, which can determine the qualifications for coverage. In Washington, eligibility for Medicaid coverage depends on your income and other factors, including disability or whether you have family members with certain medical conditions. Medicaid covers the full range of addiction treatments, including medications and therapy. But private rehabs may not accept Medicare as a payment option.
Medicare
Like Medicaid, Medicare is a government-sponsored healthcare plan for people over 65 or who have a disability or certain health conditions. Medicare is not entirely free, as most recipients pay a monthly premium based on their income. Medicare generally pays only 80% of covered services, with the remaining 20% covered out of pocket or through supplemental insurance plans.
Medicaid covers standard drug and alcohol treatment like any other medical treatment. Medicare Part A covers hospitalization and includes inpatient and hospital treatment for addictions, plus medications used in a hospital setting for detox and withdrawal. Medicare Part B, for outpatient medical services, covers rehab in outpatient settings such as clinics or counseling centers. Medicare Part D covers prescription drug benefits, including medications for treating substance abuse, such as methadone, Suboxone, or Antabuse.
Because Medicare doesn't cover all costs, many private insurers offer "Medigap" plans. These plans may cover some rehab services not covered by standard Medicare, such as holistic treatments or specialized programs. But since each private rehab sets its own policies, you'll need to contact programs directly to determine if they accept Medicare.
Popular Alcohol and Drug Rehab Centers in Tacoma
Tacoma has inpatient and outpatient drug and alcohol rehab centers to meet a variety of needs and circumstances. Popular rehabs support all stages of recovery with counseling, therapy, and aftercare for adults, young adults, and special groups such as:
Members of the LGBTQ community
Indigenous Americans affiliated with local tribes
People of specific faith traditions
Inpatient vs. Outpatient Drug Rehab in Tacoma
Both inpatient and outpatient programs provide support for recovery from addiction, and some programs even include features of both, such as partial hospitalization programs or sober living homes. Generally, though, inpatient or residential rehab is an immersive rehab experience in which clients live on the premises during treatment, which can last a month or longer. Inpatient rehab can also occur in a hospital setting for detox and withdrawal support or when other medical issues must be addressed. Inpatient rehabs can range from free or low-cost government-funded programs to private facilities designed for executives and celebrities.
Some inpatient rehabs also offer aftercare options such as continuing outpatient support or helping transition to a sober living environment or halfway house. In all settings, inpatient rehab offers a complete break from daily life and routine, which can help clients to focus on treatment without the distractions and temptations they encounter every day.
Outpatient rehabs provide ongoing addiction treatment while allowing the patient to still live at home. In these programs, you'll have regular sessions with counselors and therapists while also keeping up with the obligations of daily life. Outpatient rehab can also include medications, peer groups, and other activities to support recovery. One type of outpatient rehab, called intensive outpatient rehab, or partial hospitalization, features intensive rehab for several hours a day while staying at home.
Pros of Inpatient Addiction Treatment
Inpatient addiction treatment can help you focus completely on your recovery with the support of a dedicated rehab team that's always available. Without the distractions of everyday life, you can gain perspective and learn new behaviors that support recovery. Inpatient rehabs often offer a variety of ways to support the whole body during recovery, such as diet and nutrition advice, exercise programs, and mind-body practices like yoga.
Pros of Outpatient Addiction Treatment
Outpatient rehab programs allow you to stay at home and keep up with daily routines during addiction treatment. Although intensive outpatient treatment programs take up several hours or an entire day, most outpatient rehabs involve regular meetings with a therapist or counselor and some group activities. This kind of program requires considerably less time and can be scheduled around other commitments. Outpatient rehab can even be done remotely with new telemedicine technologies.
Outpatient rehabs are typically less expensive than inpatient treatment, which puts this kind of rehab within reach of more people who need treatment. Outpatient treatment can also be flexible, capable of accommodating changes in schedule and individual circumstances more easily than an inpatient program.
Types of Drug and Alcohol Rehabs in Tacoma
Inpatient and outpatient drug and alcohol rehabs all share a common goal: to help you recover from substance abuse. However, rehab can be more effective when programs are designed to meet specific needs and circumstances, and Tacoma has a variety of specialized rehabs as well as general addiction treatment programs.
Holistic Rehab
Holistic rehabs aim to treat the whole person for a healthier body and mind, not just recovery from addiction. These rehabs combine all the features of standard addiction treatment with a variety of alternative and complementary mind/body practices, including meditation, yoga, and healthier eating. Holistic rehabs are typically luxury inpatient centers that address the many factors that contribute to substance abuse disorders with approaches that lead to better overall health.
Faith-Based and Christian Rehab
Rehab can be more comfortable and effective when it aligns with your religious beliefs or spiritual orientation. Faith-based rehabs provide standard addiction treatment that is also grounded in a specific faith tradition, and this can provide additional support for recovery. For example, Christian rehabs may be run by churches or Christian nonprofit organizations, and they may provide financial help or scholarships for people who share the same faith.
Luxury Rehab
Luxury Rehab
Luxury rehabs provide standard addiction treatment in an upscale inpatient environment that can include amenities like gyms, pools, and yoga studios. These rehabs are among the most expensive residential treatment options. They might also include holistic approaches such as meditation, nutrition, and exercise and around-the-clock access to a team of counselors, therapists, and other addiction specialists.
Executive Rehab
Executive rehabs are luxury inpatient treatment centers designed to meet the needs of CEOs, top-level professionals, and other high-profile figures. With personalized treatment plans and greater flexibility than typical residential treatment facilities, executive rehabs allow these professionals and public figures to work toward recovery discreetly while keeping up with obligations such as meetings, appearances, and business trips.
Dual Diagnosis Rehab
Mental health conditions and addiction frequently occur together. Dual diagnosis rehabs are designed to address the unique issues that arise from having both a substance abuse disorder and a mental health condition such as depression or bipolar disorder. Dual diagnosis rehabs can include inpatient and outpatient programs, with treatment managed by counselors and therapists with expertise in mental health.
What is Medication-Assisted Treatment (MAT)?
Addiction treatment includes a variety of approaches designed to meet different needs and circumstances. Along with counseling and therapy, medications can support recovery by reducing cravings and withdrawal symptoms, and eliminating the pleasure and reward response that's associated with addiction.
Medication-Assisted Treatment (MAT) combines counseling and therapy with prescription medications to help you avoid relapsing while you work toward recovery. MAT can be used in both inpatient and outpatient settings under the supervision of a qualified healthcare professional.
FDA-approved medications used in MAT programs include methadone, Suboxone, Disulfiram(Antabuse), Naltrexone, and Acamprosate.
Getting Methadone at a Methadone Clinic: Methadone is frequently used to support recovery from addiction to opioid drugs, including heroin, morphine, and prescription pain medications such as oxycodone and hydrocodone.7 Methadone is a synthetic opioid that acts on opioid receptors in the brain like other opioid drugs, but it doesn't cause the same euphoric feelings. That way, methadone can prevent the severe withdrawal symptoms and cravings you might experience when you stop taking street or prescription opioids.
Because methadone is itself an opioid, it is also highly addictive, and its use is strictly regulated. This drug can only be prescribed and administered by healthcare professionals and faculties that are certified by the federal Substance Abuse and Mental Health Services Administration. Methadone is usually dispensed through a certified clinic or addiction treatment center, so if you have a methadone prescription, you must visit the facility every day to get your dose. In some cases, people who have been consistently compliant with a methadone regimen for a long time are allowed to take their methadone at home.
Finding Suboxone Doctors: Like methadone, Suboxone can also treat addiction to opioid drugs.8 This medication is a combination of two drugs, buprenorphine, and Naloxone, which work together to negate the pleasurable effects of opioid drugs like heroin and prescription painkillers. Suboxone is an opioid agonist, a drug that prevents opioids from activating receptors in the brain that cause their pleasurable, addictive effects. But Suboxone is less addictive than methadone and has fewer side effects.
Suboxone can be taken at home in the form of tablets or sublingual films. But it must be prescribed and supervised by a practitioner who is certified by SAMHSA. Suboxone can have serious side effects, and suddenly stopping it can cause withdrawal symptoms. To find a doctor qualified to prescribe Suboxone, contact an addiction treatment center or a referral hotline.
Naltrexone for Alcohol and Opioid Addiction: Naltrexone can be used to treat both alcohol and opioid addictions.9 It works by blocking opioid receptors in the brain, which suppresses cravings for these drugs. It's available in both a pill form for treating alcohol use disorder and as a monthly injectable for treating both alcohol and opioid addiction. Naltrexone is not an opioid or opioid analog. It's non-addictive and can be prescribed by any physician.
Naltrexone can have serious side effects and can only be taken when all opioids or alcohol are cleared from the body. This drug is used as part of a comprehensive treatment program under ongoing supervision by the prescribing physician.
Antabuse (Disulfiram) for Alcohol Addiction: Antabuse (Disulfiram) is a medication frequently used to treat alcohol addiction through negative reinforcement.10 Antabuse works by blocking the action of an enzyme needed to process alcohol, which causes a long list of unpleasant effects if you use alcohol while taking it. In as little as 10 minutes after drinking, Antabuse triggers symptoms such as nausea, headache, blurred vision, and chest pains. These effects last about an hour.
Antabuse is usually taken in tablet form once a day under the supervision of a prescribing physician. The discomforts it causes can help to prevent relapses while working toward recovery from alcohol addiction. While taking Antabuse, you must avoid contact with any product that contains alcohol, even foods, cosmetics, and cleaning products. Even inhaling alcohol fumes can cause the drug's unpleasant effects.
Acamprosate for Alcohol Use Disorder: Acamprosate, or Campral, can help people recover from alcohol use disorder by rebalancing pathways in the brain that have been altered by alcohol.11 Acamprosate works by restoring balance in the brain's uptake of glutamate and GABA, two chemicals that trigger responses in the brain's pleasure and reward circuits. In that way, this drug can dampen the positive feelings connected with alcohol use and reduce cravings.
Acamprosate can cause serious side effects, including an increased risk of severe depression and a desire for self-harm, including suicide. It's usually taken in pill form three times daily under the continued supervision of a qualified healthcare practitioner.
Should I Travel to Tacoma for Alcohol and Drug Treatment?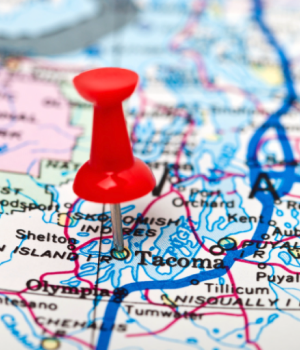 Tacoma is a large and thriving city close to Seattle. The Seattle-Tacoma metro area has a wide variety of drug and alcohol rehabs, including programs for those with specific needs. If you're living in an area with limited resources for addiction treatment or looking for a comprehensive program designed for your circumstances or interests, you may want to consider relocating to Tacoma for your treatment. If you do not wish to travel to Tacoma, Addictions.com features a state-by-state guide, so you can search for terms such as "alcohol rehab(s) near me" or "drug rehab(s) near me" and use this guide to find the best fit for you.
Neighborhoods in Tacoma to Consider for Treatment
Tacoma's neighborhoods range from cozy residential areas with vintage homes to vibrant dining, shopping, and entertainment centers.12
Historic and centrally located, Three Bridges is one of the city's oldest neighborhoods. Three Bridges is home to a scattering of locally-owned restaurants and shops with easy access to downtown. North Tacoma contains several smaller neighborhoods, including Old Town and Ruston. Close to the waterfront with amenities including the city zoo and aquarium, North Tacoma is pedestrian-friendly and scenic. McKinley Hill is a historic neighborhood with plenty of parks and a vibrant business district. This small neighborhood has a variety of local shops and easy access to other parts of the city.
Drug and Alcohol Laws in Tacoma
In general, Tacoma's drug and alcohol laws follow the relatively liberal laws of Washington State, which has legalized both recreational and medical cannabis for anyone over 21.13. In 2021, new legislation changed simple possession of an illegal substance from a felony to a misdemeanor, although penalties still include fines and/or jail time. Alcohol is legal for anyone over 21 to purchase, but DUI convictions can result in fines, jail time, or loss of license.
Washington State considers drug and alcohol misuse as a disability, and new policies are aimed at treating these issues as a behavioral health concern. The state's health department now urges everyone to carry at least two doses of Naloxone, an opioid antagonist, to help prevent overdose deaths. Anyone can download a prescription for Naloxone that can be filled at any pharmacy in the state.
Tacoma's drug and alcohol rehabs have the resources you need to work toward recovery, and there's a program for just about everyone. If you need help finding the proper addiction treatment, we're here to help. Call our helpline 800-405-1685 (
Who Answers?) to speak with a rehab specialist today.