Drug and Alcohol Abuse Stats in High Point, NC
Some facts about drug and alcohol use in High Point, NC, and Guilford County include:1,4,5
How to Finance Alcohol and Drug Rehab in High Point, NC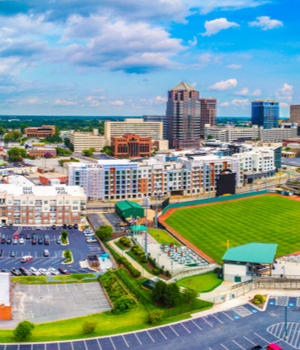 Low-Cost Rehab in High Point, NC
Cost can be a factor when choosing a rehab, but it doesn't have to be a barrier to care. You can manage the cost of rehab by finding a program that helps you find a way to pay for your recovery.
Government-funded rehabs: Some rehabs get state, local, or federal funding that allows them to offer low-cost or free care to those who can't otherwise afford it. This may include inpatient and outpatient programs. Some methadone clinics receive government funding to provide free or low-cost methadone for opioid addiction.
Grant-funded rehabs: Organizations like SAMHSA or other grant-making organizations award funding to some rehabs. The facilities use the funding to reduce the costs for participants who need care.
Rehab scholarships: Some rehab facilities provide scholarships that cover a portion or all of your costs., Third-party organizations like 10,000 Beds also offer scholarships to individuals who need help paying for addiction treatment.
Government-Run Rehab in High Point, NC
North Carolina operates a number of rehab centers that treat residents in need of care.3 The centers serve specific regions within the state. The center that serves Guilder County is the R.J. Blackley Alcohol and Drug Abuse Treatment Center in Butner, NC. You do not need a doctor's referral to go to a state rehab. Admission decisions are based on evaluation by the staff and the availability of space in the facility. The state-operated rehabs don't turn anyone away due to an inability to pay.6
In High Point, you can receive assistance with addiction at Kaitlyn's House, a facility run by the Guilford County Solution to the Opioid Problem. Kaitlyn's House offers drop-in services such as needle exchanges and overdose treatment for people with substance use disorder.
Insurance Coverage for Rehab in High Point, NC
If you have insurance, it will cover some portion of the cost of substance use disorder treatment. All types of insurance plans, including Medicare, Medicaid, employer-sponsored plans, individual plans, and military insurance can help you pay for rehab. Private insurance plans typically work with a network of rehabs, and your share of the costs will be lower if you go to an in-network program. Some rehabs do not accept certain insurance plans, including Medicaid or Medicare. Talk to the rehab you are considering to confirm that it takes your insurance.
If you are over 65 or if you have a qualifying medical condition or disability, you may be eligible for Medicare. Medicare insurance is offered by the federal government to eligible individuals. It provides comprehensive coverage for substance abuse treatment, including:7
Opioid addiction treatment
Inpatient and outpatient treatment
Addiction screening
Partial hospitalization
Telehealth
Medication-assisted treatment
Group and individual therapy
North Carolina's Medicaid program is open to eligible individuals with disabilities, people in need of long-term care, infants and children under 21, people who are pregnant, and low-income people and their families. Medicaid will cover rehab services, though not all facilities accept Medicaid.8 Several High Point, NC rehab take Medicaid, including Caring Services, Agape Homes, and the Slane Center.
High Point Local Information: Getting There and Getting Around
High Point, NC, is located southwest of Greensboro and southwest of Winston-Salem.
Transportation: You can drive to High Point via Interstates 85 or 74. The closest airport is Piedmont Triad International Airport in Greensboro. There is also an Amtrak station in High Point. There is a public bus system in High Point, which allows you to get around without a car. The city is largely accessible by car, with parking available near many destinations.
Attractions: High Point is known as the Furniture Capital of the World, thanks to the thriving furniture-making industry in the area. That status is commemorated with the World Largest Chest of Drawers, located in the center of town. It is also home to High Point University. There is a wide variety of hotels and restaurants to accommodate and engage visitors who come to visit loved ones in a High Point, NC drug rehab.
Resources