Substance Abuse Statistics in Carson City, NV
Substance abuse reports compiled by the University of Nevada, the CDC, and the State of Nevada highlight the following alcohol- and drug-use statistics for Carson City:1,3,4,5
46%
Carson City's opioid-involved death rate is 46% higher than Nevada's overall rate. The city's 89701 zip code's opioid-involved death rate is nearly 155% higher than the state's.
19%
Nearly 19% of Carson City adult residents engage in binge drinking behavior regularly.
Levels of Substance Abuse Care
Because treatment needs vary, several levels of addiction treatment options are available. Nevada residents may receive each of the levels of care listed below, or they may enter this continuum at one of the less intensive levels.
Alcohol and Drug Detoxification
Performed under medical supervision in a hospital, residential, or outpatient setting, detox is the process of safely and comfortably removing drugs or alcohol from your system. Once withdrawal symptoms have been comfortably managed, you can transition into formal treatment services.
Inpatient Drug and Alcohol Rehab
Residential or inpatient treatment is the most intensive level of care. It involves living at a rehab facility and receiving 24/7 supervised care. Treatment interventions usually include individual and group therapy, nutritional counseling, experiential therapies, and medication.
Partial hospitalization programs (PHPs)
While in a PHP, you receive treatment similar to an inpatient program, but you live at home during non-treatment times. This level of treatment often serves as a step between inpatient and outpatient care.
Intensive Outpatient Programs (IOPs)
IOPs allow you to attend counseling several times each week while living at home, so you can spend the rest of your time fulfilling work, school, or other obligations.
Standard Outpatient
Standard outpatient care involves one to two hours of treatment per week. This option has the least oversight and supervision. Nevada residents with a strong support system tend to find this level beneficial.
Relapse Prevention
Also referred to as aftercare, relapse prevention begins when a rehab program is complete. Aftercare includes ongoing support through programs such as 12-step groups, non-12-step groups, ongoing therapy, and sober living homes.
How to Pay for Substance Addiction Treatment in Carson City, Nevada
Private Insurance
Under the Mental Health Parity and Addiction Equity Act, all healthcare providers in Nevada must offer plans that include coverage for substance abuse treatment. If you have private insurance, you have at least some level of coverage for rehab costs.
Nevada Medicaid
Nevada Medicaid is government-funded health insurance that provides coverage for Nevada residents who can't afford it. The program is available to qualifying low-income individuals and families in Nevada.
Nevada Medicare
Nevada Medicare is a federal program that provides health coverage to Nevada residents who are aged 65 or older or who have certain disabilities. This coverage can be used for the cost of addiction treatment services. However, not all rehabs accept Medicare insurance as a method of payment.
Sliding Scale Rehabs
Sliding scale rehabs charge Nevada residents only what they can reasonably afford, based on income. To receive this discount, participants must usually provide proof of income.
TRICARE in Nevada
Nevada TRICARE (West region) is a health care program provided by the U.S. Department of Defense Military Health System. It offers health benefits, including coverage for rehab services, to U.S. Armed Forces military personnel, military retirees, and their dependents.
IHS-Funded Drug Rehabs
IHS (Indian Health Service) drug rehabs provide free addiction treatment to Indigenous people in the U.S. as well as Alaskan Natives.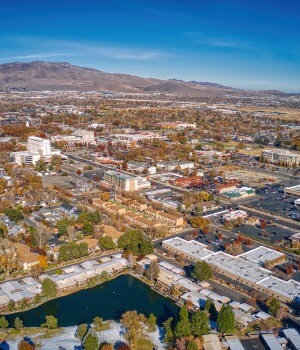 Traveling to and Within Carson City, NV
If you're traveling to Carson City for treatment or to visit a loved one who's working through recovery, here's what you should know to plan your trip:6, 7, 8
You can fly into Carson City Airport, which sits just three miles northeast of the city's downtown. If you'd prefer a larger airport, Reno-Tahoe International Airport is a 30-minute drive north of town.
Interstate 580 and U.S. Routes 50 and 395 pass directly through Carson City.
Carson City has dozens of 2- and 3-star national-chain hotels and motels, as well as several non-branded lodging establishments and short-term rental options.
Carson City is somewhat walkable and bikeable, but you'll likely need a car to get around the area efficiently.
Carson City's public transportation system, Jump Around Carson, operates four fixed bus routes that travel throughout the city. Buses run Monday through Friday from 6:30 a.m. to 7:30 p.m. and on Saturdays from 8:30 a.m. to 4:30 p.m.
If you're looking to enjoy yourself outdoors, you'll have plenty of options for doing so. Lake Tahoe borders the city, and Genoa Peak, Mount Siegel, and Lyon Peak are just a short drive away. The city is also home to a couple of dozen public parks and several trails for walking and biking.
Popular local attractions include the Nevada State Museum, the Nevada State Railroad Museum, the Nevada State Capitol Building, Kings Canyon Waterfalls, the Brewery Arts Center, and the Jack C. David Observatory.
Are you having trouble finding the right drug or alcohol rehab in Carson City for yourself or someone you love? If so, we're standing by to help. Please call our 24/7, free helpline at 800-405-1685 (
Who Answers?) to chat with a specialist who can help you assess your local addiction treatment options.
Nevada Alcohol and Drug Laws
Nevada laws include the following policies related to substance misuse and overdoses:1,2,3,4
Good Samaritan Law: his law prevents legal action against Nevada residents who administer naloxone or call 911 to help someone who may be overdosing on opioids. It also gives immunity to Nevada residents who seek medical treatment for an overdose for themselves or someone else. The law also allows pharmacists to dispense naloxone to people without a prescription.
Controlled Substance Abuse Prevention Act: This law requires physicians to prescribe responsibly by ensuring the benefits outweigh the risks, to prevent potential substance misuse that starts with unnecessarily prescribed opioids.
Drinking in Public: This Nevada law is designed to lessen sentences for those found guilty of breaking laws related to controlled substances. The goal is to reduce Nevada's prison population by keeping low-level dealers and those with substance use disorders out of jail.
Involuntary Commitment: Nevada marijuana law permits adults 21 years of age and older to possess up to one ounce of marijuana. However, possession and consumption of recreational marijuana must take place at private residences or licensed social-use venues.