Substance Abuse and Overdose Statistics from Port Orange, FL
Volusia County statistics from the past decade demonstrate the need for continued attention to the treatment and prevention efforts concerning substance use. Some statistics from the 2022 Community Heath Assessment by Flagler and Volusia County include:1

252.4%
From 2013 to 2019, Volusia County saw a 252.4% increase in deaths involving fentanyl.
24.6%
Deaths involving methamphetamine increased by 24.6% from 2013 to 2019 in Volusia County.
86,000
Nearly 86,000 people received prescriptions for opioids in Volusia County during 2021.
Despite the persistent problem of drug and alcohol use, Port Orange continues to hold one of the lowest crime rates in the State of Florida.2 In addition, accidents involving DUIs actually went down by 8.33% from 2019-2020 in Port Orange.3 Port Orange continues to work on making itself a safer place for people to live and heal.
Local Information for Visiting Port Orange, FL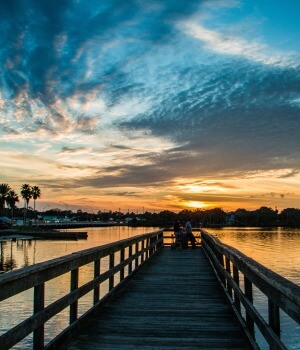 Sitting just South of Daytona Beach, arriving by airplane in Port Orange is a simple endeavor. It is nestled just away from the Atlantic, with the Halifax River running between Port Orange and Daytona Beach Shores, Florida's Atlantic bordering city. As such, the river allows residents to enjoy a calm waterfront with fresh sea air. Having developed the waterfront in The River District, there are many community areas to enjoy along the shore in addition to boating or fishing on the River.
Traveling to Port Orange, FL to find treatment for substance use may be your next step toward recovery. Whether you are looking for yourself or visiting a loved one in rehab, there are helpful facts to help you plan your travel:
The closest airport is Daytona Beach International Airport (DAB), less than 8 miles away.
Port Orange is accessed through two main highways: US-1 and Interstate 95. Traffic can be heavy during commuting hours, so it may help to arrange your schedule to avoid driving to and from the city from 6:00 a.m. to 8:00 a.m. Road congestion is worse during tourist season in the summer.
If you're renting a car, there are several free parking lots associated with businesses around the dining, shopping, and beach locations in Port Orange. Local residents are also allowed to drive and park on the beach with a $20 annual fee.
Public transit is also available by the Votran Bus throughout Volusia County, with taxis and rideshare options. Taxi prices vary based on the day of the week, time of day, location, and length of the trip.
There are three main hotels in Port Orange, Country Inn & Suites, La Quinta Inn & Suites, and Scoot Inn Motel. However, there are hundreds of options for home or room rentals through private rental websites such as VRBO.
If you enjoy camping, you can take advantage of RV parks and campgrounds located in the city and surrounding areas.
Because the weather is pleasant through the majority of the year, biking is also an option to get around and see some of the city closer up.
Resources
Florida Health. (2022). Community health assessment 2022: Flagler & Volusia Counties region.
The City of Port Orange Police Department. (n.d.). Police Department.
Port Orange Police Department. (2021). 2020 Annual Report.