Alcohol and Drug Use Statistics in Deltona, FL
The following statistics reveal trends in drug use in Deltona and its surrounding Volusia County:1,2,3

300
In 2021, overdose deaths jumped to 300.
129
During the first five months of 2022, there were 129 overdose deaths.
620
Volusia County law enforcement and rescue workers used naloxone to reverse 620 overdoses in 2017.
733
In 2018, first responders administered 733 doses of Narcan.
Does Insurance Cover Alcohol and Drug Rehab in Deltona, FL?
Government-funded insurance plans and most private insurance plans provide coverage for rehab-related services. Government plans include Medicaid, Medicare, and TRICARE (the insurer for military members and their dependents).
These plans cover a full range of rehab services, including residential treatment, hospitalizations, and outpatient programs. They also cover therapy and medications related to rehab, just as they do for medical services.
Medicaid for Drug and Alcohol Rehab
This national health plan is funded by the government and is available for low-income and disabled people of all ages. You can qualify for Medicaid if you are:
A resident of the state, U.S. national, U.S. citizen, permanent resident, or legal alien
Low-income and without other options for health insurance
Pregnant, blind, disabled, or in a household with someone with a disability
Caring for a child under 18
65 or older
Medicare for Drug and Alcohol Rehab
As of 2020, Medicare covered most costs related to drug and alcohol rehab. This nationwide insurance plan is government-funded, and is available for people 65 and older and those with certain health conditions. If you qualify, here is how you can use the benefits:
You'll pay a monthly premium that's based on income.
Medicare pays 80% of covered services, and you pay for the rest out of pocket or through a supplemental insurance plan.
You can obtain a Medigap plan through private insurance carriers, to cover costs not paid by Medicaid, which may include specialized programs or telemedicine.
Private Insurance for Drug and Alcohol Rehab
If you'll be using private insurance to pay for drug and alcohol rehab in Deltona, FL, keep the following in mind:
The Affordable Care Act (ACA) requires that all group and individual insurance plans offered in the annual ACA marketplace must treat addiction treatment as an essential benefit.
The Mental Health Parity and Addiction Equity Act (MHPAEA) requires health insurers to provide equivalent benefits for both medical and addiction-related treatments, including medications, hospitalizations, and rehab.
Some employer-funded and individual insurance plans may have limitations on rehab coverage if they aren't offered through the ACA marketplace.
Private rehabs set their own policies on the payment method they will accept, so always verify whether costs are covered by your specific plan.
Traveling to and Within Deltona, FL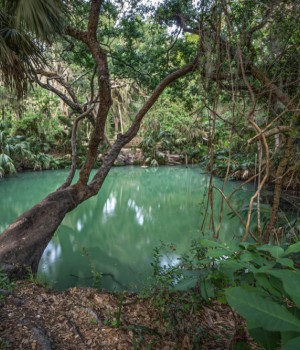 Deltona is perfectly placed between Daytona Beach and Orlando. Situated 30 miles from each of these major cities, this location has made Deltona a commuter town for its nearby communities. While not a booming town itself, Deltona continues to grow in population each year by 1-2%.
Located inland and primarily residential, the city still offers a few unique attractions of its own. Deltona is near Lake Monroe, one of the largest bodies of water along the St. Johns River. And, of course, it's in Florida, so nearby golfing options abound.
If you'll be traveling for drug and alcohol rehab in Deltona, FL or to visit someone who is receiving substance abuse treatment, here are a few tips to guide your travel plans.
The closest airport is Orlando Sanford (9 miles), but other options include Daytona Beach (23 miles) and Orlando MCO (33 miles).
Votran, the Volusia County Public Transit System, offers bus routes throughout the county. Single rides are $1.75 per trip, or $3.75 for a 24-hour pass.
Amtrak trains service Deltona, and their train routes go to three Deltona train stations.
Deltona's crime rate is much lower than average, ranking in the top 15% of U.S. cities for safety.
Locals consider the north part of the city to be the safest.
Popular daytrips from Deltona include Orlando, St. Augustine, and Daytona Beach.
Deltona features over 100 lakes, offering plenty of outdoor and water activities.