Alcohol and Drug Use Statistics in Yuba City, CA
Data collected by the CDC and the California Department of Public Health highlights the following alcohol- and drug-use statistics in Yuba City and Sutter County as a whole:1,3
127%
From 2016 to 2019, alcohol-induced deaths increased by 127% in Sutter County.
578%
From 2019 to 2021, Sutter County recorded a 578% increase in opioid-related deaths.
Traveling to and Within Yuba City, CA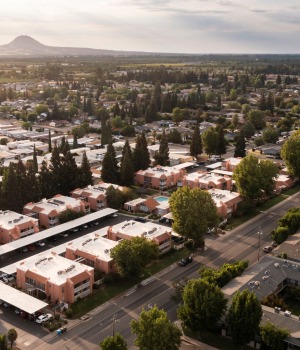 Whether you're traveling to Yuba City for rehab or visiting someone who's working through a recovery program in the city, these tips can help you plan your visit:4,5,6
Sacramento International Airport is the closest commercial airport to Yuba City. It's roughly 35 minutes away by car. The much smaller Chico Municipal Airport is about 50 miles north of the city, too.
State Route 99 passes through Yuba City and leads northward to Interstate 5 and southward to Sacramento.
State Route 20 also passes through the city and leads westward to the coast and eastward to Interstate 80.
Yuba City has several two- and three-star national-chain hotels and motels with rooms available in a range of price points. Nearby Marysville also has a few lodging options.
Public transportation is available through Yuba-Sutter Transit, which operates several local routes and routes that travel south to Sacramento.
Taxi services, Lyft, and Uber are all available in Yuba City.
If you're looking for entertainment, The Acting Company and Sutter Theatre Center for the Arts both offer live shows. The Theater Gallery Art Gallery is also worth a visit.
Feather River borders the east side of Yuba City and the Sutter Butte Mountain Range is just a few miles west. Both locations offer plenty of opportunities for outdoor fun.
Toyota Amphitheatre is 15 minutes south of Yuba City by car and regularly hosts touring musical artists.
Finding the right drug or alcohol rehab in Yuba City can feel overwhelming. If you'd like assistance narrowing down your options, we're standing by to help. Please call our 24/7 helpline at 800-926-9037 (
Who Answers?) to connect with a specialist who can help you find high-quality treatment programs for yourself or a loved one.
Resources