Substance Abuse Stats in Daly City, CA
Daly City, in San Mateo County, has seen several hospitalizations, rehab admissions, and overdose deaths from the misuse of drugs and alcohol:4,5,6

146,499
146,499 people went to rehab in California in 2019
115%
The rate of opiate prescriptions has dropped 115% since 2008 in San Mateo County to its current rate of 212.03 per 1,000 residents
10.76%
There were 10.76 opiate-related overdoses for residents of Daly City (zip codes 94014 and 94015) in 2021
Financing Alcohol and Drug Rehab in Daly City, CA
If you need help paying for rehab, you can try asking around for a loan from friends and family or put up a crowdfunding page online. Some rehabs offer payment plans and other ways to finance addiction treatment if you're a self-pay patient. You can look for rehab with a scholarship program that could help cover your care costs. These programs are reserved for people with the greatest need, who have a severe dependency and no way to pay for treatment.
Some local charities that could point you in the direction of available drug rehab scholarships include:
The Salvation Army
Daly City Partnership
The Latino Commission
StarVista
Using Private Health Insurance to Pay for Drug Rehab
If your employer offers health insurance, you can use it to pay for drug and alcohol rehab in Daly City. Your insurance would cover outpatient services including therapy, group and family counseling, medication, and assessments. Recovery centers such as Potentials Unlimited may be able to bill your private health insurance to cover your care costs in rehab. Call the rehab you're interested in and ask for an insurance verification to find out if you can go there.
You may have associated fees for services, including a deductible on care costs and co-payments, and the cost of medication and some ancillary services. The best way to find out precisely what your plan covers and what your fees would be is to speak with your insurance provider. You can call the number on the back of your insurance card to reach them, and they can also provide you with referrals to nearby in-network providers.
Medicare and Medicaid/Medi-Cal
If you're over 65 or have a disability, you could apply for Medicare health insurance. This program covers most of the cost of care for people, including inpatient rehab (though a daily fee is charged after a certain amount of time). Medicare has many special rules, and you should find a Medicare advocate who can help you navigate the various plans, such as Medicare Advantage. They will also be able to explain the different fees associated with the program and how you can qualify. If you have Medicare and need drug rehab in Daly City, try places such as Ohlhoff Recovery Programs, which accepts Medicare.
In California, the low-income health insurance plan is called Medi-Cal. Agencies like the Bayview Hunters Point Foundation accept Medi-Cal for services, including heroin addiction treatment. To apply for Medi-Cal, you can go online to CoveredCA.com, reach out to your nearest California health and human services agency office, or call 211 for assistance finding out where to apply. You qualify based on income and family composition, among other factors.
How Easy is it to Travel to and Within Daly City, CA?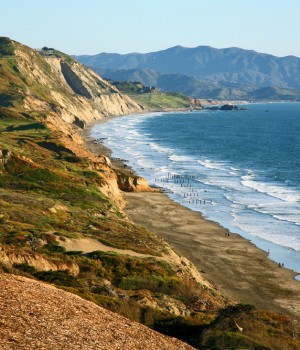 If you're looking to visit Daly City to support a loved one in rehab or seek treatment for yourself, you'll find it easy to get to. You can take a bus or taxi from the nearby SFO San Francisco Airport, which is less than eight miles away. You can also ride into town on the Amtrak, Daly City Station, and take one of the city's multiple bus lines to your ultimate destination.
Multiple places exist in and around Daly City to stay for a short period, especially given its proximity to San Francisco. You may be able to find affordable short-term housing in the numerous apartment complexes around the city or stay in one of dozens of hotels and motels. You can spend your free time enjoying the beauty of the San Francisco Bay from the beloved Oyster Point Pier, or hang out in Mussel Rock Park. There are 13 open outdoor parks, three public libraries, and several nearby museums, including the Daly City History Museum.