Substance Abuse Statistics in Yuma, AZ
The following statistics demonstrate current trends for substance abuse in Yuma, AZ:1,2

8%
8% of Yuma adults are excessive drinkers.
8%
8% of Yuma County adults acknowledge using an illicit drug in the past month.
2%
2% of Yuma County adults report they have sought professional help for an alcohol or drug problem at some point in their lives.
1%
1% of Yuma County adults report their lives have been negatively affected by substance abuse.
Does Insurance Cover Drug and Alcohol Rehab in Yuma, AZ?
Fortunately, yes. Government-funded plans and most major private insurance plans provide coverage for some, if not all, rehab-related services, minus any usual copays or service fees charged under plan's terms.
Medicaid, Medicare, and TRICARE (the insurer for military members and their dependents) cover a full range of rehab services. Coverage includes outpatient programs, residential treatment, hospitalizations, therapy, and medications related to rehab.
Medicaid for Drug and Alcohol Rehab in Yuma, AZ
This government-funded national health plan is provided for low-income and disabled people of all ages. You can qualify for Medicaid if you are:
A resident of the state, U.S. national, U.S. citizen, permanent resident, or legal alien
Low-income and without other options for health insurance
Pregnant, blind, disabled, or in a household with someone with a disability
Caring for a child under 18
65 or older
Medicare for Drug and Alcohol Rehab in Yuma, AZ
This is a government-funded insurance plan for people 65 and older and those with certain health conditions. In 2020, Medicare was required to cover a wide range of outpatient and medical services related to drug and alcohol rehab. Here's how Medicare works:
Medicare recipients pay a monthly premium that's based on income.
Since Medicare pays 80% of covered services, the rest must be covered by supplemental insurance or out of pocket.
Many private insurance carriers offer Medigap plans that pay for costs not covered by Medicare.
Private Insurance for Drug and Alcohol Rehab in Yuma, AZ
The following are a few important things to keep in mind about private insurance coverage for drug and alcohol rehab:
The Affordable Care Act (ACA) requires that all group and individual insurance plans offered in the annual ACA marketplace treat addiction treatment as an essential benefit.
The Mental Health Parity and Addiction Equity Act (MHPAEA) mandates that health insurers provide equivalent benefits for both medical and addiction-related treatments.
Some employer-funded and individual insurance plans are not offered through the ACA marketplace, and those providers may limit their coverage for rehab.
Private rehabs set their own policies on the payment method they accept, so always check with your insurance plan and the facility to find out if costs are covered.
Traveling to and Within Yuma, AZ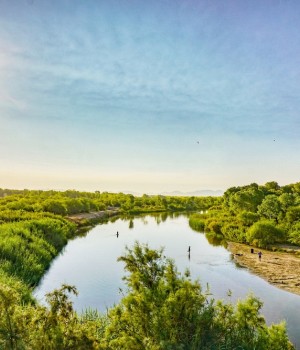 Yuma, AZ is nestled between San Diego and Phoenix, 10 miles from the Mexican border. Offering hot summers and warm winters, the city has become a haven for "snow birds" who migrate to the area during the winter. Between January and March, the Yuma population nearly doubles. Yuma is also the location of military stations, including the Marine Corps Station that is home to thousands of Marines.
Overlooking the Colorado River, with sunshine 91% of the year, Yuma offers opportunities for outdoor adventures and scenic escapes. It has become a premier year-round travel destination, with big-city amenities and small-town appeal.
If you'll be traveling for drug and alcohol rehab in Yuma, AZ or visiting someone in treatment, here are some useful tips to guide your travel plans.
Flying to Yuma, AZ is fairly convenient, with Yuma Airport just 4.2 miles away.
Be sure to pack your passport or other appropriate documents if you'd like to make the 10-mile trek from Yuma to cross the Mexican border.
Popular day trips from Yuma include Bard Valley, CA, Winterhaven, CA, and Los Algodones, Mexico.
Yuma, AZ is a very walkable and bikeable city, but it has minimal public transit.
Yuma locals consider the southeast part of the city to be the safest.
Yuma is one of the sunniest places on earth, as well as one of the hottest cities in the U.S., so pack accordingly.