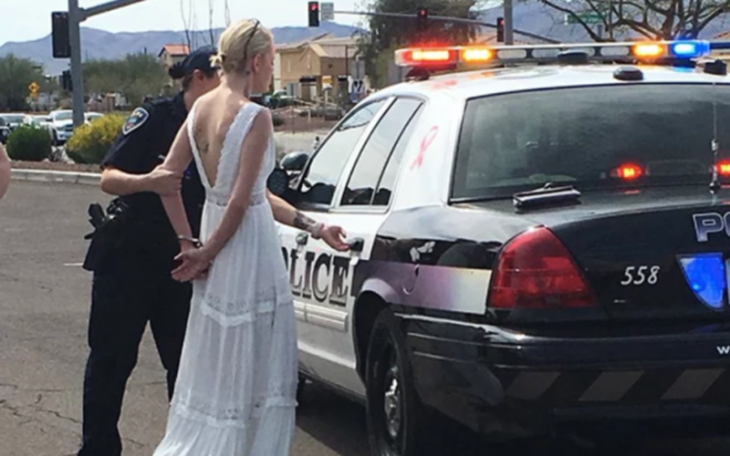 A woman in Arizona crashed her white SUV while apparently on the way to her wedding and was charged with drunk driving.
Thirty-two-year-old Amber Young crashed into two other cars Monday morning, March 12, in Marana, north of Tucson. News reports said Young was rushing to her wedding when the crash took place, and local photos showed her, clad in a long, white wedding dress, being handcuffed and put in a Marana Police Department vehicle.
Later an attorney for Young said she wasn't going to her wedding and that reports of her wearing a wedding gown were false – it was just a sundress, according to his statement as reported by local news agencies.
The Marana Police Department replied that Young told arresting officers she was going to her wedding.
Police got to the site of the three-way crash by 10:30 that morning, reports said. One person involved in the collision suffered minor injuries and was taken to the hospital. The crash took place near Costco at the intersection of North Thornydale Road and West Orange Grove Road.
In a tweet since deleted, Marana police sergeant Chriswell Scott said the force had arrested a driver for driving under the influence on her way to her wedding. He urged those reading his tweet not to drive drunk and commented that "till death do us part" isn't something that needs to be rushed.
After being transported by police to a local station, Young reportedly took a sobriety test, had blood drawn, and signed a criminal citation that requires her to appear in court on March 28. After being booked at the station, Young was released and turned over to her fiancé.
Marana, with a population of about 35,000, is 30 miles north of Tucson along Interstate 10.