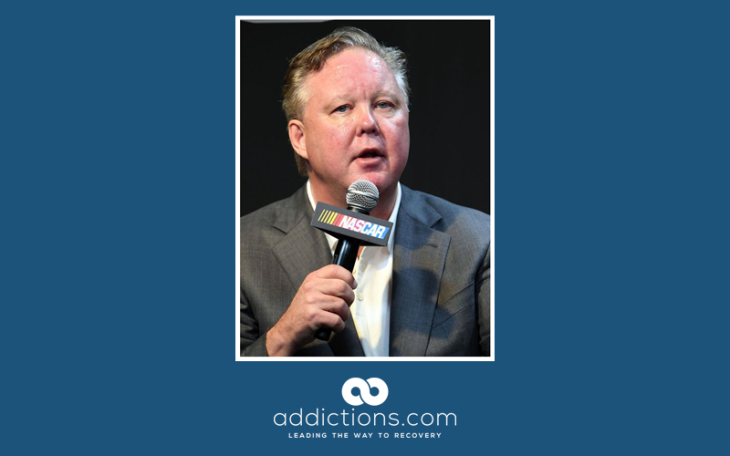 Brian France, CEO, and chairman of car racing business NASCAR was arrested Sunday in New York for driving while intoxicated and for possessing a controlled substance.
A press statement from the Sag Harbor Village Police Department on Long Island said France was arrested at 7:30 Sunday evening. He allegedly ran a stop sign in his 2017 Lexus and was pulled over by police. When they went through his car after determining he was likely to be impaired, the officers found oxycodone pills in the vehicle.
France, age 56, was charged with aggravated driving while intoxicated as well as criminal possession of a controlled substance in the 7th degree. According to news reports, he failed a roadside test of his sobriety, and his blood alcohol level was two times the legal limit. He spent the night in a local jail.
After being arraigned Monday morning at the Sag Harbor Village Justice Court, France was released on his recognizance.
Police said the stop sign France blew through was on Main Street in Sag Harbor, at the far eastern tip of Long Island. He lives on Long Island during the summer. Sag Harbor is part of the popular seaside holiday area known as the Hamptons.
The National Association for Stock Car Auto Racing Inc., France's employer, said it was aware of the arrest, but was still seeking more information before making any statement.
France is the grandson of William H.G. France, who founded NASCAR in 1948. Brian France has been chairman and CEO of the racing company since 2003. NASCAR is not a public company.
The Daytona Beach, Fla., company has a strict substance abuse policy that could require France, if his drug and alcohol abuse is confirmed, to enroll in a treatment or recovery program and to undergo on-the-job drug tests. But it isn't entirely clear whether NASCAR's rules for its drivers would be applied to an executive in one of the top jobs at the company.
NASCAR drivers aren't allowed to use oxycodone and are tested for it regularly. Some drivers, such as Spencer Gallagher, have been suspended after failing drug tests.
Stock car racing is popular around the world, and NASCAR's events are broadcast on television in 150 different countries.