Reading Time: 18 minutes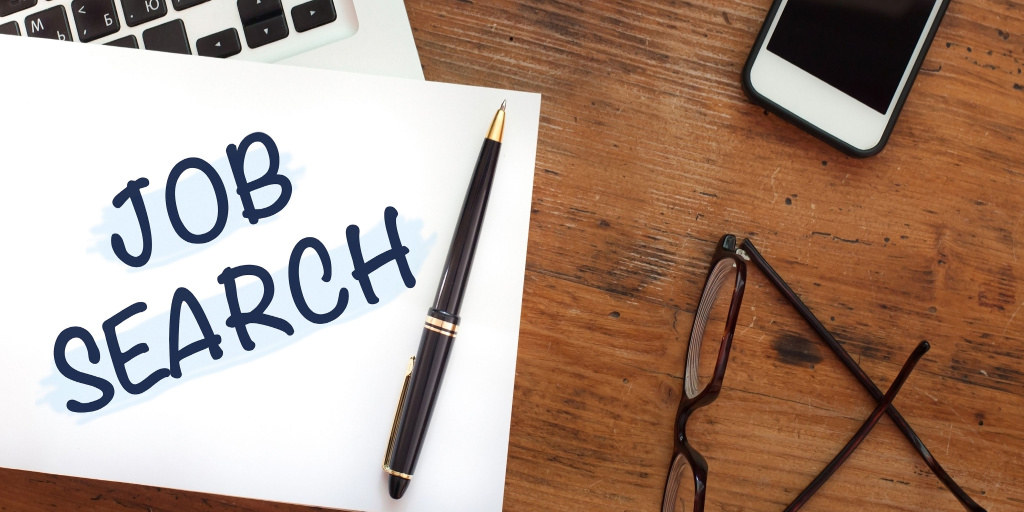 Working in the addiction treatment industry can be an extremely fulfilling career. Whether you're a substance abuse counselor, a social worker, or an addiction treatment specialist, you're in a fortunate position to counsel and support people with substance use disorders through some of their darkest moments and witness their transformation. With the flexibility to work in a number of settings, jobs in addiction recovery offer the opportunity and the variation to make a life-long career.
In a rapidly expanding industry that is expected to grow faster than other occupations, becoming a substance abuse counselor has never been more appealing. If you're someone who's interested addiction recovery careers, you may be wondering where to start researching and job hunting. That's where our comprehensive guide comes in.
We've done the research to provide you with detailed information about finding the right career in the substance abuse and treatment industry, including:
The different types of counselor and social work positions
What a career in addiction recovery or a drug and alcohol rehab looks like
The required education for substance abuse counselors
Different workplace settings a counselor may work in
How to determine if a substance abuse counselor job is for you
The top strategies to find jobs in addiction recovery
What Positions are Available for Substance Abuse Counselors?
The addiction treatment industry is vast, offering different types of treatment — depending on the severity of the addiction — in an array of settings, including schools, prisons, community health centers, and private rehabs. While the settings vary, you will commonly find a counselor who specializes in supporting individuals with substance abuse, substance use disorders, alcohol recovery, and behavioral health.
There are a range of counseling careers that differ in terms of the level of support and expertise provided, and the qualifications and licensure required for the position.
The main types of counseling roles include:
Probation Officers: The role of a probation officer is to provide counseling and support, and ensure compliance with the terms of probation, such as fulfilling court-ordered addiction treatment. A person with substance use disorder is likely to be given probation through a drug court, which gives a defendant the opportunity to complete addiction treatment as an alternative to prosecution and potential jail time. To become a probation officer, you must hold a bachelor's degree in social work, criminal justice, psychology, counseling, or corrections. You must also be 37 years old or younger at the time of application.
Correctional Treatment Specialists: This counseling role provides therapeutic support and interventions — such as rehabilitation plans — to people with substance use disorders that are imprisoned, on probation, or parole. They also monitor the progress, help to find counseling services, and assist the person finding housing and employment. Correctional treatment specialists are also involved in assessments and producing reports for various agencies, such as the parole board. Similar to probation officers, to become a correctional treatment specialist, you must have a bachelor's degree in criminal justice, social work, or behavioral sciences. You must then complete a certified training program.
School Counselors: Working in either an elementary, middle, or high school, school counselors provide academic counseling and help support students developing social skills. School counselors also can provide support to parents to support students through challenges, and potentially refer students and parents to additional resources such as addiction counseling or treatment. In most states, school counselors must hold a master's degree in counseling or psychology and have a state issued license to practice.
Social and Community Service Managers: These types of counselors work for nonprofit organizations, agencies, and for-profit organizations, and their role is to help coordinate and oversee programs and organizations designed to support public well-being. To apply for a social and community service manager role, you typically need a bachelor's degree in social work or public policy and social services. Some roles require a master's degree.
Social and Human Service Assistants: Generally employed within a nonprofit or governmental agency, social and human service assistants provide services to clients directly. That might include determining what services are needed, developing a treatment plan, finding daily assistance, coordinating services, researching social services like Medicaid, helping clients complete paperwork, and ensuring services are delivered. Typically, applicants hold a high school diploma and must complete on-the-job training.
Social Workers: Social workers help individuals, families, and communities to navigate social systems, advocate for their rights and needs, and help to support them in coping with challenges. Social workers also provide individual counseling and are trained to respond to crisis situations, such as mental health emergencies. You'll find social work positions in schools, child protective services, healthcare settings, and mental health and substance abuse counseling settings. Depending on the type of social work, you may need a bachelors or master's degree from a college or university accredited by the Council on Social Work Education, and you may require a license to practice.
Substance Abuse Counselors/Substance Abuse and Behavioral Disorder Counselor: Also called addiction counselors, substance abuse counselors support people with substance abuse problems or substance use disorder. Counselors are involved in assessment, developing treatment plans, supporting clients in developing skills to recover from their addiction, work with families, refer to other social services, and conduct outreach to create awareness about addiction. Most substance abuse counselors require a bachelor's degree, but some positions require a master's degree and internship. When working in private practice, substance abuse counselors must hold a master's degree, and obtain a license after completing at least 2,000 hours of supervised experience in counseling.
Addictions Therapist: Therapists work with clients over a period of time to overcome a substance use disorder. Different from most counselors, therapists have a clinical understanding of psychology and mental health. Addictions therapists conduct thorough assessments, develop treatment plans, and provide specific behavioral interventions, like cognitive behavioral therapy. These types of therapists must have a master's degree, undertake 2,000-4,000 hours of supervised clinical practice, and obtain a license.
Addictions specialist: The formal definition of an addiction specialist is a clinician that is either a psychiatrist or addiction medicine doctor holding a specialized qualification in substance use disorders. Specialists can clinically diagnose, treat, and rehabilitate people with substance use disorders. That said, there are some roles that fall under the title of an addiction specialist, that do not require a license, including:

Recovery Coach: Similar to a life coach, recovery coaches help individuals to set goals and support them in achieving them. For people with substance use disorder, that means helping to work with individuals in overcoming obstacles to recovery and acting as a mentor or coach to support them through the process. Typically, coaches obtain their qualification through the CCAR Recovery Coach Academy and involve a 5-day intensive training program.
Interventionist: A trained professional who can work with families to help support a person with substance use disorder by helping them to see the severity of their addiction and to develop treatment strategies. Interventionists are trained in various models, including ARISE, and the Johnson Model.
Social workers: Professionals in a social work position provide assessments, counseling, and — depending on the level of qualification — may also be able to clinically treat individuals with substance use disorders. Social workers typically have at least a bachelor's degree in social work and clinical social workers must hold a master's degree, undergo significant supervision, and the process of licensure.
Peer support specialist: Peer support specialists, also called recovery mentors, are people with lived experience of substance use disorder who have undertaken training and certification to support people struggling with drug abuse, and substance use disorder. To obtain a peer certification, you must undertake a recognized certification and register in your state. You may also obtain a National Certified Peer Recovery Support Specialist certification through NAADAC.

Rehab counselor: Typically, rehab counselors work in an addiction treatment setting and provide support to help people with substance use disorders to overcome an addiction.
What is the Difference Between an Addiction Counselor and Addiction Therapist?
The main difference between addiction counselors and addiction therapists is the level of clinical understanding, depth of intervention, and whether they have a license to practice. Therapists are credentialed and hold an up-to-date license to practice, whereas not all counselors have a license.
The main difference between addiction counselors and addiction therapists is the level of clinical understanding, depth of intervention, and whether they have a license to practice.
Counselors generally assess clients and work with them and their families to address their addiction and make the necessary changes. Whereas therapists have an in-depth clinical understanding of addiction and can treat a patient individually with a range of behavioral interventions.
To obtain licensure, the therapist or counselor must obtain a master's degree, undertake an internship, have completed at least 2,000 hours of supervised practice, pass a licensing exam, and be registered with the state.
Who Regulates Substance Abuse Counselors?
There are various state level registration requirements for counselor roles. Nationally, however, there are two organizations dedicated to upholding standards of practice among addition professionals, including:
The National Association of Alcoholism and Drug Abuse Counselors (NAADAC): Founded in 1972, NAADAC was established to develop a field of professional counselors with qualifications and experience in counseling, prevention, treatment, education, and research. NAADAC advocates for the highest quality of addiction care, science-based training services for clients, families, and communities, and provides counselor education from a peer support specialist up to a master's level addiction counselor.
The National Association of Addiction Treatment Providers (NAATP): Established in 1978, NAATP is a nonprofit professional society representing addiction treatment providers offering the full range of treatment care, from intervention, to hospitalization, residential treatment, and aftercare. NAATP provides clinical and operational resources and is involved in law and policy advocacy to promote best practices among the addiction treatment industry.
National Board for Certified Counselors (NBCC): The NBCC is considered a "flagship certification for counseling." The National Certified Counselor certification demonstrates that you have met high national standards for counseling.
What Do Careers in the Addiction Recovery Industry Entail?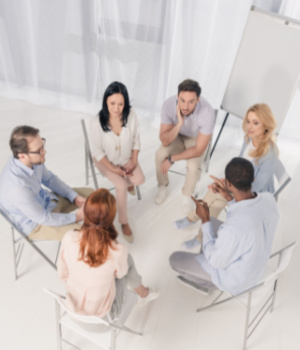 Working in the addiction treatment industry can lead to a life-long career full of opportunities and a sense of purpose. You are in a profession that has the potential to save people's lives. As outlined above, there are a vast array of addiction counselor positions who can work in various settings, from hospitals to outpatient clinics.  Broadly speaking, however, the role of a substance abuse counselor may involve the following responsibilities in their day-to-day job:
Assessing clients mental and physical health, and problematic relationships with drugs and/or alcohol
Evaluating a client's readiness to change
Develop a treatment plan with the client with defined goals and outcomes
Support clients' in developing the skills necessary to fulfill their treatment plans and create the changes to overcome their addiction
Develop comprehensive relapse prevention plans
Involve the family in the recovery process and provide education about training and the support needed to sustain recovery
Work with clients in therapy settings and facilitate skills building and process groups
Refer clients to other social and mental health services, like job placement services, recovery support groups, housing services, and other health services.
Work with drug courts to support individuals who are justice-involved through the terms of their treatment plan
Participate in outreach programs to educate communities, organizations, and schools about substance use disorders and how to identify signs a person may need support.
What Level of Education Do Substance Abuse Counselors Need?
Most substance abuse counselors must hold at least a bachelor's degree. However, some roles require a graduate-level education, and/or substance abuse counselor certifications.
The relevant degrees and certifications for substance abuse counselors include:
Bachelor's degree: Typically, a bachelor's degree for substance abuse counseling could be in the field of social work, psychology, or substance abuse counseling. For counselors working in probation counselor roles, they may also hold degrees in criminal justice or corrections.
Master's degree: Graduate-level education is required for individual counseling and private practice. Relevant degrees include master's addiction counseling, clinical social work, and mental health counseling.
To enter a bachelor's program, you must hold a high school diploma and may have to pass an entrance exam. Graduate degree programs require a relevant bachelor's degree, minimum GPA, and possibly an entrance exam. Each school has different entry requirements and it's always best to check with the school's admissions office.
After obtaining your qualifying degree, you must then take steps to become a substance abuse counselor, outlined below.
How to Become a Substance Abuse Counselor
While this process may vary in detail, depending upon the requirements of your state, the main steps to becoming a counselor include:
Do your homework: Take some time to research the addiction treatment industry, the role of a counselor, think about the type of counselor career you are interested in, and what is involved in terms of time and financial resources.
Get a college education: Obtain a bachelor's degree in social work, psychology, or substance abuse counseling.
Obtain a Graduate education: Earn a master's degree in a clinical psychology discipline and undertake a minimum of 800 hours of internship.
Meet supervision requirements: To move to the next step, you must meet supervision requirements. Most states require 2,000 to 4,000 supervised clinical hours before you can obtain a license to practice.
Pass the licensure exam: The professional body of your chosen masters require counselors to take a test, such as the Association of Social Work Boards (ASWB) exam for social workers, or the Association of Marital and Family Therapy Regulatory Boards (AMFTRB) exam for family therapists, or the Professional School Counselor exam. You can find the relevant state licensure exam via the National Certified Counselor website.
Get hired: Most graduate programs will start the ball rolling in finding a career post-graduation. You may want to approach your placement supervisor to look for opportunities in their organization as they may also be able to provide you with the supervision hours to take your licensure exam. You can also do your own research about the type of organization you want to work for and go to networking events to look for opportunities. See the section below for resources and information about how to find a job.
Spotlight on Available Job Environments
Substance use disorder, behavioral disorder, and mental health counselors accounted for 327,500 jobs in 2020, and according to the US Bureau of labor Statistics, job opportunities are estimated to continue to grow in the coming years.
Counselors work in a variety of different settings and a range of working hours depending on the population they serve.
The main work environments include:
Outpatient Clinics for mental health and substance use disorders: these facilities may be community mental health centers, outpatient addiction treatment, and employee assistance programs
Residential / Inpatient Clinics: including inpatient treatment facilities, halfway houses, sober living, and detox centers
Hospitals, including state, local, and private: these facilities offer detox and inpatient mental health services, and respond to mental health and addiction crises in the emergency department.
Correctional facilities, including prisons, probation or parole agencies, and juvenile detention centers
Schools: may include colleges, sober schools, collegiate recovery programs, and colleges and universities
Private practice: where therapists, counselors, and social workers offer individual therapy and treatment.
According to the US Bureau of Labor Statistics, for substance abuse, behavioral health, and mental health counselors, the largest employers of counselors were:
Outpatient mental health and substance abuse centers: 18%
Individual and family services: 16%
Hospitals: 10%
Residential mental health and substance abuse facilities: 9%
Government: 9%
Impact of Working Environment
It's worth noting that despite being a rewarding career that has the potential to save lives, the role of a substance abuse counselor can be stressful and take its toll on your physical and mental well-being, especially if you are working atypical hours.
Counselors work in an industry that cannot meet the rapidly growing needs of Americans with substance use disorders. Each year, rates of addiction and drug overdose deaths continue to rise, which means the treatment facilities and trained counselors are not expanding quickly enough to meet the demands. As a result, counselors are more likely to deal with crises — which can be stressful — and are more likely to have large caseloads and not enough time and resources to help everyone.
That's why it is important to ensure that counselors make their physical and mental health a priority, try not to overwork, prioritize stress reduction techniques, and speak to your employer if your stress levels remain high.
Work Schedules
Most counselors work full-time and in a variety of working patterns during the day, evenings, and weekends. For example, substance abuse counselors working for a residential facility may be required to live in the facility for a period of time. Whereas correctional facilities, schools, and hospitals/inpatient environments may require counselors to do shift work in evenings and weekends. Individual practices may be considerably more flexible, and working hours are typically Monday through Friday, 9am to 5pm. It is important to consider each of these schedule requirements when applying for jobs in the addiction recovery industry, as this is another step toward finding the right schedule for you.
What Do Jobs in Addiction Recovery Typically Pay?
According to the Bureau of Labor Statistics, the average annual wage for substance abuse, behavioral disorder, and mental health counselors was $48,520 in May 2021. However, salaries can range from as low as $30,870 to more than $77,980.
The main factors influencing salary include:
Type of specialty: For example, a psychiatrist who specializes in mental health and substance use disorders is likely to earn more than a counselor working in a residential treatment facility. Generally speaking, the more involved the service, the higher specialty and expertise required. The average salary for a counselor in a community and social service setting is $48,400, compared to a psychologist who earns an average of $81,040.
Business structure of employer: Government roles and nonprofit organizations may pay more than for-profit businesses and may offer more benefits and job security, especially in employer at will states. Whereas an outpatient mental health and addiction treatment facility will pay an average of $47,500.
Level of education: A masters level therapist or counselor is more likely to earn a higher salary than a bachelor's-educated counselor because they have a greater level of expertise and can diagnose and treat clinically. Although not always. For example, a social and human services assistant requires a bachelor's degree and pays an average salary of $37,610, compared to a rehabilitation counselor who must have a master's degree and earns little more, with an average salary of $38,560.A psychiatrist, however, who can earn an average salary of $208,000.
License status: Licensed counselors must undergo significant training, supervision, and an examination, meaning they must provide high quality care that meets national standards. Thus, licensed counselors are more likely to earn more than unlicensed counselors. For instance, a licensed counselor in Oregon earns an average of $79,343, whereas a substance abuse counselor without a license earns $60,145.
Work experience: A counselor who has worked in a variety of settings and has considerable experience can command a higher salary than someone entering the profession. A substance abuse counselor with more than ten years' experience is likely to earn an average salary of $72,053, compared to a counselor with one year of experience who earns an average of $55,159 annually.
State of employment: Some states have a higher cost of living than others and, therefore, generally offer higher salaries. States also vary in terms of requirements to become a counselor and you may need to factor in the cost of education, training, and/or licensing requirements into the overall salary. For example, a substance abuse counselor in Tennessee is likely to earn $48,520, whereas a counselor in Oklahoma can earn $98,370.
The average salaries per workplace setting in 2021 were:
| | |
| --- | --- |
| Workplace Setting | Average Salary |
| Government | $60,450 |
| Hospitals; state, local, and private | $49,630 |
| Individual and family services | $47,940 |
| Outpatient mental health  and substance abuse centers | $47,550 |
| Residential mental health and substance abuse facilities | $42,900 |
*Source: U.S. Bureau of Labor Statistics, Substance Abuse, Behavioral Disorder, and Mental Health Counselors, Average Pay      
The Outlook for Careers in Addiction Recovery
The landscape of the addiction treatment industry is promising. Currently, 327,500 substance abuse counselors are employed in the United States, according to the US Bureau of Labor Statistics.
Substance abuse counselor jobs are expected to grow 23 percent from 2020 to 2030 and are projected to employ $402,600 counselors by 2030. This growth is likely to result in approximately 41,000 open positions for substance abuse and behavioral disorder, and mental health counselors expected each year!
Is a Career in the Addiction Treatment Industry Right For Me?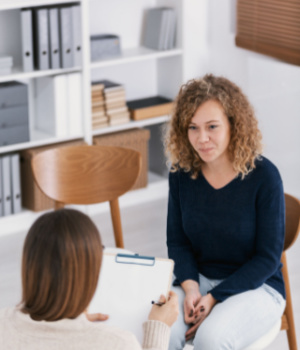 Substance abuse counseling offers a range of benefits, but there are disadvantages, too. Once you have all of the pertinent information, you can decide whether this is the right career path for you.
That said, the main pros and cons of working as a counselor in the addiction treatment industry are:
Pros
There are a lot of available substance abuse counselor jobs and will continue to be for the next ten years
Flexibility to work in a variety of jobs and settings
Job satisfaction: witnessing personal transformations, supporting families, and helping to combat to a public health problem
Employers may provide training with such a demand for counselors
Decent earning potential and the more experience and education commands a higher salary
Can be a life-long career
May be the perfect career for someone in recovery who wants to give back – however employers may require a period of abstinence
Jobs are available nationwide
Private practice counseling can be lucrative and allow the freedom to create your own schedule
Cons
Must have at least a bachelor's education, and may require a master's degree
If applying for a licensed counselor position, must have a minimum of 2,000 supervised hours of practice, and pass a licensing exam
May have to pay for ongoing education and license fees
It can be stressful with a high workload
May be required to work atypical hours
Clients may not follow your advice, and may relapse
May not be for people with a personal or family history of addiction
Insurance companies and systems can be challenging to navigate
How to Find Jobs in Addiction Recovery
Here are some helpful tips and resources guaranteed to make your job hunt a little easier:
Training and jobs: Career One Stop provides detailed information on careers, training programs in your area, and the option to search for jobs. Plus much more, like creating a job search plan, finding financial resources for training, tips for interviewing, and how to find help locally.
Occupational guides: The U.S. Department of Labor provides detailed occupational outlook handbooks on the role of a substance abuse counselor.
Pay calculator: Use this handy tool to research the average salaries in your area and compare them to other states and professions.
Certification: the National Board for Certified Counselors provides training and accreditation to work as a counselor.
Licensing information: Find information on licensure requirements and resources in your state through the Addiction Technology Transfer Center Network.
National bodies: These nationwide organizations provide membership to counselors, education (including continuing education credits), and certification to become a substance abuse counselor:
References
Bureau of Labor Statistics, U.S. Department of Labor, Occupational Outlook Handbook, Substance Abuse, Behavioral Disorder, and Mental Health Counselors. Retrieved July 26, 2022, https://www.bls.gov/ooh/community-and-social-service/substance-abuse-behavioral-disorder-and-mental-health-counselors.htm .

Salaries. (n.d.). Indeed.Com. Retrieved July 26, 2022, from https://www.indeed.com/career/salaries

The Association for Addiction Professionals. (n.d.). NAADAC. Retrieved August 1, 2022, from https://www.naadac.org/

National Association of Addiction Treatment Providers. (n.d.). National Association of Addiction Treatment Providers. Retrieved August 1, 2022, from https://www.naatp.org/

Jobs, U. S. N. B. (n.d.). Substance abuse and behavioral disorder counselor ranks among best jobs of 2022. US News Best Jobs. Retrieved August 1, 2022, from https://money.usnews.com/careers/best-jobs/substance-abuse-counselor

Substance abuse counselor career guide. (2019, October 10). Counseling Degree Guide. https://www.counselingdegreeguide.org/careers/substance-abuse-counselor