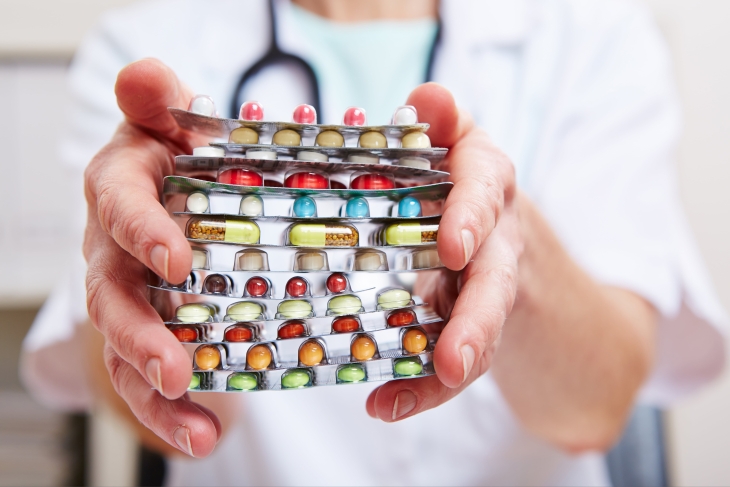 Don't fight addiction alone. If you or a loved one needs help, our free support is available 24/7 at
800-926-9037
Who Answers?
Prescription drug abuse affects roughly 6.2 percent of the U.S. population. Opioids, benzodiazepines, and stimulants are some of the world's most highly addictive drugs, and are being prescribed in high numbers by family doctors to treat common health conditions such as injuries, anxiety, and sleep disorders. Since many prescription drugs carry a high risk for addiction, those who misuse or abuse their medications become physically dependent on these substances, and visit more than one doctor to obtain multiple prescriptions so they can fuel their addictions.
The practice of visiting multiple doctors to obtain multiple prescriptions for reasons related to drug abuse or unlawful behavior is known as doctor shopping, and is illegal in all 50 states. Doctor shopping not only drives prescription drug addiction, but can lead to incarceration and problems with the law, and put family and loved ones at risk. When prescriptions become too costly or difficult to obtain, doctor shopping can lead to the use of more dangerous, deadly street drugs like heroin and carfentanil that can trigger an overdose after just one use.
Doctor shopping is one of the country's leading causes behind opioid addiction, which is now a serious public health crisis resulting in thousands of overdose deaths nationwide.
Here's what you need to know about doctor shopping, and what you can do to prevent your loved ones from becoming victims of prescription drug addiction.
What is Considered Doctor Shopping?
In the U.S., doctor shopping is generally defined as visiting multiple doctors for the sake of obtaining prescription drugs to abuse or distribute illegally. Those who engage in doctor shopping often lie about suffering certain health conditions, or exaggerate current symptoms to convince doctors they need a prescription. After filling their prescriptions, these individuals make other appointments with other doctors, and repeat the entire process in order to obtain additional prescriptions.
Individuals who participate in doctor shopping use their excess drug supply to fuel their addiction, or head to the streets to sell and distribute these substances. Sometimes, doctors are aware that their patients may be doctor shopping, but continue writing prescriptions anyway to benefit financially. When doctor shopping is left unaddressed, crime and addiction rates go up, along with drug overdose and death rates.
Research shows that opioids are more commonly associated with doctor shopping than any other prescription drug. Roughly one in every 143 patients in the U.S. who receive an opioid prescription engage in doctor shopping, according to a recent study funded by the National Institute of Drug Abuse. Buprenorphine, methadone, and oxycodone are the top three opioids associated with doctor shopping in the U.S., and are the leading causes behind many overdose deaths.
Doctor Shopping Among Medicare Patients
Doctor shopping has become a major problem among the Medicare population, and is lending to an uptick of unintentional overdose deaths caused by opioid abuse. One in three Medicare Part D beneficiaries received an opioid prescription in 2016, according to a recent report from the U.S. Department of Health and Human Services. The report also indicated that roughly 400 prescribers in the Medicare network practiced questionable opioid prescribing patterns for patients at serious risk for addiction.
Medicare Part D serves over 43 million seniors and disabled individuals — most of whom are between the ages of 65 and 74. Healthcare experts say that pain management in seniors is complex, since those in this age group are more likely to suffer from cancer, joint disorders, and orthopedic problems that cause severe or chronic pain. Many times, non-prescription pain relievers such as aspirin fail to offer the same level of pain relief as that produced by opioids.
The HHS report revealed that about 22,000 Medicare Part D beneficiaries are doctor shopping, and obtaining large amounts of opioids from at least four doctors, and filling their prescriptions in at least four different pharmacies. The inspector general of the HHS has recommended that Medicare use this data to improve opioid prescribing methods among doctors in its network. In addition to cracking down on prescribing methods, Medicare doctors are being urged to explore effective non-drug treatments for pain management, including meditation, acupuncture, and exercise.
9 Signs of Doctor Shopping
Those who practice doctor shopping may exhibit certain behavioral changes such as lying and secretive behavior, along with physical symptoms that indicate drug abuse. If you suspect a loved one is doctor shopping, look for the following signs so you can connect your loved one with help in the form of addiction treatment. Physicians can also use these tips to determine whether a patient is doctor shopping.
Common signs of doctor shopping:
Medications aren't working. Some individuals complain about medications not working so they can visit other doctors to obtain more prescriptions.
Losing or misplacing medications. Some may lie about losing or misplacing medications so they can obtain additional prescriptions.
Traveling far for treatment. Many doctors can only track a patient's prescription history in their own healthcare network or state. If your loved one is traveling to another city or state for treatment, it's possible they may be doctor shopping.
Paying for medications using cash. Using cash to pay for medications makes it difficult for physicians, healthcare networks, insurers, and law enforcement to identify doctor shopping.
Requesting specific drugs or dosages. Requesting a drug by its specific name or dosage commonly indicates problems with doctor shopping.
Use of different pill bottles. One who engages in doctor shopping may have a variety of different pill bottles with different labels.
Showing anxiety and irritation when discussing prescriptions. Those who doctor shop may display signs of restlessness, anxiety, agitation, and suspicious behavior when discussing symptoms or prescriptions.
Being able to afford prescription drugs on a low income. If your loved one is unemployed or struggling financially and still manages to obtain costly prescription drugs, they may be doctor shopping.
Exhibiting physical signs of drug abuse. Dilated or constricted pupils, extreme excitability or fatigue, and poor personal hygiene are all common signs of drug abuse, and may indicate doctor shopping.
Top Three Drugs Associated with Doctor Shopping
1. Opioids (Painkillers)
Opioids are the number one drug class associated with doctor shopping, and continue to lend to thousands of overdose deaths across the U.S. Opioids are commonly prescribed to treat moderate to severe pain such as that caused by injury, surgery, and cancer. Many times, opioids are prescribed on a short-term basis to minimize the risk for addiction, since users can easily become tolerant to and dependent on these substances within a short period of time.
Opioids work by binding to opioid receptors in the brain responsible for controlling pain relief so users can experience a more comfortable recovery. At the same time, opioids increase dopamine production to trigger feelings of pleasure and reward. Those who become dependent on opioids often use higher doses in an effort to achieve the same feelings of euphoria — unaware that they may be risking their lives in the process.
Common opioids prescribed by U.S. doctors:
Oxycodone
Hydrocodone
Fentanyl
Hydromorphone
Codeine
Morphine
Buprenorphine
Methadone
Meperidine
2. Benzodiazepines
Benzodiazepines, or "benzos," are central nervous system depressants commonly prescribed to treat anxiety disorders, seizures, and sleep disorders. These drugs slow down central nervous system function such as breathing and heart rate so patients can experience a sense of calm and relaxation. Use of benzos can lead to tolerance and physical dependence, especially when patients misuse their medications.
Common benzodiazepines prescribed by doctors:
Diazepam
Lorazepam
Alprazolam
Estazolam
Flurazepam
Clonazepam
3. Stimulants
Stimulants are commonly prescribed to treat health conditions including narcolepsy and ADHD. Sometimes, stimulants are prescribed to treat depression in unique situations where patients do not respond to other treatments and medications. Stimulants are the opposite of central nervous system depressants in that they "excite" the nervous system to increase blood pressure, heart rate, and respiration, along with energy and alertness.
Brand names of stimulants prescribed by U.S. doctors:
Ritalin
Adderall
Concerta
Dexedrine
Strattera
Other prescription drugs commonly involved in doctor shopping are barbiturates, sleep aids, and anabolic steroids. Misusing prescription drugs increases a person's risk for tolerance, physical dependence, and addiction — all of which can lead to an unintentional overdose or death.
Laws Surrounding Doctor Shopping
Doctor shopping is illegal nationwide. Many states have general doctor shopping laws in place that prohibit patients from obtaining prescription drugs for reasons related to fraud, misrepresentation, and deceit. This means that patients can only use prescription drugs correctly for their intended purpose, and not for any other reason.
Forty-nine states now have prescription drug monitoring programs that allow physicians to determine whether certain patients are doctor shopping. These databases offer visibility into whether a patient has any existing valid prescriptions, along with the names and dosages of the drugs they're currently using. Physicians who suspect certain patients of doctor shopping can halt prescriptions, and connect those patients with substance abuse and addiction treatment as needed.
The language of doctor shopping laws varies slightly from state to state depending on the jurisdiction, though generally, the law prohibits patients from using prescription drugs in an illicit fashion. Specific doctor shopping laws in some states make it illegal for patients to withhold information about drugs they receive from other physicians. Individuals can learn more about specific doctor shopping laws in their respective states by contacting their state's health department.
Preventing and Reducing Doctor Shopping
States that have laws surrounding prescription drug monitoring programs have seen a significant decrease in the prescribing of opioids since the laws were enacted. These states have seen a decrease in the number of hospitalizations and overdose deaths, and a rise in addiction treatment admissions. Prescription drug monitoring programs are considered important tools to help prevent and identify prescription drug misuse.
California passed a bill on January 1, 2017 that requires all physicians and healthcare professionals to review a patient's prescription history in the state database before prescribing opioids and other highly addictive drugs. California is the latest state to pass this law, which has already been enacted in 24 other states. Since passing a similar law in 2016, New York has reported a 75 percent decrease in opioid prescribing.
Other ways to prevent doctor shopping include raising awareness and educating youth and young adults about the dangers of misusing prescription drugs. Physicians can also order urinary drug testing, and conduct physical examinations before prescribing certain drugs to ensure needle marks and other visible signs of drug use are absent. Doctors can also recommend safer, alternative pain management methods that carry a far lower risk for addiction.
How to Report Doctor Shopping
If you suspect that a physician or someone you know is engaging in or supporting the act of doctor shopping, consider reporting it anonymously to the DEA. Indicate that your tip involves doctor shopping and provide your zip code, the general location of the incident, and a brief description of the situation. Include the names of individuals and drugs involved, and the time the incident took place.
If you are concerned about a loved one who may be doctor shopping, consider connecting them with addiction treatment to overcome physical dependency on the drugs they're abusing. Many prescription drugs alter brain chemistry in a way that can make quitting difficult and life-threatening to do on one's own. Fortunately, addiction treatments exist for nearly any addiction type.
Common Treatments for Prescription Drug Addiction
Prescription drug addiction is commonly treated using medical detox and counseling. Medical detox helps individuals overcome physical dependency on prescription drugs, while counseling, support groups, and similar therapies help individuals address underlying mental causes of addiction such as depression and anxiety. Medical detox can be conducted using a tapering method, or using medications that allow patients to withdraw from substances without suffering withdrawal symptoms.
Quitting certain prescription drugs abruptly is not recommended, and may produce serious health complications that increase the risk for death. For instance, sleep aid withdrawal can cause increased heart rate and painful body spasms, while benzodiazepine withdrawal can cause seizures and psychosis. For drugs including sleep aids and benzos, detox is performed using a tapering method, in which doctors reduce a patient's dosage gradually over time until they are no longer dependent on the medication.
Opioid addiction is commonly treated using medications that mimic the effects of opioids without producing euphoria and sedation. This allows patients to quit using opioids and go about their daily activities without suffering unpleasant withdrawal symptoms in the form of opioid cravings, vomiting, and shaking.
Prescription drug addiction affects millions of Americans, and may even be affecting your closest friends and loved ones unknowingly.