Alcohol and Drug Use Statistics in Everett, WA
The number of people finding themselves in danger due to drugs or alcohol in Everett has risen recently. Studies show:1,2,3
31.7
In Snohomish County, in 2019, 31.7 people per 100 were prescribed opiate medications.
3.15%
Drug overdose rates rose only 3.15% in the same period.
111,957
In 2017, around 111,957 people in Washington went to rehab for drugs or alcohol.
How to Finance Alcohol and Drug Rehab in Everett, WA
Various ways exist to pay for rehab, such as taking out a personal loan, crowdfunding for funds to pay for care, and looking for rehab with payment plans. Some rehab center centers have internal financing offices that allow them to offer you care while you make payments on the cost of treatment. Others partner with third-party loan officers, who may charge fees outside of the costs charged by the rehab.
Some treatment centers offer rehab scholarships, which can pay for all or part of the cost of care, especially if they contract with government agencies that provide block grants. Rehab scholarships in Washington are reserved for people with no way to pay for care who are in severe need of addiction treatment. Sliding-fee scales may also be available at some rehabs in Everett, which lowers the cost of care depending on your income level.
If you are having a hard time securing money to pay for rehab in Washington, there are numerous agencies dedicated to providing low-cost or free rehab and ancillary services, such as:
Catholic Community Services in Everett, which has free substance abuse services in addition to housing and other ancillary services
Therapeutic Health Services, which offers substance abuse counseling and care as well as medication-assisted treatment (MAT) with methadone and suboxone
Sea Mar Community Health Center in Everett, which has chemical dependency relief services, including an intensive outpatient program (IOP), and offers sliding-fee scale services for low-income patients
Private Insurance is Accepted by Many Quality Rehab Centers
Under the Mental Health Parity and Addiction Equity Act, health insurance companies must cover the cost of services to treat substance use disorder (SUD) if they offer similar services for other conditions.4 Private insurance companies in Washington, such as Beacon Health Options, Amerigroup, and Molina Healthcare all provide payment for rehab services in centers around the state, such as at the rehab Center for Human Services in Everett, Washington.
While addiction care services must be covered, every company has its own coverage policies and fee schedules. Call the number on the back of your insurance card to go over your coverage details if you have private insurance. They can tell you what you can expect to pay for copays, deductibles, and other fees, as well as refer you to the nearest in-network rehab providers you can turn to.
Medicare and Medicaid Can Help Pay for Rehab
Medicaid is a low-income health insurance plan that covers most or all of the cost of needed medical services. In Washington, Medicaid is called AppleHealth and can be applied for through your local social services agency. Call 211 to locate your nearest help applying for Medicaid or Medicare. If you have Medicaid health insurance, you can go to places such as Evergreen Recovery Centers that can help you access rehab services for free.
Medicare also pays for rehab services at centers that accept state insurance, such as Providence Regional Medical Center. Medicare can pay for inpatient and outpatient services, though there is a fee schedule that includes deductibles and copayments, as well as daily charges for hospitalizations.
Local Information: How Easy is it to Travel to and Within Everett, WA?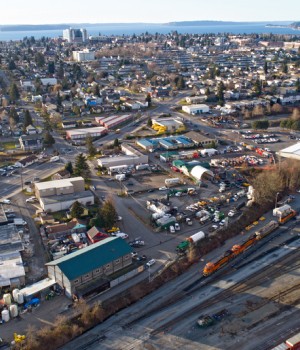 Getting to Everett by plane is simple, as SEATAC is a mere 30 minutes to the south. You can get to Everett by car via Interstate 5. Greyhound has a bus station in the city, and SoundTransit can help you get around the greater Seattle area via 24 different routes. Community Transit also has a local bus service, with DART buses that can provide transportation on-demand and vanpool services.
Things to do in Everett
If you like water, this is the place to live, as Everett is comfortably nestled between the Snohomish River and Port Gardner Bay. Local tourist attractions include:
The Future of Flight Aviation Center and the Boeing Factory.
The Angel of the Winds Arena, which hosts regular hockey, curling, and gymnastic events along with concerts and live performances.
Downtown Everett's Shack Art Center, with art being displayed and created along the streets.
The Imagine Children's Museum, which features a rotating schedule of immersive activities for kids and families to enjoy.
Jetty Island, which is a stretch of beach that can be accessed by ferry or a friend with a boat.