Drug and Alcohol Use Statistics in Pawtucket, RI
To better understand the prevalence of drug and alcohol use in Pawtucket, here are some of the statistics for Providence County over the past few years:1
19%
19% of residents reported engaging in excessive drinking
39%
39% of driving deaths were related to alcohol use
623
623 drug overdose deaths occurred from 2017 to 2019
In another study, these were the mental and substance use disorders mortality rates per 100,000 population in 2014:3
Traveling to and Within Pawtucket, RI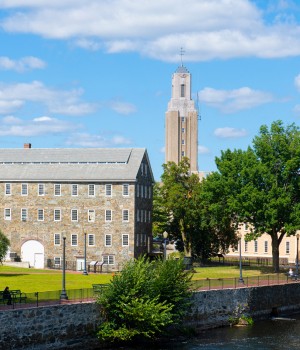 You may be considering Pawtucket alcohol rehabs as a center of choice for recovery. If you or a loved one will be traveling to Pawtucket, here are some helpful tips while navigating around the city:
The two closest airports to the city are Theodore Francis Green Memorial State Airport (16 miles away) and New Bedford Regional Airport in Massachusetts (36 miles away).
The Rhode Island Public Transit Authority (RIPTA) offers trains and buses that can transport you into Pawtucket and throughout the town.
Plenty of hotels exist in and around the city for convenient accommodations when visiting.
Slater Hill and Blackstone Valley Memorial parks are located in Pawtucket and offer beautiful natural surroundings to enjoy.
Uber, Lyft, and taxi services are available by request throughout the town as another option for transportation.
Pawtucket, Rhode Island, is an excellent place for finding a treatment center, but it is not your only choice. Whether you choose to travel to Pawtucket for treatment or not, thousands of drug and alcohol rehabs are available across the country. If you need help finding treatment options that are right for you and your addiction, please call 800-926-9037 (
Who Answers?) to speak to a specialist who can assist you in finding a rehab center that meets your needs.
Resources
County Health Rankings Rhode Island. (2021). https://www.countyhealthrankings.org/app/rhode-island/2021/rankings/providence/county/outcomes/overall/snapshot
Centers for Disease Control and Prevention. https://www.cdc.gov/chronicdisease/resources/publications/factsheets/alcohol.htm
Institute for Health Metrics and Evaluation. (2014). US County Profile: Providence, Rhode Island.