Drug and Alcohol Use Statistics in Pawtucket, RI
To better understand the prevalence of drug and alcohol use in Pawtucket, here are some of the statistics for Providence County over the past few years:1
19%
19% of residents reported engaging in excessive drinking
39%
39% of driving deaths were related to alcohol use
623
623 drug overdose deaths occurred from 2017 to 2019
In another study, these were the mental and substance use disorders mortality rates per 100,000 population in 2014:3
Levels of Care for Rehabs in Rhode Island
Multiple levels of care are available to treat various needs related to substance abuse.
Alcohol and Drug Detoxification
Often the first step of recovery services, detox is the process of safely and comfortably removing drugs or alcohol from your system. This process is performed under medical supervision in a hospital, residential, or outpatient setting.
Inpatient Care
During residential or inpatient treatment, you live at a rehab facility and receive 24/7 supervised care. Treatment methods usually include individual and group therapy, medication, and other holistic therapy.
Partial Hospitalization Programs (PHPs)
Rhode Island residents who participate in a PHP live at home while attending treatment at a hospital. Treatment methods are similar to inpatient care, but you can return home during non-treatment hours.
Intensive Outpatient Programs (IOPs)
IOPs allow you to attend a few hours of counseling over several days each week. You spend the rest of your time at home, at work, or fulfilling other obligations.
Standard Outpatient
Standard outpatient care involves one to two hours of treatment per week. Because this option has the least oversight and supervision, it is appropriate for highly motivated people with a strong support system.
Relapse Prevention
Relapse prevention, or aftercare, starts when you complete an inpatient or outpatient rehab program. It involves ongoing support and encouragement through 12-step groups, non-12-step groups, ongoing therapy, sober living homes, and more.
How to Pay for Addiction Treatment in Pawtucket, Rhode Island
Private Insurance
Federal law requires all insurance providers to cover substance abuse treatment to some extent. Rhode Island residents must confirm with their provider the specifics of their plan's coverage, including any applicable deductibles and copays.
Rhode Island Medicaid
Rhode Island Medical Assistance is the state's Medicaid program. This government program provides health coverage for Rhode Island residents who have limited income and are pregnant, responsible for a child 18 years or younger, blind, have a disability or family member with a disability, or are 65 years or older. HealthSource RI is the state's marketplace for insurance plans. Residents apply through this program to determine if they are eligible for Medicaid or other assistance options.5
Rhode Island Medicare
Rhode Island Medicare is a government program that offers healthcare coverage for residents over the age of 65 or who have end-stage renal disease or ALS. Medicare benefits include coverage for drug addiction treatment services. However, some rehabs don't accept Medicare insurance as a method of payment.
TRICARE in Rhode Island
Rhode Island TRICARE provides health insurance coverage for U.S. Armed Forces military personnel, veterans, and their families. This includes addiction treatment services, such as rehab and medication-assisted treatment.
Sliding Scale Rehabs
Sliding scale rehabs offer fees that are income-based, so Rhode Island residents pay only what they can afford based on their resources. To qualify, participants must usually provide proof of income.
IHS-Funded Drug Rehabs
Treatment programs funded by the Indian Health Service (IHS) offer free addiction treatment to Alaskan Natives and Native Americans.
Traveling to and Within Pawtucket, RI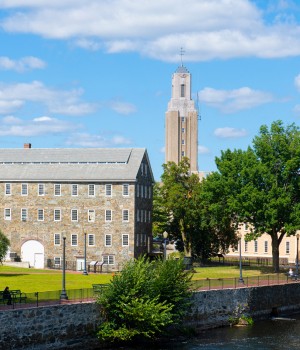 You may be considering Pawtucket alcohol rehabs as a center of choice for recovery. If you or a loved one will be traveling to Pawtucket, here are some helpful tips while navigating around the city:
The two closest airports to the city are Theodore Francis Green Memorial State Airport (16 miles away) and New Bedford Regional Airport in Massachusetts (36 miles away).
The Rhode Island Public Transit Authority (RIPTA) offers trains and buses that can transport you into Pawtucket and throughout the town.
Plenty of hotels exist in and around the city for convenient accommodations when visiting.
Slater Hill and Blackstone Valley Memorial parks are located in Pawtucket and offer beautiful natural surroundings to enjoy.
Uber, Lyft, and taxi services are available by request throughout the town as another option for transportation.
Pawtucket, Rhode Island, is an excellent place for finding a treatment center, but it is not your only choice. Whether you choose to travel to Pawtucket for treatment or not, thousands of drug and alcohol rehabs are available across the country. If you need help finding treatment options that are right for you and your addiction, please call 800-405-1685 (
Who Answers?) to speak to a specialist who can assist you in finding a rehab center that meets your needs.
Rhode Island Alcohol and Drug Laws
Rhode Island lawmakers and public health agencies have established the following policies related to substance use:1,2,3,4
Good Samaritan Overdose Prevention Act: This law provides some immunity against arrest for Rhode Island residents who call for help when someone is experiencing an overdose. The act protects the person who is experiencing the overdose, anyone who calls for help, and anyone who administers naloxone to someone they believe is experiencing a drug overdose.
Naloxone Access: Rhode Island law stipulates that any of its residents can get naloxone at a local pharmacy without a prescription. Rhode Island residents can also request to have naloxone delivered to their home at no cost.
Adult Drug Court: This system is designed to help Rhode Island residents who are in the criminal justice system get treatment for substance use disorder. Participants can enter the program with any felony that isn't a violent crime and where addiction was a determining factor. If accepted into the program, participants must meet all requirements of treatment, and, after 12 months, they can have their charges dismissed.
Rhode Island Department of Corrections Medication-Assisted Treatment Program: Rhode Island offers enhanced treatment for opioid use disorder to its entire prison population. Detox and medication-assisted treatment are provided. Inmates who are released can continue MAT and receive referrals for ongoing recovery services.