Substance Abuse Statistics in Springfield, Oregon
The Centers for Disease Control keeps account of drug and alcohol-related deaths in the U.S. each year. This and other data shows:2,4

Levels of Care for Rehabs in Oregon
Addiction treatment includes a spectrum of care that ranges from intensive to informal. The various levels of care are designed to meet the full range of addiction needs.
Detox
This is often the initial step of treatment, which is completed before you move forward with recovery services. It is the process of safely clearing your system of all drugs and alcohol. Detox occurs in a supervised setting such as a hospital or inpatient facility, where withdrawal symptoms can be managed.
Residential or Inpatient
Residential or inpatient treatment involves living at a facility and receiving 24/7 care and supervision. This is the most intensive treatment setting. Methods of treatment usually include group, family, and individual therapy. You may also receive medication and participate in recreational therapy.
Partial Hospitalization Programs (PHPs)
PHPs often involve many of the same treatment methods used for inpatient care. The difference is, you only stay at the facility during treatment times, then return home.
Intensive Outpatient Programs (IOPs)
This type of program is a step down from partial hospitalization. IOPs provide several hours of treatment over several days per week, allowing you to live at home and fulfill other obligations such as work or school.
Standard Outpatient
Standard outpatient programs are the least restrictive treatment option. They involve one or two hours of care per week. Oregon residents who have mild addictions and strong support systems are good candidates for this type of treatment.
Aftercare
Also called relapse prevention, aftercare starts once you have completed a formal inpatient or outpatient program. It provides ongoing support, such as 12-step meetings, transitional housing, or therapy.
How to Pay for Addiction Treatment in Springfield, Oregon
Private Insurance
By law, all insurance companies are required to cover substance abuse treatment to at least some extent. However, plans differ in their coverage, so Oregon residents should contact their provider to learn more about specific coverage under their plan.
Oregon Medicaid
Oregon's Medicaid program is the Oregon Health Plan (OHP). Several programs are available for low-income Oregon residents through OHP. Plans include coverage for children and adults, pregnant adults, and adults who are eligible for both Medicaid and Medicare Part D. To qualify, individuals must meet income and residency requirements.5
Oregon Medicare
Medicare is a health insurance program funded by the government that provides coverage for Oregon residents aged 65 and older, as well as individuals with certain disabilities. Certain Medicare plans provide coverage for various types of addiction treatment. Not all rehab facilities accept Medicare, so it's important to confirm accepted methods of payment before starting a program. The Oregon Senior Health Insurance Benefits Assistance (SHIBA) provides free Medicare information to seniors and their family members in Oregon.
TRICARE in Oregon
TRICARE in Oregon (West region) provides health insurance for veterans, U.S. military personnel, and their families. Coverage includes addiction treatment services; however, this coverage varies by plan.
Sliding Scale Rehabs
Oregon residents who receive treatment from a sliding-scale rehab pay only what they can reasonably afford based on their income. To qualify, participants must usually provide proof of income.
IHS-Funded Drug Rehabs
The Indian Health Service (IHS) is a federally funded health program for indigenous people. Native Americans and Native Alaskans who need addiction treatment can receive low-cost or free services under this program.
Getting to and Around Springfield, Oregon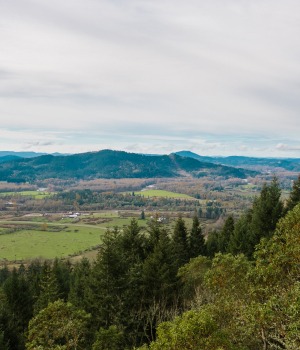 Springfield is a rural city in the Eugene-Springfield Metro area, loved for its abundance of natural beauty and lower housing costs than the city. This historic city was named in 1848 after the natural springs in the area. The lumber industry has been the main livelihood in Springfield, though the medical sector has been growing:
While Eugene Airport is only 14 miles away from Springfield, the Portland International Airport (PDX) is more likely to have convenient flights. To get to Springfield from PDX, you can take a nine-hour ride on the Red Line Max train to the Oregon Express Shuttle.
If the name of the city sounds familiar, it's because Springfield is the hometown of the animated Simpsons family. You can find The Official Simpsons Mural here, on the corner of Fourth and Main streets.
For people that enjoy shopping, there are four malls in the city, including The Shoppe at Gateway, which has a food court and a movie theater.
There are three major hospitals in the area, as well as seven smaller clinics and urgent health care centers.
There are plenty of fun activities to do if you are in recovery or while you are visiting your loved one in drug or alcohol rehab in Springfield, such as swimming at the Lively Park Splash park or learning about the area at the Springfield History Museum.
Oregon Drug and Alcohol Laws
Oregon lawmakers have established the following policies regarding substance use and addiction treatment:1,2,3,4
DUI Laws: In Oregon, it is unlawful to drive under the influence of intoxicants (DUII). A BAC of 0.08% or higher is illegal for vehicle operation. For commercial drivers, the limit is 0.04%, and for drivers under 21, any measurable alcohol content is considered a DUII.
Drug Addiction Treatment and Recovery Act: Passed in November of 2020, this law decriminalized the possession of small amounts of certain drugs. It also increased funding for treatment services and established a grant program to increase the number of health centers where Oregon residents can access free assessments and referrals to services.
Oregon Good Samaritan Overdose Law: This law is designed to encourage Oregon residents to call 911 in an overdose situation. Per this law, if someone seeks medical assistance for a person who is overdosing, neither they nor the person overdosing can be arrested or prosecuted for possession of drugs or drug paraphernalia, for being in a place where drugs are used, for violating probation or parole, or for outstanding warrants related to drug possession.
Oregon Marijuana Laws: In Oregon, adults age 21 and older can possess and use cannabis within specified limits. Public possession is limited to 1 ounce of usable marijuana, 1 ounce of cannabinoid extracts, 16 ounces of solid cannabinoid product, 72 ounces of liquid cannabinoid product, 10 marijuana seeds, and 4 immature marijuana plants. Private possession is limited to 8 ounces of usable marijuana, 1 ounce of cannabinoid extracts, 16 ounces of solid cannabinoid product, 72 ounces of liquid cannabinoid product, 10 marijuana seeds, and 4 marijuana plants. Public use and driving while impaired are illegal.