Alcohol and Drug Use Statistics in Grand Forks, North Dakota
Like many cities in the United States, Grand Forks and the surrounding area have experienced increased drug use and drug-related deaths due to the opioid epidemic.
Additional information about drug and alcohol use in Grand Forks and North Dakota:1, 2, 3, 4, 5
In 2015, there were 43 drug-related overdoses in Grand Forks County.

Most overdoses occurred among those aged 19-25 years old.
If you are concerned about facing drug charges when helping someone who needs help due to a drug overdose, Grand Forks offers immunity to those assisting someone with a drug-related medical emergency. To qualify for immunity, you must remain on the scene and cooperate with medical professionals.
Levels of Care for Rehabs in North Dakota
The following levels demonstrate the continuum of care available for substance abuse treatment in North Dakota.
Alcohol and Drug Detoxification
Detox is often necessary before you can enter a formal treatment program. This is the process of safely and comfortably removing drugs or alcohol from your system. It is performed under medical supervision in a hospital, residential, or outpatient setting.
Inpatient Care
Residential or inpatient treatment is the most intensive level of care. It involves living at a rehab facility and receiving 24/7 supervision. A combination of treatment interventions is offered, including individual, family, and group therapy, nutritional counseling, experiential therapies, and medication.
Partial Hospitalization Programs (PHPs)
PHPs allow North Dakota residents to live at home while attending treatment at a hospital. You may receive many of the same treatments as inpatient care offers, but you can return home during non-treatment hours.
Intensive Outpatient Programs (IOPs)
A step down from a PHP, IOPs allow you to attend a few hours of counseling throughout the week and spend the rest of your time at home, working, or fulfilling other obligations.
Standard Outpatient
The least intensive treatment option, standard outpatient care involves just a couple hours of treatment per week. Highly motivated North Dakotans with a strong support system tend to find this level beneficial.
Relapse Prevention
Relapse prevention, also known as aftercare, provides ongoing support after formal treatment is complete. This may include 12-step groups, non-12-step groups like SMART Recovery, ongoing therapy, sober living homes, and more.
How to Pay for Addiction Treatment in [city], North Dakota
Private Insurance
Federal law requires all insurance providers to cover substance abuse treatment to some extent. However, coverage varies by plan, so North Dakota residents must contact their provider to determine their specific coverage.
North Dakota Medicaid
North Dakota's Medicaid program offers health insurance to low-income residents. This coverage includes various services like inpatient drug rehab and outpatient substance abuse treatment. However, not all rehab facilities accept Medicaid as a method of payment.
North Dakota Medicare
North Dakota Medicare is available for residents who are 65 or older or have a qualifying disability. This government health insurance program includes coverage for drug addiction treatment services. However, some rehabs don't accept Medicare insurance, so it's important to confirm payment policies before enrolling in a program.
TRICARE in North Dakota
Massachusetts TRICARE (North region) is a program funded by the government to provide health insurance coverage for military personnel, veterans, and their families. TRICARE covers addiction treatment services for these individuals.
Sliding Scale Rehabs
Sliding scale rehabs charge fees based on your income, so you only pay what you can reasonably afford. To qualify, you usually must provide proof of income when applying for treatment in North Dakota.
IHS-Funded Drug Rehabs
Drug rehab programs funded by the Indian Health Service (IHS) provide free addiction treatment to Native Americans and Alaskan Natives.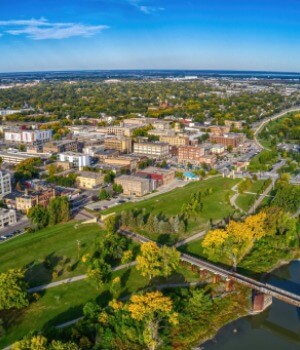 Traveling to and Within Grand Forks, North Dakota
If you are considering entering substance misuse treatment in Grand Forks, or if you want to visit someone currently in treatment, Grand Forks and the surrounding area offer several attractions that make it worth visiting:
Grand Forks International Airport is five miles outside the city.
Grand Forks is home to the North Dakota Museum of Art and the Greenway, a recreation area featuring two golf courses, several parks, a campground, and over 20 miles of walking trails.
Downtown Grand Forks offers many shops and restaurants and is accessible by the city bus.
Those considering seeking help for drug or alcohol addiction should enter treatment as soon as possible and evaluate their treatment options thoroughly. No one treatment program is best for everyone, and an accredited treatment center should be able to work with you to develop an individualized program that meets your needs. Whether you are seeking an inpatient rehab program, an outpatient program, a detox program, or need free substance misuse treatment, an addiction counselor can help you find the right rehab center in Grand Forks.
North Dakota Alcohol and Drug Laws
In North Dakota, laws regarding substance use and addiction treatment include the following regulations:1,2,3
The Good Samaritan Law: This law was passed to encourage North Dakota residents to call 911 in the event of an overdose. The law provides protection from prosecution for consumption or possession of a substance, or possession of drug paraphernalia, for the person overdosing and the person who calls for help. To qualify for immunity, North Dakotans must call 911, remain onsite until assistance arrives, and cooperate with first responders.
Naloxone Access Law: In North Dakota, a health care professional may prescribe or give out naloxone, if they provide training, to a person at risk of overdose or someone who is in a position to help someone experiencing an overdose. Anyone who prescribes, gives out, possesses, or administers naloxone is immune from civil and criminal liability.
Syringe Exchange Law: It is illegal to use or possess drug paraphernalia in North Dakota. However, to encourage syringe exchange programs, syringes collected by these programs are not considered drug paraphernalia, and residue in collected syringes is not a violation of the law against possession of a controlled substance.
Adult Drug Court: This court-supervised treatment orientation program offers an alternative to imprisonment for certain drug crimes. To participate in this program, North Dakota residents must attend treatment, appear regularly before the drug court judge, submit to random drug testing, and attend self-help meetings. Participants may also receive referrals for vocational training, education, and job placement. Successful completion of the program may result in dismissal of criminal charges.