Drug and Alcohol Statistics in Fargo
Some of the statistics around alcohol and drug use in Cass County, where Fargo is located, are alarming:1,2,3,4
There were 49 drug poisoning deaths per 100,000 people from 2015 to 2017.
There were 41 deaths due to meth overdose in 2021.
There were 27 deaths due to opioid overdose in 2021.
Regular alcohol and drug use does not necessarily mean you will develop an alcohol use disorder (AUD) or substance use disorder (SUD), but it does increase your risk of developing one of the conditions. According to a 2019 survey of North Dakota residents, 10% were diagnosed with AUD and 15% with SUD.1
Financing Alcohol and Drug Rehab in Fargo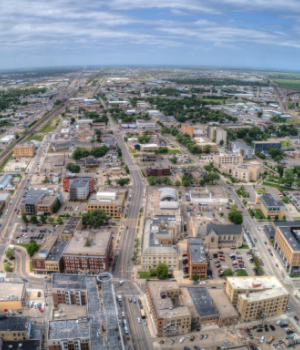 Fargo drug rehabs offer several price points and payment options so that cost is not a barrier to quality care. Treatment options range from short-term outpatient to long-term inpatient programs. You can also find specialized drug rehabs in Fargo offering care for specific population groups such as LGBTQ+, military personnel, men, and women.
Free Rehab
State-funded facilities receive money from the government so they can offer free services to those who cannot afford treatment
Scholarships through government programs or private donors allow you to attend care at no cost
Public methadone clinics that are federally funded offer free methadone treatments for opioid addiction
Some free drug rehab centers in Fargo include:
Southeast Human Service Center Alcohol and Drug Abuse
ShareHouse
Fargo VA Healthcare System
If you are unsure if a rehab center offers financial assistance, speak with someone on the treatment staff about grants, scholarships, and sliding-scale payments that may be available.
Private Insurance
If you do not qualify for free treatment and you have an insurance plan, most Fargo rehabs accept insurance. Many private insurance policies, such as Blue Cross Blue Shield, Aetna, and Cigna, will cover part of the cost of treatment. They may use payment options such as:
Co-pays
Deductibles
Co-insurance
Check with your insurance provider to find out more about your specific plan and what services it covers.
Medicare and Medicaid
Medicare is a national healthcare provider funded by the government. It's available for Americans over the age of 65. Medicare covers the following treatments:5
Opioid addiction treatment
Inpatient and outpatient rehab
Alcohol misuse screenings
Partial hospitalization
Telehealth appointments
Medication-assisted treatment
Group and individual therapy
Medicaid is funded both through the federal government and local government, so the program varies from state to state. It covers most mental health services as Medicare does. In North Dakota, Medicaid is available to the following eligible groups:6
Individuals with income within limits
Children in foster care or subsidized adoption
Former foster care children up to age 26, under certain circumstances
Children with disabilities (birth to 19)
Pregnant women
Individuals with breast or cervical cancer
Workers with disabilities
Other blind and disabled individuals
Low-income Medicare beneficiaries
Levels of Care for Rehabs in North Dakota
The following levels demonstrate the continuum of care available for substance abuse treatment in North Dakota.
Alcohol and Drug Detoxification
Detox is often necessary before you can enter a formal treatment program. This is the process of safely and comfortably removing drugs or alcohol from your system. It is performed under medical supervision in a hospital, residential, or outpatient setting.
Inpatient Care
Residential or inpatient treatment is the most intensive level of care. It involves living at a rehab facility and receiving 24/7 supervision. A combination of treatment interventions is offered, including individual, family, and group therapy, nutritional counseling, experiential therapies, and medication.
Partial Hospitalization Programs (PHPs)
PHPs allow North Dakota residents to live at home while attending treatment at a hospital. You may receive many of the same treatments as inpatient care offers, but you can return home during non-treatment hours.
Intensive Outpatient Programs (IOPs)
A step down from a PHP, IOPs allow you to attend a few hours of counseling throughout the week and spend the rest of your time at home, working, or fulfilling other obligations.
Standard Outpatient
The least intensive treatment option, standard outpatient care, involves just a couple of hours of treatment per week. Highly motivated North Dakotans with a strong support system tend to find this level beneficial.
Relapse Prevention
Relapse prevention, also known as aftercare, provides ongoing support after formal treatment is complete. This may include 12-step groups, non-12-step groups like SMART Recovery, ongoing therapy, sober living homes, and more.
Traveling for Drug and Alcohol Rehab in Fargo
If you are considering Fargo as the location for your drug and alcohol treatment, you will want to know more about the area.
Transportation
Hector International Airport is located just four miles from Fargo. The next closest airport is 84 miles away, so Hector is your best option. There are hundreds of hotels in the area if you need accommodation for yourself or loved ones who come to visit you during your treatment.
MATBUS is the public transportation system serving the communities of Fargo and West Fargo, North Dakota, and Moorhead and Dilworth, Minnesota. MATBUS operates from Monday through Saturday, offering 25 routes to provide you with affordable, quality transportation. The downtown area of Fargo is considered walking-friendly, although the further you get from the city center, the more you will need other transportation.
Attractions
Fargo offers some great attractions, including the Red River Zoo, art and historical museums, and plenty of outdoor spaces to enjoy during the milder months. You can expect very cold temperatures in the winter and very warm temperatures in the summer.
North Dakota Alcohol and Drug Laws
In North Dakota, laws regarding substance use and addiction treatment include the following regulations:1,2,3
The Good Samaritan Law: This law was passed to encourage North Dakota residents to call 911 in the event of an overdose. The law provides protection from prosecution for consumption or possession of a substance, or possession of drug paraphernalia, for the person overdosing and the person who calls for help. To qualify for immunity, North Dakotans must call 911, remain onsite until assistance arrives, and cooperate with first responders.
Naloxone Access Law: In North Dakota, a healthcare professional may prescribe or give out naloxone, if they provide training, to a person at risk of overdose or someone who is in a position to help someone experiencing an overdose. Anyone who prescribes, gives out, possesses, or administers naloxone is immune from civil and criminal liability.
Syringe Exchange Law: It is illegal to use or possess drug paraphernalia in North Dakota. However, to encourage syringe exchange programs, syringes collected by these programs are not considered drug paraphernalia, and residue in collected syringes is not a violation of the law against possession of a controlled substance.
Adult Drug Court: This court-supervised treatment orientation program offers an alternative to imprisonment for certain drug crimes. To participate in this program, North Dakota residents must attend treatment, appear regularly before the drug court judge, submit to random drug testing, and attend self-help meetings. Participants may also receive referrals for vocational training, education, and job placement. Successful completion of the program may result in dismissal of criminal charges.
Seeking professional addiction treatment is the best chance at recovery. If you or someone you love is looking for accredited alcohol and drug rehab centers in Fargo, please call 800-926-9037 (
Who Answers?) today to speak to a specialist about treatment options.
Resources