Expert Insights

I ran across a very interesting article about a gym in Rochester, New York, that is tackling addiction recovery in a very unique way. Addiction continues to plague New York, much like the rest of the country. But one Rochester gym is using fitness to aid his journey through recovery. He believes that the road to a healthy lifestyle is also a road that leads to lasting recovery. Joseph Berry puts in hours of sweat and pain in the gym as a way to empower himself and his recovery. After having so much success, he began a class called Recovery Fitness. Every Saturday, the gym is a safe haven for those in recovery. To use the facility and join the workouts, people only need to have 48 hours of sobriety. This is such an inspirational and unique way to help people. I thoroughly support the program and everything it stands for. After all, healthy body, healthy mind, healthy recovery.

~ Olivia Pennelle
Top 4 Drug Rehabs in Rochester
Below are the top four addiction treatment centers in Rochester based on the following criteria:
Offering evidence-based treatment
Accreditation
Certifications
Client testimonials / reviews
UR Medical Center
UR Medical Center, located in Rochester, New York, promotes recovery from substance use and mental health disorders through holistic, person-centered care. They offer outpatient chemical dependency services and opioid treatment programs through methadone maintenance and psychiatric support.

Treatment programs include:

Intensive Outpatient
Partial Hospitalization
Medication Assessment and Management

Location and contact information:
2617 West Henrietta Road
Rochester, NY 14623
(585) 276-7620
Conifer Park
Conifer Park is a private, inpatient chemical dependency treatment facility located in Glenville, New York. They offer comprehensive substance use disorder services in a tranquil setting conducive to recovery. Psychiatric services are available for those with co-occurring disorders.

Treatment programs include:

Detox
Inpatient
Outpatient

Treatment programs are supported by:

Location and contact information:
79 Glenridge Road
Glenville, NY 12302
(800) 989-6446
Huther Doyle
Huther Doyle is an addiction treatment center that provides evidence-based treatment, wellness programs, and recovery services to individuals in the Rochester, New York area. Special populations served include those on federal probation, along with those seeking bereavement support. A dual diagnosis treatment group is available for those who have been evaluated and need treatment for substance misuse and mental health needs.

Treatment programs include:

Outpatient
Medication Assisted Treatment
Relapse Prevention

Treatment programs are supported by:

Location and contact information:
360 East Avenue
Rochester, NY 14604
(585) 325-5100
Catholic Charities Family and Community Services
Catholic Charities Family and Community Services provides housing, employment, and coordination of care to help people of all ages and all walks of life in the Rochester, New York area. Services are available for those dealing with addiction, aging, mental illness, HIV, poverty, intellectual and developmental disabilities, and immigration.

Treatment programs include:

Outpatient
Dual Diagnosis
Telehealth

Treatment programs are supported by:

Location and contact information:
87 North Clinton Avenue
Rochester, NY 14604
(585) 546-7220
How Does Rochester Compare in Alcohol and Drug Use?
Located in New York's Monroe County, the city of Rochester has seen an increasing trend of drug overdoses in recent decades. If you are one of the many people affected by drugs and alcohol in Monroe County, there are many options for alcohol and drug rehab in Rochester that can help.
In 2020, there were approximately 258 fatal drug overdoses in Monroe County. This marks a 214% increase since 2015. Here are some more disturbing trends regarding drug and alcohol use in the county:1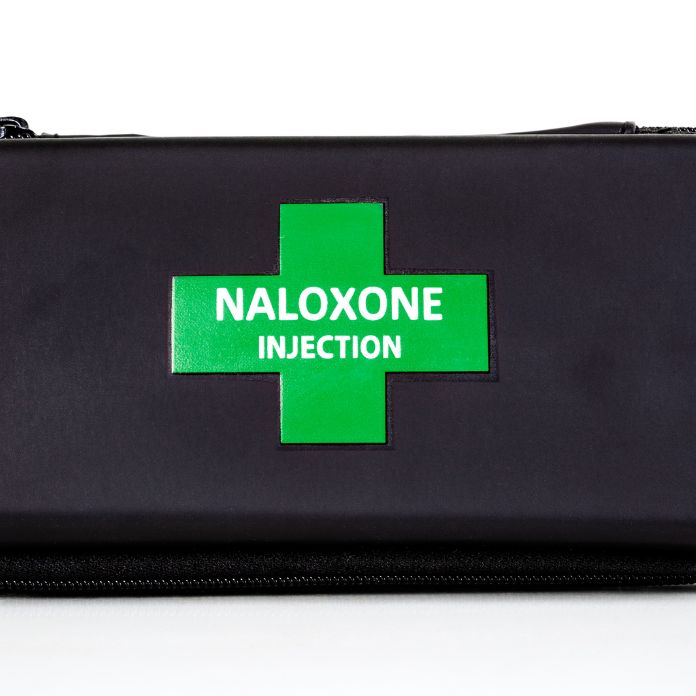 From 2015 to 2020, there was a 214% increase in fatal overdoses.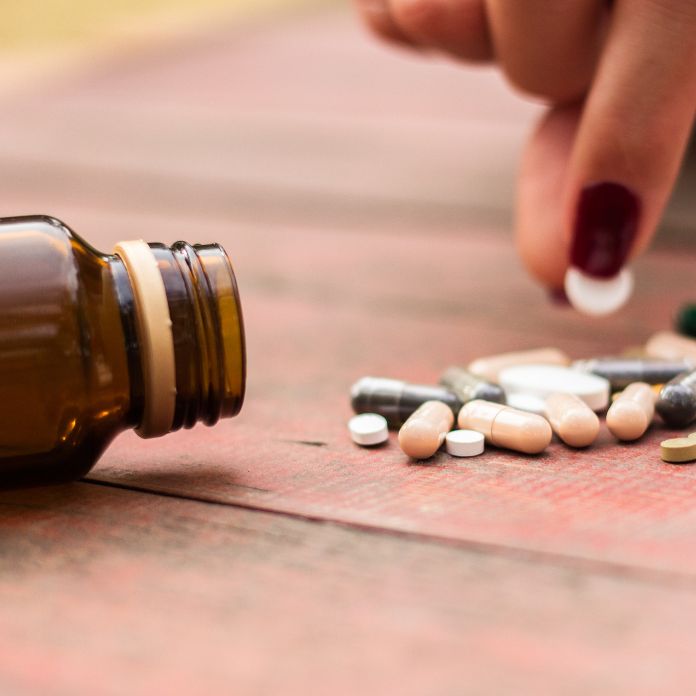 In 2020, there were approximately 258 fatal drug overdoses in Monroe County.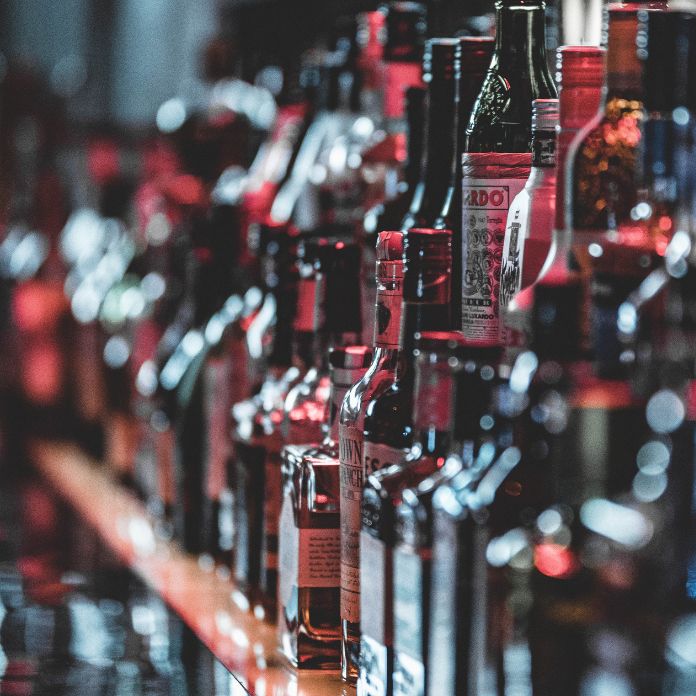 The rate of alcohol-induced overdose deaths doubled during the same time.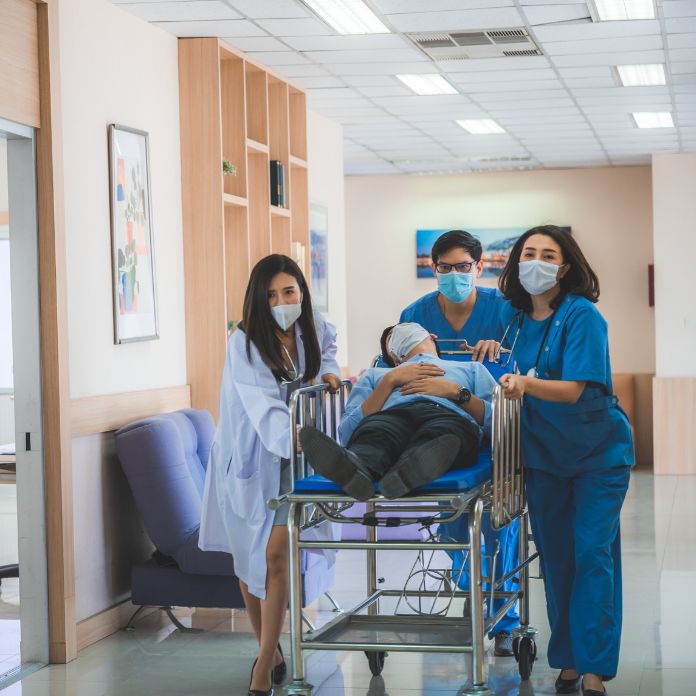 Monroe County had the eighth-highest overdose rate in New York in 2020.
If you're one of the many people suffering from addiction, don't become a statistic. There are rehab centers across Rochester and the entire state to help you.
How Expensive is Drug Rehab in Rochester?
The cost of rehab depends on various factors, such as:
The level of care you need
What amenities the facility offers
The duration of treatment
Whether the center accepts your insurance
Where the rehab is located
Many people utilize other means to cover the cost of care, aside from self-pay. One way to self-fund your rehab would be to create a crowdfunding campaign, asking benevolent people online and within your social group to contribute a small amount towards your rehab. Another way would be to look for a medical loan company or rehab that offers payment plans.
Are There Low-Cost and Free Drug Rehab Centers in Rochester?
State-funded rehabs are funded through governmental and non-profit organizations to provide treatment for people who can't otherwise afford Rochester drug rehabs and alcohol rehabs.
One organization, the federal Substance Abuse and Mental Health Services Administration (SAMHSA), provides block grants to localities across the country to facilitate rehab scholarships and other payment assistance options, such as sliding fee scales. Reach out to SAMHSA or your county social services agency to learn where to find a participating rehab, of which there are three within five miles of the city center.2
Does Insurance Cover Drug Rehab in Rochester?
Substance use disorder, or SUD, is now classified as a disease requiring medical treatment under the Affordable Care Act (ACA) and Mental Health Parity and Addiction Equity Act. As a result, healthcare providers and insurance companies must provide FDA-approved treatments to people struggling with a SUD.
Medicaid: For people living at or below the poverty line who can't otherwise afford health insurance, there is publically-funded Medicaid.3 If you live in a household with a pregnant woman or have children, you could qualify for Medicaid if your income is 133% of the federal poverty level. This program is applied for through your state's health and human services office.
Medicare: Medicare is a program designed to offer healthcare insurance to people who might be denied by the marketplace companies due to their age or disability. There are several parts to Medicare, each covering a specific medical service. You can reach out to a Medicare advisor through your local social services office to determine if you qualify for Medicare and to apply.
Private Insurance: Private health insurance providers such as Globe, Aetna, Blue Cross Blue Shield, and EmblemHealth, can help pay for the cost of substance use disorder (SUD) treatment. Different plans will have varied services, but you can call the number on the back of your card to verify what your plan can pay for and what your fees would be.
Popular Alcohol and Drug Rehab Centers in Rochester, NY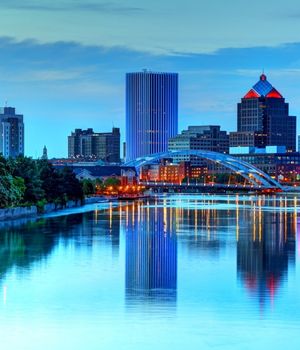 With the dozens of options available nearby, it can be hard to determine where to start looking for drug rehab in New York. Here are a few top choices to help you begin.
Catholic Charities Family and Community Services
Catholic Charities Family and Community Services has a range of community services for the people of New York, including substance use disorder recovery programs. There are trauma-informed inpatient and outpatient programs, including a Latino program for Spanish speakers. They also offer drug court management and programs for other behavioral addictions aside from substance abuse, such as gambling.
Rochester Regional Health Behavioral Health
At Rochester Regional Health, you can utilize inpatient, outpatient, and medication-assisted treatment (MAT) services. They also offer outpatient MAT and detox programming for more flexibility. They accept most health insurance companies, such as Excellus, MagnaCare, and Medicare, as well as provide financial assistance to those who qualify.
Action for a Better Community New Directions
Action for a Better Community New Directions offers evaluations, counseling, and treatment by certified professionals to people in Rochester struggling with addiction. Their trauma-informed care includes individual and group therapy, recovery management and relapse prevention, family support, MAT, and other addiction therapies and support services. There are gender-specific recovery programs as well as assistance with court orders and DWI assessments.
East House Pinny Cooke House
East House Pinny Cooke House is a private non-profit agency dedicated to providing mental health, homelessness, and addiction services to people in need. They offer a supportive housing program that includes care coordination, evaluation, and treatment. There are numerous post-rehab options to help people, such as independent living houses, sober apartments, and treatment communities.
Strong Ties Community Support Program
The Strong Ties Community Support Program, offered by the University of Rochester in partnership with the Strong Memorial Hospital, has substance use disorder services, including methadone maintenance and other outpatient care. There are intensive outpatient care programs, family services, aftercare, and medication-assisted treatment (MAT) for opiate and alcohol addiction.
Inpatient vs. Outpatient Drug Rehab in Rochester
Rehab can look different from one case to the next. If you have a severe addiction, you might need a medical detox period before you can enter inpatient or outpatient treatment. Inpatient rehabs may offer an on-site detox program or may coordinate transportation between the two centers.
As opposed to inpatient rehab, outpatient addiction programs require several hours of therapy per day but allow you to go home at the end of the night. Depending on your needs, there are several types of outpatient rehabs. Partial hospitalization programs, PHPs, or day programs, are great for people who need daily medical supervision and treatments. Intensive outpatient programs (IOPs) offer the same level of care but only a few days per week instead of daily.4
Standard outpatient programs (SOPs) generally require one visit per week to engage in individual and group therapy. These programs also require occasional phone calls with your therapist and other treatment managers. SOPs tend to ask you to participate in support groups in addition to your scheduled therapy.
Advantages of Inpatient Addiction Treatment
Inpatient treatment is the most intensive form of rehab, where you essentially live inside your recovery center until you graduate. The benefit of this is the comprehensiveness in care made possible by a daily, structured focus on recovery. Days in residential treatment are spent learning life skills and undergoing therapy to help you process and recover from the pain of addiction, all from a supportive environment that provides the level of care and medical supervision needed to ensure your success.
Disadvantages of Inpatient Drug Rehab
One disadvantage to inpatient care is the cost factor. Because these programs offer everything you need for your daily activities, including meals and housing, the cost is inherently hiring. Combined with that is the fact that health insurance can typically only pay for medically necessary therapies, not things like room and board.
Advantages of Outpatient Addiction Treatment
Outpatient treatment has several advantages, namely the amount of free time it allows you to take care of your other responsibilities. These programs typically ask for one to several hours spent on a therapy session in a single day. Then you can return home to go about working on your career, education, and family.
Depending on the level of care you need, you can utilize outpatient programs that require one day per week, several days, or every day. You also usually need to conduct telephonic appointments with your therapist regularly, in addition to in-person treatments.
Disadvantages of Outpatient Rehab
The drawback to outpatient rehab is that you have lower chances of recovery when you are in a less stringent program. Some people need a higher level of medical supervision to ensure ongoing sobriety and relapse prevention, which can be difficult to achieve with outpatient rehab programs. You might also have more temptations in your home and social world that could lead to a relapse, which is why it's so important to take part in counseling services and support groups in addition to your rehab treatment.
Types of Drug and Alcohol Rehabs in Rochester
Population-specific regular rehabs, such as for those in the LGBTQ+ community or of Jewish background, cater to people who come from similar experiences.
Faith-Based and Christian Rehab
Christian, Catholic, and Jewish rehabs are some of the popular faith-based addiction treatment options in New York. These centers offer programming that speaks to your religious background, using pastoral counseling, prayer, and support groups in addition to evidence-based therapies to help you battle addiction.

Dual Diagnosis Rehab
A dual diagnosis rehab can provide addiction treatment to people who also suffer from one or more mental health disorders. Standard rehab centers are unable to provide care for people with co-occurring conditions because of the compounding symptoms and potential medication complications.
Specialized dual diagnosis treatment centers are available to help, staffed with mental health professionals, including psychiatrists, psychologists, and registered nurses experienced in mental health and addiction care.
Holistic Rehab
A holistic rehab has a mind-body-spirit focus that aims to incorporate all aspects of your life to achieve a full-person recovery. They usually offer a range of evidence-based and alternative therapies, such as acupuncture, individual and group counseling, and equine therapy.

Luxury Rehab
Luxury drug and alcohol rehabs in New York are designed to provide a higher quality of life than standard rehab centers. These programs tend to have on-site gourmet dining facilities and spas with a physical therapy team, including a masseuse and other high-end amenities. You are more likely to find the latest addiction treatment technologies at a luxury rehab, too, such as CT brain scans to track the course of your addiction and recovery.

Executive Rehab
Executive rehabs are made to protect the reputation of professionals that need addiction treatment by offering increased confidentiality. These centers also tend to offer a higher caliber of quality and convenience-minded amenities to appeal to working professionals, such as fitness and business areas.

What is Medication-Assisted Treatment (MAT)?
During leaving behind addictive substances such as opiates and alcohol, you can be overwhelmed with uncomfortable or downright painful withdrawal symptoms. Medication-assisted treatment (MAT) can be extremely helpful in this case, relieving the withdrawal symptoms that are among the main contributing factors to relapses. Benefits of MAT include:5
Lower chance of fatality if you do relapse
Better birth outcomes such as weight and general health for baby and mom
Longer retention rates for rehab programs and aftercare
The FDA has approved several medications to treat different aspects of addiction, to be used in conjunction with a comprehensive counseling program that includes drug education and community support.
Getting Methadone at a Methadone Clinic: Methadone is a full opioid agonist that works by activating opiate receptors in the brain enough to ease withdrawal symptoms and cravings.5 It's approved to treat opiate use disorder (OUD) as well as chronic pain. This medication can cause a slight euphoric effect and may interact with other medications you're taking. The only way to get methadone and other FDA-approved treatments for OUD is through a certified MAT provider.

Find a Suboxone Doctor: Suboxone, or buprenorphine, is a sublingual film that sits under your tongue and releases a dose of medication that blocks opiate receptors.6 It works to reduce dependence on opiates and is also reduced for pain management. It produces similar effects to methadone but at a lesser level. You can find a suboxone doctor through a rehab program or by visiting the suboxone website to see a list of local providers.

Naltrexone (Revia/Vivitrol): Naltrexone blocks the effects of opiates and alcohol, lessening a person's desire to use the substances.7 The medication comes in several forms; as a pill for AUD, as an extended-use injection for opiate or alcohol addiction, and as a nasal spray for overdose reversals.
This medication can also be used to stop an overdose, as it temporarily reverses the effects of opiates. For this reason, Naltrexone is offered in opiate harm reduction programs across the state and country, provided to emergency care providers as well as family members and people addicted to opiates for as-needed use. There are over 850 opiate prevention programs in New York.8

Antabuse: Antabuse is an FDA-approved medication for AUD, which works by causing withdrawal symptoms when combined with alcohol.9 You can get this medication from a certified MAT provider, who can help you plot an effective course of treatment, combining medication management with counseling.
When taking Antabuse for AUD, be cautious about consuming any food or medication that contains alcohol, such as kombucha or cough syrup. Even a trace amount of alcohol can cause painful symptoms due to the interaction with Antabuse.
Acamprosate: Acamprosate is a relapse prevention medication that helps reduce the cravings that tend to last for years for those in recovery.10 This is a daily medication taken in pill form that your MAT doctor can prescribe. It is approved for long-term use, though people with kidney issues might not be a candidate for long-term or any treatment with Acamprosate.
Should I Travel to Rochester for Alcohol and Drug Treatment?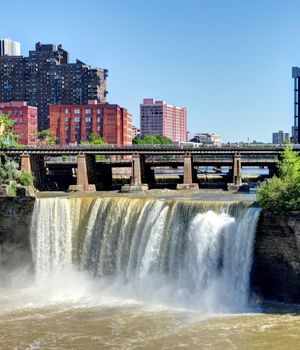 If you're asking yourself, "should I look for an alcohol or drug rehab or in Rochester?" ask yourself if it would make sense to travel. Do you have the finances to facilitate a short or long-term stay in the Big Apple? Do you have friends or family nearby that can lend you support during rehab or a place to stay? If you have health insurance coverage, would they be able to cover services received in a different state?
If it makes sense for you to travel, then it would be a wise idea to find out about the different neighborhoods around Rochester for you to stay in.
Local Considerations When Choosing a Rochester Rehab
If you love walking around your city and visiting little shops and eateries, then Park Avenue is a neighborhood you're sure to enjoy. This highly-walkable area features a bevy of charming sidewalk cafes and gorgeous scenery. Grove Place, in downtown Rochester, is another lovely place to walk. It features sculpture gardens, modern townhomes, and local music and arts academy, the Eastman School of Music, and Downstairs Cabaret Theater.
Cobbs Hill, in southeast Rochester, is filled with the '20s and 30's style homes, historic street lamps, and mature foliage. There are plenty of recreational areas in this neighborhood, such as basketball and tennis near Lake Riley. This area is also home to a live band amphitheater and a huge sledding hill for winter fun.
If you're just visiting for a Rochester drug rehab stay, one of the favorite areas for tourists is the Northwest Quadrant, with the Dutchtown, Maplewood, Charlotte, and Lyell-Otis neighborhoods. This part of town is known for its unique murals, scenic boulevards, and natural attractions such as the gardens and lakeside views.
Drug and Alcohol Laws in New York
New York has a wide range of policies, laws, and programs designed to combat drug and alcohol-related crime and death.
Opiate Courts: To help prevent the local jail system from being overwhelmed with people who've committed minor drug-related offenses due to the influence of opiate addiction, New York has created a unified opiate court system.11 This system facilitates the processing of people charged with minor crimes through an addiction rehabilitation program, coordinates mental health and addiction care, and works to improve overall incomes for people driven to commit crimes in the pursuit of opiates.

Alternatives to Incarcerations (ATI) Programs: Another program created to reduce the burden on the jail population due to drug-related crimes, ATI programs, helps place people into rehab instead of jail. There are 165 ATI programs across the state, each offering:12
Pretrial services
Mental health care
Defender-based advocacy
Community support programs
Drug and alcohol rehab services
911 Good Samaritan Law: Designed to increase the number of calls to emergency services for help with an overdose, the Good Samaritan law provides some legal protection to the person calling if they're using or in possession of drugs.13

Your past doesn't define who you are. If you are struggling with addiction and need help getting back to a good frame of mind, call us at 800-681-1058 (
Who Answers?) any time, day or night. We can help you find an alcohol and drug rehab in Rochester, verify your insurance benefits, and figure out how to pay for and manage life while in rehab.