Alcohol and Drug Use Statistics in Nashua, NH
Below are statistics related to substance abuse and drug overdoses in Nashua:2,3

364
In 364 cases of overdose that occurred in 2021, bystanders administered Narcan before first responders arrived.
49%
49% of overdose patients treated by emergency responders in 2021 were repeat encounters.
2.59
In 2020, the rate of emergency department opioid visits in Hillsborough County was 2.59 per 10,000 population.
1.57
As of July 2020, the rate of opioid treatment admissions in Hillsborough County was 1.57 per 10,000 population.
Everything You Need to Know About Nashua, NH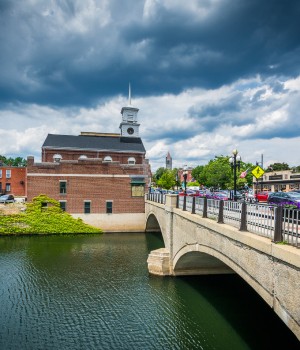 Nashua is tucked along the Nashua and Merrimack Rivers, just a quick 45-minute jaunt from Boston and an hour from the Atlantic Ocean. As the second-largest city in New Hampshire, Nashua offers a thriving downtown district and an attractive historic riverside region.
If you are considering an alcohol or drug rehab in Nashua, NH or visiting a loved one currently undergoing treatment at a Nashua drug and alcohol rehab – here are some valuable tips to guide your travel plans.
Manchester-Boston Region Airport is just 15 minutes from Nashua and offers connections to destinations across the country on several major airlines.
Nashua is considered somewhat walkable, and Uber, Lyft, and taxi services are also available to get around town.
"Citybus" offers daytime fixed route bus services; "After 7" runs a few evening routes, and "City Lift" offers service to seniors and those with physical disabilities.
There are plenty of free activities to do along Nashua's scenic waterways, including hiking, kayaking, and ice skating.
Other popular activities in Nashua include touring the historic mill district, exploring Mine Falls Park, and visiting the National Fish Hatchery.
Great day trip options from Nashua include Boston, the New Hampshire seacoast, and Portland.
Resources
How Nashua, N.H.'s second largest city, is managing the opioid epidemic. (2019, February 13). NHPR. https://www.nhpr.org/post/how-nashua-nhs-second-largest-city-managing-opioid-epidemic
Hastings, J. (2022, February 14). Nashua and Manchester see increases in drug overdoses in 2021. Patch. https://patch.com/new-hampshire/nashua/nashua-manchester-see-increases-drug-overdoses-2021
New Hampshire Drug Monitoring Initiative. (2020). Drug Environment Report—UNCLASSIFIED. New Hampshire Information & Analysis Center. https://www.dhhs.nh.gov/sites/g/files/ehbemt476/files/documents/2021-11/bdas-dmi-july-2020.pdf