Alcohol and Drug Use Statistics in Nashua, NH
Below are statistics related to substance abuse and drug overdoses in Nashua:2,3

364
In 364 cases of overdose that occurred in 2021, bystanders administered Narcan before first responders arrived.
49%
49% of overdose patients treated by emergency responders in 2021 were repeat encounters.
2.59
In 2020, the rate of emergency department opioid visits in Hillsborough County was 2.59 per 10,000 population.
1.57
As of July 2020, the rate of opioid treatment admissions in Hillsborough County was 1.57 per 10,000 population.
Levels of Substance Abuse Care
Often the first step of treatment, detox safely clears your system of all drugs and alcohol. This occurs in a supervised setting such as an inpatient rehab or a hospital.
Medical Detox
Often the first step of treatment, detox safely clears your system of all drugs and alcohol. This occurs in a supervised setting such as an inpatient rehab or a hospital.
Residential or Inpatient
Residential treatment involves participation in individual, group, and other types of therapy in a supervised setting. It requires living at a facility 24/7. Treatment may also include medication and holistic therapies.
Partial hospitalization programs (PHPs)
PHPs often provide similar treatment methods as inpatient care, but you do not live at the facility. Instead, you return home during non-treatment times.
Intensive Outpatient Programs (IOPs)
IOPs are a step down from PHPs. They offer several hours of treatment over several days per week, including individual and group therapy. Many people transition to IOPs after completing a residential or PHP program.
Standard Outpatient
Standard outpatient programs involve a couple hours of treatment per week, provided at an outpatient clinic or therapist's office. This least-intensive level of care is usually appropriate for individuals who have mild addictions and strong support systems.
Aftercare
Aftercare, also called relapse prevention, begins once inpatient or outpatient treatment is completed. It may include 12-step meetings, transitional housing, therapy, or other supports that encourage ongoing sobriety.
How to Pay for Drug Rehab in Nashua, New Hampshire
Private Insurance
The Mental Health Parity and Addiction Equity Act requires all insurance companies to provide at least some coverage for substance abuse treatment. However, each plan differs, so New Hampshire residents should contact their provider to find out exactly what theirs covers.
New Hampshire Medicaid
Medicaid is a government program that covers health care costs for those who qualify. To be eligible, New Hampshire residents must meet income requirements. Coverage usually includes inpatient and outpatient rehab services as well as additional recovery support services. In New Hampshire, In and Out Medical Assistance can help individuals whose income disqualifies them for Medicaid but is not enough to pay for their treatment costs.5
New Hampshire Medicaid
Medicare is a federal health insurance program that provides coverage for Americans aged 65 and older or have qualifying disabilities. Not all rehab facilities accept Medicare, so it's important to confirm accepted methods of payment before starting a program.
Sliding Scale Rehabs
Around half of the rehab services in New Hampshire provide treatment at no charge or at reduced cost based on income. To qualify, you must usually provide proof of income when applying for treatment.
TRICARE in New Hampshire
TRICARE in New Hampshire (East region) provides health insurance coverage for U.S. military personnel, veterans, and their dependents. This coverage includes some addiction treatment services.
IHS-Funded Drug Rehabs
The Indian Health Service (IHS) is a federally funded health program. Under IHS, Native Americans and Native Alaskans who need SUD treatment can receive low-cost or free treatment services.
Everything You Need to Know About Nashua, NH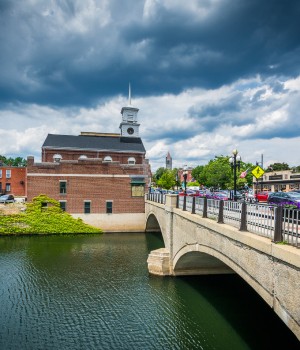 Nashua is tucked along the Nashua and Merrimack Rivers, just a quick 45-minute jaunt from Boston and an hour from the Atlantic Ocean. As the second-largest city in New Hampshire, Nashua offers a thriving downtown district and an attractive historic riverside region.
If you are considering an alcohol or drug rehab in Nashua, NH or visiting a loved one currently undergoing treatment at a Nashua drug and alcohol rehab – here are some valuable tips to guide your travel plans.
Manchester-Boston Region Airport is just 15 minutes from Nashua and offers connections to destinations across the country on several major airlines.
Nashua is considered somewhat walkable, and Uber, Lyft, and taxi services are also available to get around town.
"Citybus" offers daytime fixed route bus services; "After 7" runs a few evening routes, and "City Lift" offers service to seniors and those with physical disabilities.
There are plenty of free activities to do along Nashua's scenic waterways, including hiking, kayaking, and ice skating.
Other popular activities in Nashua include touring the historic mill district, exploring Mine Falls Park, and visiting the National Fish Hatchery.
Great day trip options from Nashua include Boston, the New Hampshire seacoast, and Portland.
New Hampshire Drug and Alcohol Laws
The following laws guide state-wide policies and legal actions regarding substance use and misuse in New Hampshire1,2,3,4
Good Samaritan Laws: These New Hampshire Laws provide immunity from arrest, prosecution, and conviction for a drug violation to those who seek medical help for someone experiencing an overdose. This protection applies to both the victim of the overdose and the witness. These laws encourage people to call 911 without fear of legal repercussions, with the goal of reducing overdose deaths.
Adult Drug Court: New Hampshire's Adult Drug Court program is designed to increase access to drug and alcohol rehab, reduce crime, and restore families. It offers rehab as an alternative to incarceration.
Insurance Coverage: The New Hampshire Department of Insurance has expanded the scope of required coverage for substance treatment to include medication-assisted treatment.
DUI Laws: In New Hampshire, a DUI may also be referred to as a DWI (driving while intoxicated). New Hampshire residents can get a DWI if they attempt to drive with a blood alcohol content of .08% or higher or are impaired by any substance that affects their ability to drive well. Additionally, commercial drivers in New Hampshire must have a BAC of .04% or lower to drive legally. And under New Hampshire's Zero Tolerance Law, anyone under the age of 21 years old will receive a DWI if they have a BAC of .02% of higher or if they refuse to take a BAC test.
Resources
How Nashua, N.H.'s second largest city, is managing the opioid epidemic. (2019, February 13). NHPR. https://www.nhpr.org/post/how-nashua-nhs-second-largest-city-managing-opioid-epidemic
Hastings, J. (2022, February 14). Nashua and Manchester see increases in drug overdoses in 2021. Patch. https://patch.com/new-hampshire/nashua/nashua-manchester-see-increases-drug-overdoses-2021
New Hampshire Drug Monitoring Initiative. (2020). Drug Environment Report—UNCLASSIFIED. New Hampshire Information & Analysis Center. https://www.dhhs.nh.gov/sites/g/files/ehbemt476/files/documents/2021-11/bdas-dmi-july-2020.pdf