Alcohol and Drug Use Statistics in Manchester, New Hampshire
Both Manchester and Hillsborough County recorded steep increases in substance abuse rates from 2020 to 2021, and that trend appears to be ongoing in 2022. Data from the New Hampshire Department of Health and Human Services highlights the following alcohol– and drug-use statistics:4, 5
40%
Roughly 40% of Manchester's overdose fatalities involve fentanyl alone, and another 37% involve fentanyl and other drugs.
940
In 2021, 940 county residents were admitted to addiction rehab centers. Roughly 80% received opioid treatment, but many were also treated for methamphetamine or cocaine misuse.
To help combat alarming increases in overdose events in Hillsborough County and throughout the state, New Hampshire maintains several publicly-funded addiction treatment centers. These facilities provide evidence-based therapy and supportive treatment services for state residents experiencing homelessness and significant financial need at little to no cost.
Paying for Alcohol and Drug Rehab in Manchester, New Hampshire
Quality treatment at a drug or alcohol rehab in Manchester is never out of reach. Regardless of your income level or health insurance status, you can access inpatient or outpatient treatment provided by qualified, compassionate, and licensed addiction experts.
Free Addiction Treatment Programs in Manchester
If you have a low income and no health insurance, you may qualify for free treatment based on your income. If you're underinsured, you could also be eligible for a discounted rehab program if you can demonstrate financial need. Some of your reduced-cost and free rehab options in and near Manchester include:

State-funded rehab centers: These facilities use funding from state and federal sources to provide inpatient and outpatient treatment for New Hampshire residents who cannot pay for their care.
Methadone clinics:: Many of these opioid treatment clinics receive public funding or use variable fee structures that allow economically disadvantaged and marginalized populations to access treatment at little to no cost.
Income-based rehab programs These are Manchester drug rehabs and alcohol rehabs that use a sliding fee scale based on each patient's treatment costs on their income. Individuals with serious financial needs may qualify for free treatment, depending on the facility.
If you're interested in qualifying for free drug or alcohol rehab in Manchester, consider reaching out to one or more of these local facilities for help:6
Farnum Center
Families in Transition
Avenues Recovery (roughly 14 miles away in Concord)
Riverbend Community Mental Health (roughly 14 miles away in Concord)
Paying for Rehab With Health Insurance
If you carry private health insurance, your plan can help make treatment at a Manchester alcohol rehab or drug rehab more affordable. Medicare and Medicaid plans also cover several inpatient and outpatient addiction treatment services, provided they're deemed medically necessary by a licensed healthcare provider.7, 8
Several treatment centers in and near Manchester accept private insurance from various providers, including Aetna, Anthem Blue Cross and Blue Shield, Cigna, United HealthCare, and others. If you're unfamiliar with your plan's covered treatment services, stipulations, and limits, contact your insurer to get a breakdown of those details. You can also request a list of in-network providers that take your plan, which can make researching your local treatment options a bit easier.
If you have Medicare or New Hampshire Medicaid (called Medical Assistance), your plan will only pay for treatment at Medicare- and Medicaid-approved rehab facilities. Luckily, Manchester is home to 11 rehab centers that take Medicaid and six that accept Medicare.6 You can find these treatment centers by searching online for "alcohol rehabs near me" or "drug rehabs near me." Then call each location to request a list of approved insurance plans and learn more about your treatment options.
If you'd like assistance verifying your coverage at any drug or alcohol rehab in Manchester, you can also call our confidential helpline day or night.
How Easy Is It to Travel to and Within Manchester, New Hampshire?
Whether you're seeking treatment at a Manchester drug rehab or wish to visit a loved one in a long-term residential program, familiarizing yourself with the city first is a good idea.
Travel Options
If you plan on flying, Manchester-Boston Regional Airport is a five-minute drive from downtown. Portsmouth International Airport is roughly 40 minutes east of Manchester and offers a wider selection of flights. If you plan on driving, the city is very well-connected to nearby Massachusetts, Connecticut, Vermont, New York, and Maine via several major roadways.
Lodging Options
Within Manchester, you'll find at least a dozen hotels to choose from, a few of which are situated within walking distance of downtown. If you have a vehicle, you'll also find several more lodging options within minutes of the city in nearby Bedford and Litchfield.
Walkability and Public Transit
While downtown Manchester is fairly walkable, you'll need some form of vehicle transportation to get around most areas of the city efficiently. If you need public transportation, the Manchester Transit Authority operates 12 regular bus routes and two intercity express routes that run Monday through Friday.9
Area Attractions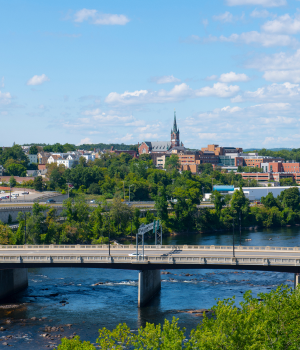 Take a stroll through downtown's Amoskeag Riverwalk to check out Manchester's renovated mill buildings and local shops, or enjoy some time in nature at one of the city's many public parks. Browse American and European works at the Currier Museum of Art or catch a live show at the Palace Theatre downtown.
If you're a sports fan, you can catch a baseball game at the city's minor league Dental Delta Stadium or grab tickets to one of the many games at SNHU Arena. The arena also frequently hosts national touring musical acts and other notable live performances that attract tens of thousands of visitors to the city each year.
If you'd like help exploring options for alcohol or drug rehab in Manchester for yourself or someone you care about, we're here for you. Call our 24/7 helpline at 800-405-1685 (
Who Answers?) to chat with a treatment support specialist about local rehab programs that may be a good fit for your needs.