Substance Abuse and Overdose Statistics in Bellevue, NE
Substance abuse data compiled by the CDC, the Nebraska Department of Health and Human Services, and the Sarpy/Cass Health Department shows that:1,4,5,6

4.5%
In 2021, approximately 4.5% of Sarpy County adult residents said they'd ever sought professional help for an alcohol- or drug-related problem.
14%
Nearly 14% of Sarpy County adult residents reported using a prescription opioid drug from 2020 to 2021.
34%
In 2021, roughly 34% of metro-area residents who reported they drank excessively were between the ages of 18 and 39. Roughly 22% were between the ages of 40 and 64.
Traveling to and Within Bellevue, NE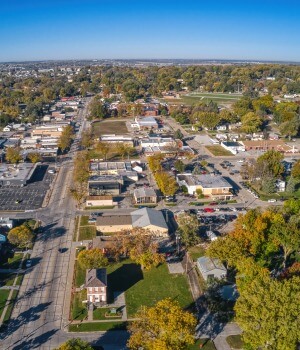 Whether you're traveling to Bellevue for treatment or to visit someone who's currently in rehab in the city, these tips may help you plan your travels:7,8
Omaha, Nebraska, is just 12 miles from Bellevue and easily reachable by car, public transportation, or a rideshare service.
Eppley Airfield in Omaha is your best option for flights and is located roughly 20 minutes from Bellevue by car.
Bellevue is well-connected to the greater Omaha area by U.S. Route 75. Interstates 29 and 80 are also easily accessible from the city, as are several state routes.
Bellevue is served by Omaha's Metro Transit system, which runs one fixed bus route into nearby downtown Omaha on weekdays. The route operates on 60-minute headways; however, service is limited—you can only catch the bus early in the morning and toward the end of the workday.
Ridesharing services are available in Bellevue, including Uber, Lyft, and taxi services.
Bellevue has about 10 national-chain and non-branded lodging options to choose from.
Bellevue borders the Missouri River and is packed with public parks. If you enjoy recreating outdoors, you'll have ample opportunity to do so.
Olde Town Bellevue (aka downtown) features a few locally owned restaurants, cafes, and shops worth a visit.
Popular attractions in Bellevue and nearby Omaha include the Sarpy County Museum, Fontenelle Forest, Omaha's Henry Doorly Zoo and Aquarium, The Durham Museum, Joslyn Art Museum, and Joslyn Castle.