Alcohol and Drug Abuse Statistics in New Bedford, MA
Here are some facts about drug use in New Bedford, MA:1,2,3

78%
78% of people seeking treatment were homeless at the time they enrolled in rehab.
65%
65% of New Bedford residents who went to rehab were 30 years of age to older.
60%
60% of New Bedford residents who went to rehab were, and only 40% of rehab attendees were female.
Financing Alcohol and Drug Rehab in New Bedford, MA
The cost of rehab in New Bedford, MA, doesn't have to be an obstacle to getting the help you need. You may be able to find payment assistance to help you get care. Some rehabs will work with you on payment arrangements like sliding scale fees or payment plans over time. Other programs have financial assistance for participants, including:

Government-funded rehab facilities: When rehab programs get funding from the local, state, or federal government, they can use that money to offer free or low-cost care to people who might not be able to afford care otherwise. Many methadone clinics are federally funded.
Grant-funded rehabs: Some rehab programs receive outside funding from SAMHSA and other private organizations. The rehabs then use the funding to increase the number of people they can serve or reduce care fees. Grant-funded rehab may include inpatient or outpatient treatment.
Rehab scholarships: There are certain churches and organizations like 10,000 Beds that offer scholarships to help individuals cover the costs of rehab. Some rehabs have scholarship funding available as well. Scholarship funds cover some or all of your care.
Massachusetts operates a substance abuse helpline. There are specialists there who can help you find a treatment program. You can reach the helpline by calling 800.327.5050.4
You can also search for New Bedford, MA, drug rehab, or alcohol rehab by entering "drug rehab" or "alcohol rehab" in a search engine or directory.
You can find free rehab treatment in New Bedford, MA, at programs such as SEMCOA WRAP House or High Point Belleville Outpatient.
Paying for Rehab with Insurance in New Bedford, MA
All types of insurance plans are required by law to cover substance use disorder treatment. This includes Medicare, Medicaid, employer-sponsored insurance plans, individual insurance plans, and military insurance. Not all rehabs accept all types of insurance, so it is important to verify that the facilities you are considering work with the type of insurance you have.
Private Insurance
Most private insurance plans work with a network of preferred care providers. Your plan will probably cover more expenses if you attend an in-network program. If you go to an out-of-network program, your out-of-pocket costs may be higher. Popular health insurance companies include Blue Cross Blue Shield, Aetna, UnitedHealth, and Cigna.
Medicare
Medicare is a federally administered insurance plan for people 65 and over. You may also be eligible for medicare if you have certain medical conditions or disabilities. Medicare covers both inpatient and outpatient rehab, including:
Opioid addiction treatment, including medication-assisted therapy
Alcohol misuse screenings
Telehealth
Group and individual therapy
Medicaid
Medicaid is insurance offered through a partnership between the state and the federal to people who are pregnant or have dependent children and people with certain health conditions. The Massachusetts Medicaid program is called MassCare.5 The details of your MassCare plan will depend on whether you are an individual or a family and whether you have certain disabilities. MassCare covers both inpatient and outpatient rehab.
New Bedford, MA, drug rehabs that accept MassCare include Seven Hills Behavioral Health and New Bedford Women's Therapeutic Community.
How Easy Is It to Travel to and Within New Bedford, MA?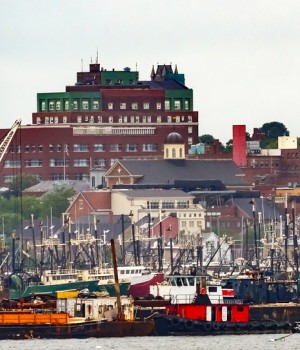 New Bedford, MA, is located not far from the Rhode Island state line in the southern part of Massachusetts. The nearest airport is the New Bedford Airport. You can reach the city by car via Interstate 195 and US Route 6. You can take a train into Providence, RI, and transfer to a bus to get to New Bedford. The drive between the cities is about an hour.
Families visiting loved ones in rehab in New Bedford can choose from a variety of hotels in New Bedford or in nearby Dartmouth. The city is home to a wide array of restaurants, including many that feature local seafood. You can take advantage of Massachusetts resort areas by taking a ferry from New Bedford to Martha's Vineyard or Nantucket.
There is a bus system in New Bedford but it doesn't cover the entire city. Having access to a car or using a ride-share service will make traveling around New Bedford easier.