Baltimore, MD Alcohol/Drug Use Statistics
There is a growing substance misuse trend across the city and the state, especially with opioids and new substances, including powdered alcohol. Some statistics related to substance use in the city include:2,3,4
Overall, overdose deaths have increased across Maryland, but the rate of overdoses in the city of Baltimore increased by 225% between 2007 and 2016.
Half of Baltimore teens have used alcohol, with one in eight reporting binge drinking.
There were 761 deaths related to substance use in 2017 in the city, 692 of which were related to opioids.
In 2018, the city distributed 3,891 Naloxone kits and reversed 904 overdoses through the Staying Alive program.
If you're among those affected by drugs and alcohol, there are options for treatment. Many services in Baltimore can help people with any addiction, regardless of their financial situation
Cost of Drug and Alcohol Rehab in Baltimore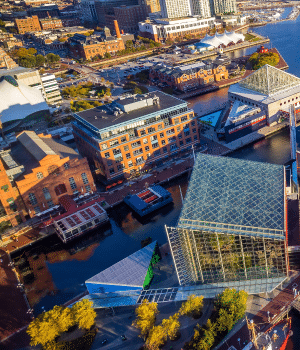 Rehab programs can range from very affordable or free to quite expensive. The costs depend on several factors:
The location and type of facility you choose
Whether you want private or shared accommodations in residential treatment
What type of amenities are provided — for example, equine and neural imaging therapies might be exclusive to higher-end facilities
Your health insurance coverage or budget if you're paying out of pocket
Depending on your insurance, finances, and the type of program you need, you're sure to find an alcohol or drug rehab in Baltimore that fits your needs, given the dozens of options available.
Low-Cost and Free Rehabs in Baltimore
If you need assistance in paying for rehab services, look to local nonprofits and religious organizations for help. You can reach out to the city of Baltimore's substance abuse programs for referrals. If you find a center you're particularly interested in, call and ask to speak to the financial counselor and ask if they offer a sliding-scale fee or scholarships.
How Do I Pay for Addiction Treatment in Baltimore, MD?
When looking for rehab, it's critical to be aware of the total costs you'll be responsible for when signing up for any program. There are dozens of programs for people in any financial situation in the Baltimore area. According to the Substance Abuse and Mental Health Services Administration (SAMHSA), there are:1
Once you've determined how you'll pay for addiction treatment, you can begin researching qualified centers in the area.
Choose a Program that Offers Payment Plans
If you can afford a down payment on treatment, an addiction care payment plan might be a good finance option for you. This creates a contract that splits up the cost of care over an extended period, giving you a chance to make more manageable payments during rehab and after finishing treatment.
Rehab centers might require you to submit to a credit check before approval, and if they offer a down payment, the amount will vary greatly depending on each facility's policies.
Choose a Program that Offers Payment Plans: If you can afford a down payment on treatment, an addiction care payment plan might be a good finance option for you. This creates a contract that splits up the cost of care over an extended period, giving you a chance to make more manageable payments during rehab and after finishing treatment.
Rehab centers might require you to submit to a credit check before approval, and if they offer a down payment, the amount will vary greatly depending on each facility's policies.
Apply for a Rehab Scholarship: A rehab scholarship can help low-income and uninsured clients with some or all of their rehab costs. These scholarships for rehab are usually reserved for clients who don't have access to any alternatives. SAMHSA and other federal and state agencies provide block grants to facilitate scholarships for drug or alcohol rehab in Baltimore, and some facilities may have private scholarship funds. The best way to find a rehab scholarship is to call your desired rehab and ask their intake coordinators.
Find a Sliding Scale Rehab Program: Sliding scale rehabs allow clients to pay for care at a cost determined by their annual income and other factors. Sliding-fee-scale programs typically base their qualifications on current federal income poverty guidelines. Community-based rehab centers are among the most likely types of rehabs to offer sliding-fee options.
Popular Drug & Alcohol Rehab Centers in Baltimore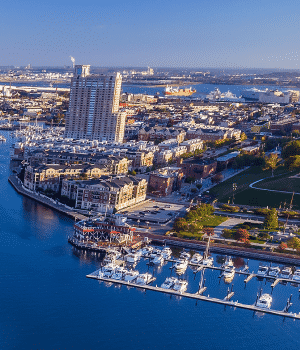 There are dozens of facilities with which to seek addiction treatment in Baltimore. We have compiled some of the top Baltimore drug rehabs and alcohol rehabs after carefully reviewing the facilities' offered services, amenities, and clients' reviews.
Mountain Manor Treatment Centers Baltimore
At Mountain Manor, you can receive inpatient rehab services as well as virtual treatment and group counseling. The approach to treatment here uses the latest therapies and works with clinical trials to provide the options to participate in new substance cessation techniques.
Powell Recovery Center
Near the Pleasant View Gardens neighborhood and Patterson Park, Powell Recovery Center treats substance addiction at every stage of recovery, from detox to aftercare. They offer withdrawal management, dual diagnosis treatment, treatment on demand, residential, outpatient, and ancillary services.
Tuerk House, Inc.
Tuerk House, located near the Baltimore Museum of Art, offers a full range of substance use disorder treatments, such as medication-assisted treatment (MAT), using a person-centered approach and a holistic view of recovery. Along with alternative treatments like acupuncture, they provide crisis stabilization and community and family engagement for lifelong recovery.
Eastern Avenue Health Solutions
Baltimore residents who need opioid use disorder treatment can reach out to Eastern Avenue Health Solutions. Their programs utilize medication-assisted treatment  with methadone and group and individual outpatient counseling sessions. They also provide ancillary services like annual physicals, urinalysis, and pregnancy testing.
Inpatient vs. Outpatient Rehab in Baltimore, MD
When considering the type of rehab you'll need, take into account the amount of time each day you have to spend on treatment. Inpatient rehab and outpatient rehab have one key difference: outpatient rehab programs allow you to return home at night, whereas inpatient residential facilities require you to live in the facility and abide by their rules and structure until your treatment is complete.
Benefits of Inpatient Addiction Treatment
Inpatient rehab provides a supportive, stable, and immersive environment away from home where you can focus solely on your recovery. Inpatient rehab will have you participating in daily addiction therapy, either individually or in a group, and you'll be surrounded by supportive peers who are also working diligently through recovery.
Depending on your needs, your residential stay could be as short as 30 days or 90 days or longer.
Benefits of Outpatient Addiction Treatment
Baltimore is home to 170 outpatient rehab service centers, ranging from outpatient detox and day treatment centers to intensive outpatient programs (IOPs).1 These programs work through extensive individual and group therapy sessions to teach the coping and life skills you need to maintain long-term recovery.
Outpatient treatment options for drug rehab in Baltimore include:1

Standard outpatient treatment requires the least time commitment to participate, usually requiring only a few hours of meetings per week in individual therapy or support groups. This type of rehab is perfect for someone in long-term recovery who just needs ongoing counseling and life skills coaching to avoid relapsing
Intensive outpatient programs (IOPs) are more involved than the standard treatment, requiring a few hours of therapy several days a week.
Partial hospitalization programs (PHPs) are the most intensive, with several hours in an inpatient setting each day. Many people enter PHPs after finishing inpatient rehab or detox programs.
Outpatient programs can be greatly beneficial if you are dealing with addiction on top of:
An active social life
A thriving career that may be endangered if you enter inpatient rehab
A family that needs constant care and parental guidance
Educational responsibilities that require your time as well as focus
Balancing your busy life and treating addiction can be a challenge, but outpatient rehab clinics can help with flexible programming to fit your schedule.
Aftercare is an integral aspect of maintaining sobriety for the long haul. Outpatient recovery maintenance programs provide ongoing counseling and drug education to help you or your loved one maintain sobriety, and community-based support groups, including 12-step programs, Alcoholics Anonymous, and Narcotics Anonymous, can supplement your aftercare plan with extra social support. These programs are offered consistently, at a schedule that fits your life, whether it be daily, weekly, or monthly sessions.
Types of Drug and Alcohol Rehabs in Baltimore, Maryland
Depending on your interests and background, you might find a more supportive environment that caters to your personal beliefs to be more fulfilling than a standard population rehab.
Holistic RehabA holistic rehab center will focus more on natural surroundings and treatments such as nutrition therapy and yoga to aid recovery. There may be experimental therapies such as acupuncture and yoga, along with evidence-based treatments. In a holistic rehab, you may also find a community more in line with your energy that understands the issues that affect your mental health and recovery.
Christian and Faith-Based Rehab If you're a spiritual person, a religious environment might be helpful in your healing process. Faith-based rehabs incorporate pastoral counseling, group prayer sessions, and other religious activities with other addiction treatments to encourage sobriety.
Luxury Rehab When you're interested in the most serene rehab environment possible with access to the highest-quality treatments and on-campus offerings, look for a luxury rehab center. These facilities are usually equipped with anything you could want from a luxury hotel, including fine dining and on-site gyms with spas.
Executive Rehab People in high-level professional positions often want to ensure their confidentiality while undergoing rehab to avoid any backlash. Executive rehab centers focus heavily on client confidentiality and offer a myriad of high-end therapies, amenities, places to gather, and office space to work in peace within the facility if needed.
Dual Diagnosis Rehab
When you find yourself struggling with both a mental health disorder and substance abuse, you likely have a dual diagnosis. Rehab centers that deal with dual diagnosis are staffed with a higher caliber of mental health care professionals than your standard rehab center to manage medication and therapy for those with mental health conditions.

If your life is being impacted by substance use and you also have a diagnosis of a mental health disorder, such as bipolar disorder, schizophrenia, or any other number of mental health disorders, a co-occurring diagnosis drug or alcohol rehab in Baltimore is available to help. There are 59 dual diagnosis rehabs in and around the city, including several specifically for homeless people, veterans, and women.1
Depression and Addiction
Many people with depression turn to drugs and alcohol to cope with the symptoms of depression. Some studies indicate that up to 80% of people with depression also experience a substance use disorder, making it the most common dual diagnosis.5
Anxiety and AddictionAnxiety can affect a person's ability to concentrate and sleep and set nerves "on edge." If you've visited a mental health professional for your anxiety and been prescribed medication, then you're at risk of developing a substance dependency. Studies show that people between the ages of 18 and 25 are most affected by anxiety medication abuse, with 3.8% of people in that category nationwide misusing benzodiazepines.6

Anxiety medications such as benzodiazepines are highly addictive and can compound existing issues as well as create new ones. When used in combination with alcohol and other illicit drugs such as opioids, these medications contribute to the risk of death from overdosing due to their respiratory suppression capabilities.
PTSD and Addiction
Up to half of the people with a substance use disorder have post-traumatic stress disorder (PTSD), with studies showing around 70% of people worldwide experience a traumatic event at least once in their lives. This is much higher in veterans and service members, as well as emergency first responders. When your job is defending the public and your country, experiencing traumatic events can be a daily occurrence.7
Bipolar Disorder and Addiction
A recent study shows that nearly a quarter of the people that enter into substance abuse treatment programs had a dual diagnosis with bipolar disorder present, all presenting higher rates of severe alcohol and cocaine addictions. Regarding participants enrolled in mental health treatment facilities, 61.9% of clients were dual diagnosed with bipolar disorder and substance abuse disorder.8
Personality Disorders and Addiction
Studies show that a high amount of people with addiction disorders also suffer from a personality disorder like borderline (BPD) or antisocial personality disorder, with some studies indicating a prevalence of up to 73%.9
Types of Addiction Therapy Used in Rehab
Addiction is a complex disease that affects a person's brain and behaviors. It is treatable, but there is no "one size fits all" approach that works for everyone. There are several types of evidence-based therapies that may be provided by your drug and alcohol rehab in Baltimore.
Cognitive Behavioral Therapy
Cognitive behavioral therapy (CBT) helps people recognize, cope with, and/or avoid situations that are most likely to cause temptation to return to drug and alcohol use. This form of therapy analyzes thought and behavior patterns to address addictive behaviors.13

Dialectical Behavior Therapy
Dialectical behavioral therapy (DBT) is often used to treat people with a dual diagnosis. This form of therapy focuses on validating and accepting uncomfortable feelings rather than burying them or denying these feelings exist. Through DBT, you will learn to cope with difficult feelings healthily instead of using drugs and alcohol as coping mechanisms.14

Motivational Enhancement Therapy
Motivational Enhancement Therapy (MET) is designed to motivate people to engage with their addiction treatment program. Because it can be challenging to stop using drugs and alcohol, many people feel ambivalent about quitting. This therapeutic approach may help you become internally motivated and get you involved and committed to your recovery process.15

Contingency Management
Contingency management (CM) programs provide tangible rewards, such as vouchers or gift cards, for abstaining from drug and alcohol use. Research shows that CM programs are highly effective at increasing engagement in rehab programs and can truly help people abstain from drug and alcohol use.13

Group Therapy
Group therapy allows you to meet with others in the rehab program for support, discussion, and camaraderie. Group therapy is a central feature in most Tampa rehab programs. It is often combined with individual therapies and is highly effective in helping people both make meaningful connections with peers and achieve long-term recovery.13

Family Therapy
Family therapy brings every member of a family together to address their interactions and improve their communication. If you and your family have been affected by addiction, this type of therapy can be very helpful in teaching you healthy communication strategies. Your family members will be taught healthy ways to help support your recovery. It's also an opportunity to work through any family issues that may have contributed to substance misuse.13
Should I Travel to Baltimore for Drug and Alcohol Rehab?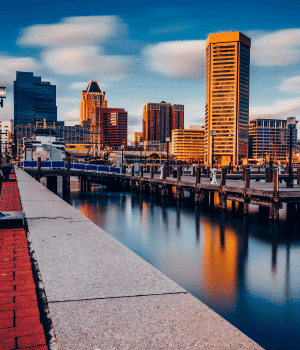 If you love the convenience of the city, American history, and art galleries, consider a trip to Baltimore. Baltimore is home to a variety of gorgeous natural attractions and fun activities, such as the National Aquarium and the various shopping centers along the harbor.
Baltimore has tons of gourmet dining, including world-famous crabcakes, and has a great public transit system. When thinking about moving for rehab, there are some questions to ask yourself:
Do you have health insurance to cover the cost of treatment in the area, or do you need to look into alternative funding options?
Do you know people in the area that can help support your sobriety?
Does Baltimore sound like an ideal location in which to seek treatment?
Are there rehab programs in the city that interest you and fit your needs?
Learn about the local neighborhoods, as well as substance abuse laws in Baltimore. When deciding to move to another city or state, make sure to familiarize yourself with the local customs and laws. Baltimore has substance abuse laws and state-created programs to help control the population of substance abuse in the city.
Neighborhoods in Baltimore to Consider for Treatment
When moving for alcohol or drug rehab in Baltimore, there is a bevy of unique places for you to stay.
If you love quieter, residential areas, look for a place to stay in the Homeland area, with single-family homes that date back to the 1920s. This area is famous for its winding streets and access to the Lakes (which are actually beautiful duck ponds).
If you prefer a trendier area, check out the Hampden area, where you'll find plenty of chic, independent shops and vegan-friendly restaurants. There is also access to public transportation in the area and a bustling calendar of social events.
Canton, in the southeast, is where you want to go if you're moving to Maryland for the seafood. This neighborhood by the harbor is home to some of the nation's best seafood restaurants and has a high walkability score, giving you easy access to public transport as well as the waterfront.
Alcohol & Drug Laws in Baltimore, MD
There are several laws and policies enacted to combat the problem of substance abuse in the community.
Maryland Good Samaritan Overdose Prevention Law: In order to encourage people in the presence of overdoses who might be engaged in certain crimes, Maryland's Good Samaritan law was enacted. Under this law, individuals who report a suspected drug overdose to police or emergency medical personnel will not be arrested or prosecuted for consumption or possession of illicit substances.10
Overdose Prevention Act: The Overdose Prevention Act, created under the Heroin and Opioid Prevention Effort (HOPE) and Treatment Act set of bills in 2017, provides access to naloxone (Narcan) kits for all Maryland citizens through any pharmacy in the state.11
NameofLaw: The Maryland Family and Medical Leave Act (FMLA) allows employees to take up to 12 weeks of unpaid time off, as per federal guidelines, without fear of losing their job.12
The AIM to B'More Jail Diversion Program: For those convicted of low-level, non-violent crimes involving drug and alcohol use, the AIM program can redirect them to rehab instead of jail.13 This program is designed to prevent a heavy impact on the future of individuals involved in petty crime due to substance abuse, instead offering a second chance at living healthily within society.
Resources