Substance Abuse Statistics for Bossier City, LA
Drug and alcohol misuse in Bossier City and Bossier Parish has led to health problems and death for residents of the area. Some facts about drug and alcohol use in Bossier Parish include:1,2

33
Of the overdoses treated in ERs in 2018, 33 of them were due to opioid use.
96
In 2020, 96 people were admitted to hospitals for drug-related issues in Bossier Parish.
19%
In 2021, 19% of adults in Bossier Parish reported excessive drinking.
Getting to and Around Bossier City, LA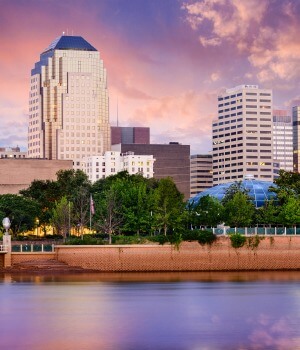 Here are some travel tips for anyone attending drug or alcohol rehab in Bossier City, LA, or those visiting a loved one attending treatment there:
The Shreveport Airport is the closest airport to Bossier City, only seven miles away.
You can get to Bossier city by car using Interstate 20 or US Route 71.
There are bus services throughout Bossier City and Shreveport. Buses do not currently require payment; the system is fare-free through 2023.
There are plenty of hotels in Bossier City and Shreveport. You can stay at national chain hotels or look for accommodations using an app like Air BnB.
Bossier City and Shreveport have a wide range of restaurants to choose from. You can find modestly priced cafes and fast food options, or you can choose to eat at the fine dining restaurants available.
Visitors to Shreveport and Bossier City can enjoy architectural tours of the area. There are museums and galleries for those who enjoy art and history. Casinos in the area host live performances by musicians and other entertainers. Nearby Cross Lake is a destination for water sports like boating and fishing.
Resources
Louisiana Department of Health, (no date), Louisiana Opioid Data and Surveillance System.
County Health Rankings, (no date) Bossier, LA.