Alcohol and Drug Use Statistics in West Des Moines, IA
While West Des Moines covers several counties, most of it is in Polk County. Here are drug and alcohol statistics from 2021 and years prior that focus on the impact of substance abuse in Polk County:1,3
45.3%
45.3% of people said they were personally impacted by substance abuse.
30.8%
30.8% of people who live in Polk County considered themselves to be heavy alcohol drinkers.
29%
Between 2016 and 2020, 29% of the driving deaths in Polk County involved alcohol.
Levels of Substance Abuse Care
Various levels of substance abuse treatment are available. You'll want to know the different options before choosing a program.
Professional Detox
Drug detox is a set of interventions aimed at managing uncomfortable withdrawal symptoms, helping you to achieve a substance-free and medically-stable state. Detox isn't always necessary, but it is recommended for alcohol, benzo, and opioid addictions.
Inpatient Care
You live at the treatment facility for the entire length of the program, ranging from 30 to 90 days, receiving around-the-clock care, including individual therapy, group therapy, support groups, family therapy, medication (if applicable), and more.
Partial hospitalization programs (PHPs)
You live at home while attending therapy and counseling for several hours each day at a hospital or facility—between 20 and 30 hours per week. This is a great option for those who need a high level of support but don't want to live elsewhere.
Intensive Outpatient Programs (IOPs)
You live at home while receiving therapy and other services in an outpatient setting for anywhere from nine to 20 hours per week.
Standard Outpatient
The least intensive and structured option, you live at home and receive two to four hours of treatment per week. This option may be beneficial for someone with a mild addiction who has a great support system and strong motivation to get sober.
Relapse Prevention
After completing your initial treatment program, you will want to continue with relapse prevention services, such as support groups, ongoing therapy, transitional housing, or some combination of many services.
How to Pay for Addiction Treatment in Iowa
The following are various ways to finance your recovery program:
Private Insurance
If you have private health insurance from the Healthcare Marketplace or through your place of employment, you can use your insurance to cover the cost of drug and alcohol rehab. By law, your provider is required to cover addiction treatment services to the extent they cover medical services. This means they will likely provide partial or full coverage for treatment.
Iowa Medicaid
Iowa Medicaid is a federal health insurance program that provides coverage for low-income people and families who don't have access to private insurance. You can use Iowa Medicaid to cover the cost of drug rehab in West Des Moines.
Medicare
Iowa Medicare provides health insurance coverage to people aged 65 and older. Like Medicaid, Medicare covers substance abuse treatment services, such as inpatient and outpatient rehab as well as substance abuse assessments.
TRICARE in Iowa
Iowa is located in the West Region for TRICARE, a government program providing health insurance coverage for military personnel, veterans, and their families. You can use TRICARE to cover the cost of drug and alcohol rehab, making it more accessible.
Sliding Scale Payment Options
If a free rehab is full or has a long waiting list, you can apply to a sliding scale rehab, which only charges you what you can reasonably pay based on your income.
IHS-Funded Drug Rehabs
The Indian Health Services provides funding for some Iowa drug and alcohol rehab centers, making them able to provide free treatment to Indigenous people.
Traveling to and Within West Des Moines, IA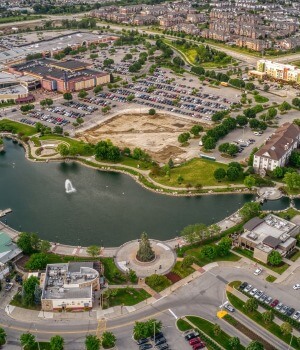 From hundreds of acres of parkland to a stop on the underground railroad, West Des Moines has a lot to offer visitors to the area. If you are visiting someone who is a patient at a West Des Moines drug rehab or alcohol rehab or in treatment yourself, here are some helpful tips for getting around town and some ideas of what to do once you're here.
West Des Moines is located at the crossroads of Interstates 35 and 80, making it easy to reach by car.
If you're flying, Des Moines International Airport is about 8 miles away.
The Des Moines Area Regional Transit Authority runs through many local communities, including West Des Moines.
West Des Moines is home to several parks including the 631-acre Raccoon River Park. This space features multi-use trails, a dog park, an ice rink, a 232-acre lake, a fishing pier, a boat ramp, and a beach. Additionally, Walnut Woods makes up 260 acres of wooded land along the Raccoon River.
Check out the historic Jordan House, which was an official site on the National Underground Railroad.
After your tour, head to Historic Valley Junction for some shopping. This renovated railroad district has more than 150 shops, including art galleries, antique shops, and restaurants.
Iowa Substance Abuse and Treatment Laws
Iowa has several substance abuse and treatment laws that can help save lives, including:1
Residential Substance Use Disorder Treatment Act of 2021: This act increased access to drug addiction treatment services in prisons and jails and helped people transition to treatment in the community.
Americans with Disabilities Act (ADA): This law includes drug and alcohol addiction as a disability, which means you may be eligible to receive disability benefits.
Code of Iowa Chapter 321J.17: This law requires that Iowa drivers who receive a DUI must undergo a substance misuse assessment.
Iowa Good Samaritan Law: This law encourages witnesses to call 911 in the event of an overdose by protecting them from prosecution for drug possession.
Resources
University of Wisconsin Public Health Institute. (2022). County Health Rankings – Polk County.
Office of the Governor of Iowa. (2022, July 12). Gov. Reynolds and officials warn Iowans of dangerous Fentanyl and fake pills.
UnityPoint Health-Des Moines, MercyOne Des Moines, Broadlawns Medical Center, Polk County Health Department, Dallas County Health Department, Warren County Health Services, United Way of Central Iowa, EveryStep Mid Iowa Health Foundation. (2021). 2021 Community Health Needs Assessment Executive Summary – Polk, Warren, and Dallas Counties, Iowa.