Drug and Alcohol Use Statistics in Idaho Falls, ID
Here is a snapshot of some of the drug and alcohol use statistics from Bonneville County over the past few years:1,2,3

17%
17% of residents reported engaging in excessive drinking
25%
25% of driving deaths in the county were related to alcohol-impaired driving
16-20
In 2015, the drug overdose death rate was 16 per 100,000 population, which rose to 20 per 100,000 population in 2021
Levels of Substance Abuse Treatment
Once you decide to attend drug and alcohol rehab, you'll want to choose the appropriate level for you.
Alcohol and Drug Detox
If you are dependent on substances like alcohol, sedatives, or opioids, you may want to consider going to detox before starting treatment. During detox, a treatment team monitors you and keeps you safe, provides you with supportive medical care, and administers withdrawal medications to mitigate distressing symptoms.
Residential Drug Rehab
You live at the treatment facility for the entire length of treatment, typically a month to three months, and receive individualized treatment planning that may include many different therapies and interventions.
Partial Hospitalization Programs (PHPs)
You live at home while attending therapy for up to 30 hours per week in a hospital setting or clinic.
Intensive Outpatient Programs (IOPs)
You reside at home while attending counseling for anywhere from nine to 20 hours per week.
Standard Outpatient
You live at home while attending therapy for a few hours per week.
Aftercare
After you complete a rehab program, it's important that you receive ongoing support, such as through NA, AA, SMART Recovery, sober living homes, continuing care, and beyond.
How to Pay for Drug and Alcohol Rehab in Idaho Falls
You can pay for drug rehab in several different ways.
Private Insurance
If you have private health insurance, you can use your insurance to cover some or all of the cost of drug and alcohol rehab.
Idaho Medicaid
Idaho Medicaid covers substance abuse treatment services, including inpatient and outpatient rehab, as well as addiction treatment medications.
Idaho Medicare
Idaho Medicare covers drug addiction treatment services, such as assessments, medication-assisted treatment, and inpatient and outpatient.
TRICARE in Idaho
Idaho Medicare covers drug addiction treatment services, such as assessments, medication-assisted treatment, and inpatient and outpatient.
Sliding Scale Payments
Much like state-funded rehabs, sliding scale rehabs increase access to treatment by only charging what a patient can afford to pay.
IHS-Funded Drug Rehabs
Indigenous people struggling with addiction can receive free substance abuse treatment at drug rehabs funded by the Indian Health Service.
Traveling to and Within Idaho Falls, ID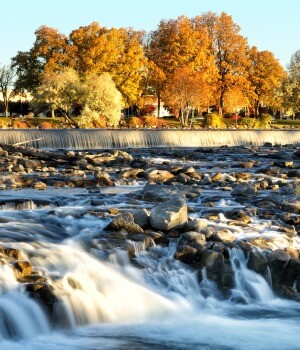 The nearest airport to Idaho Falls is Idaho Falls Airport (IDA), which is 3.8 miles away. Other nearby airports include Pocatello (PIH) (48 miles), Jackson (JAC) (66 miles), and Sun Valley/Hailey/Ketchum (SUN) (114.6 miles).
Some of the attractions in the area include:
Downtown Idaho Falls
The Snake River
Yellowstone National Park
Teton Mountains
Outdoor space for camping, fishing, hiking, or biking
Public transportation is available in Idaho Falls through the Greater Idaho Falls Transit (GIFT) system. This system differs from the former Idaho Falls transportation service (TRPTA), which had fixed routes and bus stops. GIFT is an on-demand door-to-door service that will come directly to your home or anywhere else in the city of Idaho Falls limits to pick you up.
Idaho Falls offers beautiful natural scenery and plenty of outdoor activities during a rehab stay. If you choose not to get treatment in Idaho Falls, thousands of rehab centers across the country can also help you recover. Wherever you seek help, treatment staff will assess your health and ensure you receive the care you need.
If you need help finding treatment options that are right for you and your addiction, please call 800-405-1685 (
Who Answers?) to speak to a specialist who can assist you in choosing a rehab center that meets your needs.
Drug and Alcohol Laws in Idaho
Below are some important drug and alcohol laws to know in Idaho:1
Idaho Good Samaritan Overdose Law: Bystanders who call 911 when someone experiences an overdose are protected from prosecution for drug possession; this encourages witnesses to seek timely medical help, which can save lives.
Idaho Naloxone Standing Order: Idaho residents can obtain naloxone (Narcan) at a pharmacy without a prescription, and those with Medicaid can get free naloxone from specific pharmacies.
Idaho Drug Treatment Courts; Non-violent offenders with a drug or alcohol addiction may be able to attend drug addiction treatment instead of serving jail time.