Alcohol and Drug Use Statistics in Marietta, GA
Like much of the U.S., Roswell has seen an increase in opioid use and related opioid overdoses in recent years. The Georgia Department of Public Health reported the following statistics for Fulton County and the corresponding substate region:1,2

10%
About 10% of residents in the substate region reported marijuana use in the past year from 2016-2018.
1%
Less than 1% of residents in the substate region reported heroin use in the past month from 2016-2018.
1%
About 1% of residents in the substate region reported cocaine use in the past year from 2016-201.
45%
Close to 45% of residents in the substate region reported alcohol use in the past month from 2016-2018.
Levels of Drug and Alcohol Rehab
Drug and alcohol rehab settings vary in intensiveness and structure. Here's more about the levels of care:
Detox
When you receive drug detox, a team of doctors and nurses monitor your withdrawal symptoms while the drug or alcohol leaves your body, ensuring your safety and comfort. This usually occurs first before starting formal addiction treatment services.
Residential or Inpatient
You reside at the treatment center for 30 days, 60 days, or 90 days, while receiving a myriad of treatment modalities, such as individual therapy, group counseling, family therapy, support groups, experiential therapies, and addiction treatment medications.
Partial Hospitalization Programs (PHPs)
A step down from inpatient rehab, you live at home while attending between 20 and 30 hours of counseling per week.
Intensive Outpatient Programs (IOPs)
Less intensive than a PHP, IOPs involve living at home while attending between nine and 20 hours of therapy per week.
Standard Outpatient
Standard outpatient involves just a few hours of therapy per week and may not be the best option for someone who doesn't have a strong support system or who is struggling with a severe addiction. It may be better used as a step-down option after completing an inpatient or PHP.
Aftercare
Once you complete your addiction treatment program, you'll want to make sure to continue receiving ongoing support to prevent relapse. This can look like joining AA, NA, or SMART Recovery, or attending ongoing therapy. Some people transition into sober living homes before returning home.
How to Pay for Drug Rehab in Marietta, Georgia
There are many ways to finance your addiction treatment to reduce the financial burden.
Private Insurance
Health insurance providers are required to cover substance abuse treatment and mental health services to the extent that they do surgical and medical benefits. If you have private insurance, you can likely get partial or full coverage for drug rehab. Contact your provider for more details.
Georgia Medicaid: Peach State Health Plan
Georgia's Medicaid, or Peach State Health Plan, provides health insurance coverage for low-income Georgia residents. Medicaid covers drug and alcohol rehab, although you will need to find a rehab that accepts Medicaid.
Medicare
Georgia Medicare covers Georgia residents aged 65 and older as well as those with certain medical conditions and disabilities. It covers addiction treatment services, like medication-assisted treatment, outpatient rehab, and inpatient hospitalization. Like Medicaid, you'll need to find a drug rehab that accepts this form of payment.
TRICARE in Georgia
TRICARE in Georgia provides health insurance coverage for veterans, active-duty military personnel, and their families. Many drug and alcohol rehabs accept TRICARE.
Sliding Scale Rehabs
A sliding scale rehab only charges you what you can reasonably pay based on your income and financial situation, greatly reducing the cost of treatment and increasing access.
IHS-Funded Drug Rehabs
The Indian Health Services funds addiction treatment programs that provide free care to Indigenous people. Most of these IHS-funded rehabs are on reservations, although a few are elsewhere.
Local Information: Visiting Marietta, GA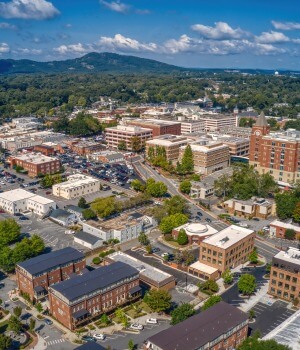 Marietta is a northern suburb of Atlanta with plenty of activities and places to explore during your stay. The following information may be helpful if you plan to visit a loved one in a Marietta rehab or seek help for addiction in Marietta:
Marietta has a subtropical climate with hot and humid summers and mild rainy winters with rare snowfalls.
The nearest airport for travel to and from Marietta is the Hartsfield-Jackson International Airport.
Marietta is about 24 miles from Atlanta and a 30-minute drive by car using the highways.
CobbLinc offers local bus services to popular destinations such as Six Flags over Georgia and connections to the Metropolitan Atlanta Rapid Transit Authority (MARTA).
You may need a car for errands in Marietta; however, you may be able to complete some errands on foot if you live in some neighborhoods including Oakton, Hardage Farm, and Barrett Green.
Taxi and rideshare options like Lyft and Uber are fast and convenient options for travel within Marietta.
Marietta is accessible by Route 3 and U.S. Route 41 that run through it as well as I-75
The closest Amtrak station for rail travel to and from Marietta is in Atlanta.
Marietta has numerous hotels to choose from including the Hilton Atlanta/Marietta Hotel and Conference Center, Holiday Inn Express, Courtyard by Marriot Atlanta Marietta, Double Tree by Hilton, and Wyndham Garden Marietta Atlanta.
Places to explore in Marietta include the Scope Creek Trail, Marietta Square, Marietta Museum of History, Six Flags, and Gone with the Wind Museum.
Georgia Drug and Alcohol Laws
Here are some relevant drug and alcohol-related laws in Georgia:1
The Mental Health Parity and Addiction Equity Act of 2008: This law requires insurance providers to cover drug rehab to the same extent they cover other medical treatments, increasing access to addiction treatment.
Georgia Naloxone Access Law: In Georgia, you can receive a prescription for naloxone (Narcan) if you know someone who is at risk of an overdose. If you are at risk of an opioid overdose, you can also receive naloxone from a pharmacist without a prescription
The Georgia 911 Medical Amnesty Law: This Georgia overdose law provides limited legal immunity to those who call 911 to seek help for someone experiencing an overdose, meaning they won't get prosecuted for drug possession.