Alcohol and Drug Abuse Stats in Sandy Springs, GA
Federal and local agencies keep track of the number of ER visits, rehab admissions, and overdose deaths. Here are some recent statistics about Sandy Springs residents:1,2,3
36,833
36,833 Georgians went to rehab in 2019, an 11% increase over the two previous years.
6,970
6,970 rehab admissions in Georgia were for meth, representing the highest increase in admissions volumes since 2009, at a staggering 258%.
2,825
2,825 people were treated for an addiction to synthetic analgesics including fentanyl.
Paying for Alcohol and Drug Rehab in Sandy Springs, GA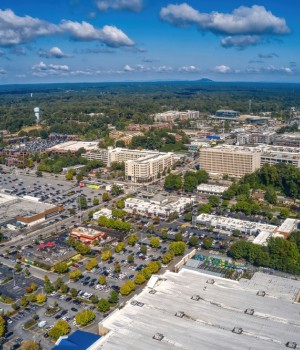 If you're able to self-pay, you'll find most rehab centers can work with you and sometimes offer cash payment discounts. To raise money, you can try crowdfunding or asking for donations from friends and family, or taking out a medical loan through a private loan company. Some rehab centers have internal financing offices and can provide loan services or payment plans; others work with third-party loan offices.
There may also be rehab scholarships made possible by bock grant funds from agencies such as the Substance Abuse and Mental Health Services Administration (SAMHSA). Some groups that offer free rehabs in Sandy Springs, like assessments and outpatient counseling, include:
The Mary Hall Freedom Village provides a range of services to women including medical and recovery services ranging from residential treatment, day programs, and intensive outpatient programs.
The Second Chance Program is a residential treatment center for adults with specialized programming for older adults and focuses on the 12-step style of recovery.
The Community Assistance Center is a community resources group that may be able to help you find help paying for rehab in Georgia.
Private Insurance Rehabs in Sandy Springs
You can use your coverage to pay for substance abuse treatment if you have employer-sponsored health care insurance, such as EmblemHealth, Beacon, or Cigna. Outpatient services such as medication-assisted treatment (MAT), counseling, individual therapy (both in-person and with telehealth services), and group therapy are all typically covered under health insurance plans. Private drug rehabs in Georgia, like Alana Recovery, accept many private insurances. Call them or go online to ask for a free insurance verification to see if your coverage is accepted.
Inpatient services may or may not be covered by your insurance provider, as they often won't pay for things like residency fees and meals. However, each insurance company is different and has varying policies (and fees). Call the number on the back of your insurance card to speak with someone who can help you verify your coverage. They can also explain to you any associated fees, such as deductibles and copays included in your plan, and refer you to a local in-network treatment provider that can help.
Medicare and Medicaid
If you are unable to qualify for traditional health insurance, either due to a low income or some other factor like age, Medicaid and Medicare are available. There are federally-funded health insurance plans that help bridge the gap in care for impoverished, elder, and disabled citizens. If you're low-income, you could qualify for Medicaid, depending on your family composition, annual income, and other factors. Medicare is for those over age 65 or those with a disability. There are two alcohol and drug rehabs in Sandy Springs that take Medicaid, Bethany Christian Services of Georgia, and Northside Hospital Behavioral Health Services (which also accepts Medicare).
To apply for either program, you can go online to your local health and human services agency website or Medicare.gov. You can also call 211 to speak with a social services directory assistant who can direct you to a social worker or a Georgia Medicare advocate who can help.
Medicaid, being a program for people with the lowest incomes, typically does not come with service fees that other insurance coverage plans have, like copays. Conversely, Medicare does come with commonly applied insurance fees, including deductibles and medication costs. When applying for the program, you can learn more about the specific plan details for the services you qualify for and what rehab centers near Sandy Springs will be able to assist you.
How Easy is it to Travel to and Within Sandy Springs, GA?
If you're driving to the city of Sandy Springs, the highways Georgia 400 and interstate 285 will get you there, or you can fly in through the Hartsfield-Jackson Atlanta International Airport (ATL/KATL). The city operates a public bus line with various stops throughout town if you don't plan to drive around.
There are five major hospitals in nearby Atlanta and three small urgent care medical clinics in the city of Sandy Springs. For your shopping needs, there's a Target in town, along with the Sandy Springs strip mall and three major grocery stores.