Alcohol and Drug Use Statistics in Pompano Beach
Here's a breakdown of how drug and alcohol addiction affects the Broward County community:2,3,4
18
In 2020, alcohol played a factor in 166 car accidents in the county and was to blame for 18 deaths.
3,812
3,812 adults and 861 children in Broward County were enrolled in substance use disorder treatment in 2021.
123
Alcohol was the primary drug cited by more than 25% of people seeking addiction treatment in Broward County in 2016.
How to Pay for Alcohol and Drug Treatment in Pompano Beach
There are quality drug and alcohol rehabs in Pompano Beach that allow you to pay for treatment in many ways, including options where you don't have to pay at all.
Free and Low-Cost Treatment Centers in Pompano Beach
Free or low-cost rehab in Pompano Beach often falls into one of these categories:

State-funded rehab: This type of facility gets money from the government to help offset the costs of rehab for people who would struggle to pay. Methadone clinics can also fall under this category, which treats people with opioid addiction.
Grant-funded rehabs: There are Pompano Beach drug and alcohol rehabs that receive grants from the federal government for substance use disorder treatment. This allows them to provide more affordable treatment options.
Sliding scale plans: There are also rehab centers that offer sliding scale payment plans which fluctuate depending on your monthly income.
Free drug and alcohol rehabs near Pompano Beach in Ft. Lauderdale include:
Faith Farm Ministries
Broward Addiction Recovery Center
Covenant House Florida
Medicaid, Medicare, and Private Insurance
Additional payment options include federally funded health insurance programs Medicaid and Medicare and private insurance. You will need to find a Pompano Beach drug rehab or alcohol rehab that accepts one of these programs for some or all of your costs to be covered.
To be eligible for Florida Medicaid, you must meet income requirements as well as the following:5
Florida resident
U.S. national, citizen, permanent resident, or legal alien
Pregnant or responsible for a child 18 years old or younger
Blind or have a disability or a family member in your home with a disability
65 years old or older
People 65 years old or older or those younger than 65 and disabled can apply for Medicare. You will need to check with your plan to see what types of addiction treatment are covered.
Private insurance is often used to pay for a Pompano Beach drug or alcohol rehab. Common health insurance providers in the state include Florida Blue, Humana, and UnitedHealthcare. Before choosing a treatment center, you'll want to ensure they accept your insurance plan to keep costs low.
Is it Easy to Travel to and Within Pompano Beach?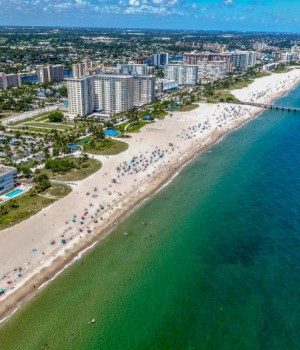 Perhaps you've chosen to travel to Pompano Beach for inpatient or outpatient addiction treatment, or you're in town to visit someone else who is in rehab. No matter what brings you to the city, here is some information about what to expect while you're in town.
Getting Around
There are several ways to get in and out of Pompano Beach. The closest airport is the Fort Lauderdale/Hollywood International Airport, just 16 miles north of the city. You can also fly into the Miami International Airport, about 40 miles south of Pompano Beach, off I-95. Visitors to the area can also take Amtrak into Pompano Beach, Tri-Rail, or Greyhound.
Accommodations
Hotel options are plentiful and range from 4-star beach resorts with spas to more budget-friendly options. Restaurants can be found beachfront and in the downtown area.
Attractions
The beaches in Pompano Beach offer more than just sand and sea. You'll find walking paths, fitness equipment, and a children's playground with an interactive fountain. The city's newly developed pier offers shade from the sun. Golfers can enjoy signature courses, and tennis players can challenge themselves at the professional tennis center.
For a break from the beach, the Pompano Beach Cultural Center, the Bailey Contemporary Arts, and the Ali Cultural Arts all feature new and well-known artists, weekly performances and concerts, and art classes. You can also catch a concert in the open-air amphitheater.
Resources