Drug and Alcohol Abuse Statistics in Bradenton, FL
Let's break down some alcohol and drug use statistics for both Bradenton and Manatee County:1,3
63
Bradenton Police made 63 DUI arrests in 2021.
116
There were 116 car crashes involving alcohol in the county in 2020, resulting in 13 deaths.
In 2020, Manatee County reported 141 all drug overdose deaths, which was a slight increase from 2019.

85% of those deaths involved opioids.

In 2021, 1,125 adults in the county entered substance use disorder treatment.

There were 105 people under the age of 18 who entered addiction treatment.
Levels of Substance Abuse Care
Different levels of addiction care are available for different needs. Some Florida residents start at detox and work through the entire continuum of care, while others need only the least intensive options.
Alcohol and Drug Detoxification
Performed under medical supervision, detox is the process of comfortably and safely removing substances from your system. Once detox is complete, you can transition to addiction treatment services.
Inpatient Drug and Alcohol Rehab
Inpatient treatment, also called residential rehab, provides 24/7 care while you live at a rehab facility. Typical treatment services include individual and group therapy, medication, and nutritional counseling.
Partial hospitalization programs (PHPs)
PHPs offer many of the same treatment services as inpatient care, but you return home during non-treatment times. This type of treatment often serves as a bridge between inpatient and outpatient care.
Intensive Outpatient Programs (IOPs)
IOPs are a step down from PHPs. With this type of program, you attend counseling several days each week while spending the rest of your time at home, at work, or fulfilling other obligations.
Standard Outpatient
Standard outpatient care is the least intensive option. It involves a couple of hours of treatment each week. It is appropriate for Florida residents who are highly motivated and have a strong support system.
Relapse Prevention
Aftercare, or relapse prevention, starts after a rehab program is complete. It provides ongoing support such as sober living homes and 12-step support groups.
How to Pay for Substance Addiction Treatment in [City], Florida
Private Insurance
All insurance providers are required to cover mental health substance abuse treatment services in some capacity. Contact your provider to confirm specific coverage, including any applicable deductibles and copays.
Florida Medicaid
Florida's Medicaid program provides health insurance to low-income residents. It covers treatment services such as outpatient and inpatient substance abuse treatment. However, not all treatment facilities accept Medicaid as a method of payment.
Florida Medicare
Florida Medicare is a government program that provides coverage for Florida residents who are 65 or older, have eligible disabilities, or have end-stage renal disease or ALS. Medicare can cover the cost of addiction treatment services. However, some rehabs don't accept Medicare insurance, so it is important to confirm coverage before enrolling in a program.
Sliding Scale Rehabs
Sliding scale rehab programs charge fees based on income, so you only pay what you can reasonably afford. To qualify for sliding scale rehab in Massachusetts, you may have to provide proof of income.
TRICARE in Florida
Florida TRICARE (South Region) is a program funded by the government that provides health insurance coverage for U.S. military personnel, veterans, and their families. TRICARE coverage includes addiction treatment services, such as rehab and medication-assisted treatment.
Sliding Scale Rehabs
Sliding scale rehabs offer income-based fees, meaning they charge only what a Florida resident can reasonably afford to pay. To qualify for a sliding scale rehab in Florida, residents typically are required to show proof of income.
IHS-Funded Drug Rehabs
The Indian Health Service funds rehab treatment for Indigenous people and Alaskan Natives. These Florida residents may obtain free addiction treatment, even if other insurance coverage is available.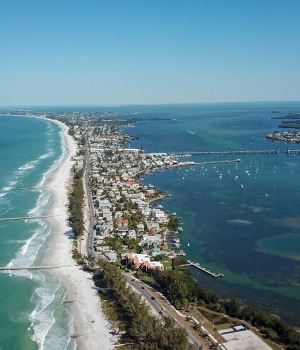 What to Know About Visiting Bradenton, FL
Whether you're considering an inpatient, outpatient, or detox facility in Bradenton or will be in town visiting a loved one who is receiving addiction treatment in the city, let's look at what you can expect when visiting Bradenton:
Visitors to Bradenton can use the Sarasota-Bradenton International Airport.
The city is connected to St. Petersburg by the Sunshine Skyway Bridge.
Manatee County Area Transit buses serve Bradenton and the surrounding area.
Major League Baseball's Pittsburgh Pirates play spring training games at Bradenton's LECOM Park.
One popular area of Bradenton is the Village of the Arts, a renovated neighborhood where special laws allow residents to live and work in their homes.
The area is surrounded by both fresh and saltwater and borders the Manatee River.
The South Florida Museum, Bishop Planetarium, and Parker Manatee Aquarium are all located on the Manatee River in downtown Bradenton.
The Bradenton Riverwalk runs along the banks of the Manatee River and features walking paths, spots for fishing, beach volleyball, and a skateboard park.
Hotels to fit every budget are available in and around Bradenton.
Florida Alcohol and Drug Laws
Florida policy makers have enacted the following laws related to substance misuse and overdoses:1,2,3,4
Florida's Marchman Act: In 1993, the Marchman Act (Florida's Substance Abuse Impairment Act) combined legislation, service provider licensure, and client rights regarding substance use disorders and alcohol use disorders into a single piece of legislation. The act:
Ensures persons with SUD or AUD maintain their dignity and confidentiality when seeking treatment.
Establishes protocols for inpatient and outpatient therapies, including detox.
Details methods for Florida residents to be admitted involuntarily to rehab, including through drug courts.
Clarifies parental rights for admitting youth into Florida rehabs.
Juvenile Possession Laws: Florida laws distinguish types and amounts of drugs to deem possession of each substance as a simple misdemeanor or felony/intent to sell.
Cocaine: Possession of any amount is a third-degree felony. Possession of 28 grams or more is a first-degree felony.
Prescription drugs: Possession without a valid prescription is a third-degree felony, punishable by up to 5 years in prison and a fine of up to $5,000.
Heroin: Possession of less than 10 grams is a third-degree felony, punishable by up to 5 years in prison, a $5,000 fine, driver's license suspension, and a permanent criminal record. Possession of more than 10 grams can result in up to 30 years in prison, a $10,000 fine, and revocation of driver's license for 2 years.
MDMA/Ecstasy: Possession of less than 10 grams is a third-degree felony, punishable by up to 5 years in prison and a $5,000 fine. Possession of 10 grams or more is considered trafficking, which carries a mandatory minimum prison term of 3 years, and a max of 30.
Meth: Possession of less than 14 grams is a third-degree felony. Possession of more than 14 grams is considered trafficking and has a minimum mandatory prison sentence.
Florida Good Samaritan Law: This law protects Florida residents who seek or receive emergency medical assistance during a suspected overdose. It is meant to save lives by removing fear of arrest or prosecution for:
Possession or use of a controlled substance
Possession or use of drug paraphernalia
Providing alcohol to minors
DUI Law Florida law prohibits driving under the influence of alcoholic beverages, controlled substances, or chemical substances, which is indicated by a BAC of .08 or above. Penalties for a first DUI offense include a fine of between $500 and $1,000 and, if BAC is .15 or higher or there was a minor in the vehicle, a fine of between $1,000 and $2,000.