Drug and Alcohol Misuse Statistics in Pueblo, CO
Pueblo and the rest of Pueblo County have experienced a significant impact from the opioid epidemic. Here are some facts about substance use in Pueblo County:1,4,5,6
30% of overdose calls were for people between the ages of 25 and 34.
30% of overdose deaths in Pueblo County are due to methamphetamine.

9% of residents in Pueblo County do not have health insurance, making access to rehab difficult for them.
Financing Alcohol and Drug Rehab in Pueblo, CO
If you are low-income or don't have insurance, you may worry that you can't attend alcohol or drug rehab in Pueblo, CO. Some rehabs in Pueblo, CO have payment assistance programs to help people who have difficulty paying for care. When you look into rehab programs, check to see which ones have flexible pricing. Some programs may have sliding scale fees or payment plans that make rehab easier to afford. Some rehab facilities offer free or reduced-cost services for eligible people, such as:

State-funded rehab: State, local, and federal governments fund certain private or non-profit rehabs so they can offer care to people who cannot pay for rehab themselves. Government-funded rehabs offer inpatient and outpatient care. The federal government funds and oversees medication-assisted rehab programs such as methadone clinics.
Grant-funded rehabs: Other funding organizations like SAMHSA and non-profit funders award grant money to rehabs that apply for assistance. This funding allows facilities to offer free or low-cost care to those who are eligible. There are grant-funded inpatient or outpatient rehab programs.
Rehab scholarships: If you cannot pay for any portion of rehab, organizations like 10,000 Beds offer scholarships to pay for your care. Individual rehabs might have scholarship funding available as well. The funds from a scholarship may cover a portion of rehab costs or the entire cost of care.
If you live in Pueblo, CO, and need free treatment, you may need to look outside the area for care. There are free rehab programs such as the Empowerment Program in Denver and Stout Street Foundation Substance Abuse Program in Commerce City. Programs like AA, SmartRecovery, and the Salvation Army offer free resources for recovery as well.
Medicaid and Medicare in Pueblo, CO
Colorado operates a Medicaid plan called Health First Colorado.7 Health First Colorado covers rehab for substance abuse with no limits and no co-pays.
Your Health First eligibility is based on your household income level; the eligibility threshold is 133% of the federal poverty level. You can also apply for Health First if you are pregnant or have a disability.
Medicare is the federal insurance program for people 65 and older. People with certain disabilities may also be eligible for Medicare. Medicare covers most of the costs of rehab. Medicare Part A covers inpatient care, though you will be responsible for paying a hospitalization co-pay.8 Medicare Part B covers outpatient treatment and you will pay per-session co-pays for that.9 Medicare supplemental plans may also cover rehab or allow you more options for choosing your rehab facility.
Not all rehabs accept Medicare or Medicaid so you should ask before you enroll in a program. Pueblo area facilities such as Crossroads Turning Point and El Pueblo Boys and Girls Ranch Taos accept Medicaid plans.
Private Insurance in Pueblo, CO
Private health insurance plans are all required to cover rehab. This includes employer-sponsored plans as well as insurance that you buy for yourself. Your insurance company may offer you a choice of facilities from a specific network of rehabs. Your insurance usually covers more of the costs if you go to one of its in-network programs. Either your insurance company or the rehab itself can tell you if the program is in-network.
If you want to find a Pueblo, CO alcohol rehab or drug rehab, type "drug rehab" or "alcohol rehab" in a directory of rehab programs or a search engine.
How Easy Is It to Travel to and Within Pueblo, CO?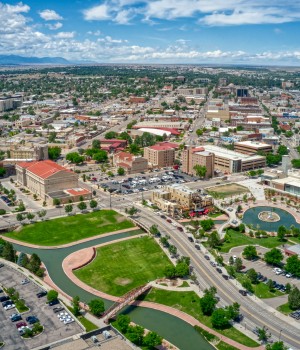 The closest major airport to Pueblo, CO is in Colorado Springs. The drive from the airport is about 45 minutes. Pueblo is located right on Interstate 25 and US Route 50, making it easy to access by car.
There are plenty of hotels in Pueblo as well as in Colorado Springs. The city boasts the Pueblo Zoo, the Pueblo History Museum, and the Rosemont Museum. The revitalized River Walk area has numerous dining and entertainment options. There is limited public transit so having a car will make it easier to get around Pueblo while visiting loved ones who are attending rehab in this city.
If you have a mental health crisis or substance abuse crisis, you can call the Colorado crisis hotline for immediate help. You can reach Colorado Crisis Services by calling 1-844-493-8255 or by texting "TALK" to 38255.