Substance Abuse Statistics in Burbank, California
Drug- and alcohol-use statistics for Los Angeles County residents aged 12 and older include:1, 3, 4
4,200
Roughly 4,200 county residents were treated for marijuana use, roughly 2,900 were treated for prescription drug use, and about 1,600 were treated for cocaine use in 2021.
1,300
In 2021, roughly 1,300 county residents lost their lives to a drug overdose—nearly 53% of those deaths involved opioids and roughly 50% involved methamphetamine.
21%
From 2017 to 2020, Los Angeles County recorded a 21% increase in alcohol-related fatalities.
How to Pay for Alcohol and Drug Rehab in Burbank, California
Most Burbank drug rehabs and alcohol rehabs accept multiple forms of payment to help make treatment more accessible to all. Several treatment centers in and near the city even offer discounted or free treatment for persons who qualify based on their financial situation.
Free Treatment Options in Burbank
If you're ready to enroll in drug or alcohol rehab in Burbank but have minimal or no financial resources, you may qualify for reduced-cost or free treatment. The following types of rehab centers may be able to help you:

State-funded rehabs: These treatment facilities receive subsidies and grants from state and federal sources that allow them to care for California residents who can't pay for treatment. Even if you're experiencing homelessness, you can qualify for free treatment at a state-funded rehab.
Income-based rehab facilities: Treatment centers that use a sliding fee scale will base your rehab costs on the amount of money you make. The lower your annual income is, the more of a discount you'll receive. Some facilities may even treat you at no cost if you can't afford to pay.
Methadone clinics: If you need treatment for opioid dependence, you may be eligible for low-cost or free treatment at one of these medication-assisted treatment (MAT) clinics. Many such facilities receive government funding to provide quality care for people with serious financial needs.
Some of your low-cost and free treatment options near Burbank include:5
Western Pacific Med Corp (roughly four miles away in Glendale)
National Council on Alcoholism and Drug Dependence of the San Fernando Valley (about eight miles away in Van Nuys)
Chabad Treatment Center (roughly nine miles away in Los Angeles)
Paying for Rehab With Private Insurance
Under the Affordable Care Act of 2010, most private insurance plans, including employer group plans, must cover addiction treatment services to some extent.6 However, coverage varies from plan to plan. While some plans may pay for 100% of a beneficiary's rehab expenses, others may only cover specific services or pay for a portion of total treatment costs.
In Burbank and within 10 miles of the city, at least 40 substance abuse treatment centers take private insurance from several major providers.5 Keep in mind that, if your plan has a network, you must select an in-network drug or alcohol rehab in Burbank to minimize your out-of-pocket costs.
Paying for Addiction Treatment With Medicaid or Medicare
If you have California Medicaid (Medi-Cal) or Medicare, your plan should cover a wide range of addiction treatment services, including:7, 8
Substance use disorder assessments
Inpatient treatment
Outpatient rehab programs, including PHPs and IOPs
Medication-assisted treatment (MAT)
Individual and group counseling and therapy
Withdrawal management (detox programs)
Telehealth treatment services
Mental health therapies for co-occurring disorders
To use your plan's coverage for these services, you must enroll in a Medicaid- or Medicare-approved drug or alcohol rehab in Burbank. While the city of Burbank doesn't have any approved facilities, you can easily find several nearby. Within 10 miles of the city, at least 25 addiction treatment centers take Medi-Cal, and another 20 accept Medicare.5
Local Information: Getting Around Burbank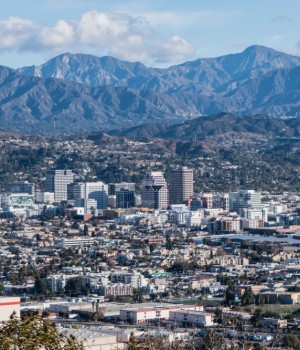 Are you planning to travel to Burbank for short-term or long-term rehab? Do you want to visit a loved one who's in a residential Burbank treatment center? Either way, it's a good idea to acquaint yourself with the location first. Here's what you should know:9
Traveling to Burbank: You can fly into Hollywood Burbank Airport (aka Bob Hope Airport), which is roughly seven minutes from Burbank by car. Or, you can fly into Los Angeles International Airport, located roughly 28 miles southwest of the city.
Lodging in Burbank: Whether you're looking for affordable lodging or super-luxurious accommodations, you can easily find a hotel that meets your needs in Burbank and the surrounding areas.
Walkability: If you'd like to travel by foot, most parts of Burbank are highly walkable, so you should have no problem getting around.
Public transportation: If you want to take advantage of public transit, you can catch a ride on BurbankBus, which has various fixed routes throughout the city. Or, you can use LA County's on-demand rideshare service, Metro Micro.
Things to do in Burbank: Popular local attractions include the Burbank Aviation Museum, the Burbank Farmers Market, Universal CityWalk, Warner Bros. Studio, Universal Studios Hollywood, the Colony Theatre, and much more. You won't have any trouble entertaining yourself in the city or in areas just a short drive away.
If you'd like professional assistance exploring Burbank alcohol rehabs or drug rehabs, our team is here for you 24/7. Please call us at 800-405-1685 (
Who Answers?) to chat with a treatment support specialist about your local rehab and recovery options.