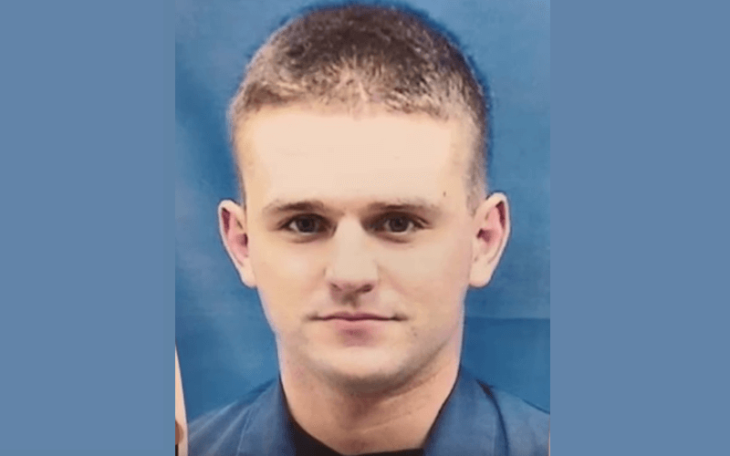 A police officer in Miami turned himself into authorities Jan. 8, 2018 after a warrant was put out for him over drug possession.
Miami's police chief said Adrian Santos was suspended with pay after his arrest.
The charges date back to a late-night Nov. 17-18 incident at a Miami nightclub, where Santos was seen snorting cocaine. Club security cameras caught Santos allegedly sniffing the drug, which was tested by police after nightclub security staff confiscated a plastic bag of white powder and turned Santos over to off-duty police working security outside the club. Tests showed the powder in Santos' possession was cocaine.
Katherine Fernandez Rundle, the state attorney, said all police officers swear to uphold the law and so must obey it. She said there are "no exceptions" and added that charges against Santos, nearly two months after the alleged incident, followed a "vigorous criminal investigation."
Miami Police Chief Rodolfo Llanes said at a press conference that Santos would be suspended until termination proceedings pending against him were resolved.
The incident occurred at the E11even nightclub, a 24-hour dancing and drinking establishment south of Interstate 395 at 29 NE 11th Street.
Santos has been on the Miami police force for two and a half years. He was not wearing his uniform while at the nightclub in November, nor was he on duty at the time, according to the Miami-Dade State Attorney's office.
Chief Llanes said the club's security cameras caught Santos in the motion of lifting something up to his nostrils and sniffing it. He told local news media that Santos' actions did not reflect the values he hoped to maintain in the department.
The City of Miami Police Department has about 1,200 officers and works within the city limits of Miami. It is a separate agency from the Miami-Dade Police Department, which covers the whole area of Miami-Dade County, but which also works within the city. Miami-Dade has about 2,900 officers.
Miami-Dade County has about 2.7 million residents, while the City of Miami itself is home to about 400,000. The greater Miami metropolitan area is home to more than 5.5 million people and includes several counties.
On Jan. 26, Llanes retired as Miami police chief and was replaced by Jorge Colina.