The earliest known reference to cannabis in human history dates back to 26999 BC. Since then, our ancient ancestors are known to have used marijuana as commercial crops, medicinal herbs, in clothing, and even in pottery over the years. Despite the prehistoric nature of hemp over the course of history, it took scientists until 2015 to pinpoint why smoking might be giving you the serious munchies.
Whether it's sweet snacks or savory nibbles, the secret to those incurable cravings boils down to the way marijuana effects the receptors in your brain. Even if you're completely full, cannabis can trick the mind into thinking you're actually starving.
To get a better feeling for the kind of noshing that happens when you're high, we surveyed over 1,100 cannabis consumers across the country to get their picks for the best bites to eat when the cravings hit. From the best toppings to complete your smoke time on pizza  to  cereal, to chips, and even what fast food options Americans are reaching for most while under the influence. Read on to see what we uncovered.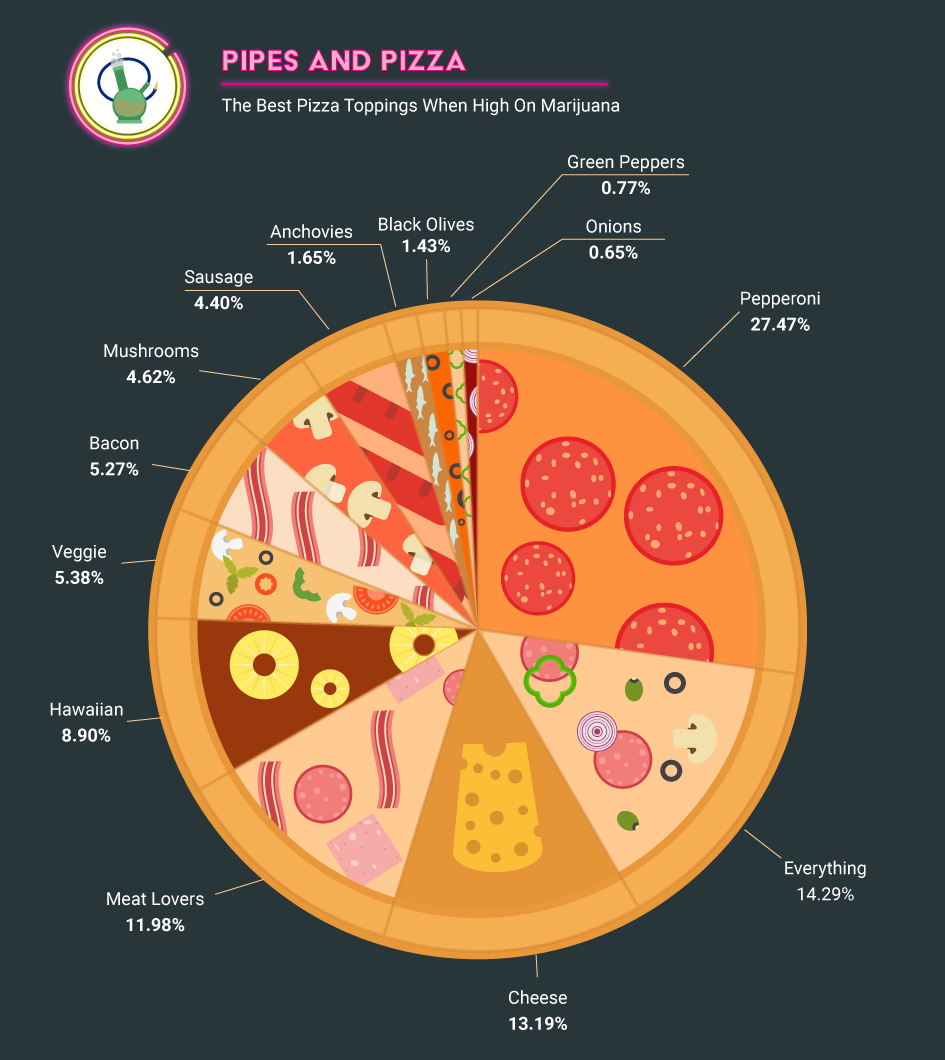 Pie In The Sky
Despite its European origins, studies have shown that Americans don't just love pizza in general, the combination of the perfect sauce, cheese, and crust would be the preferred desert island meal for most. Known as the go-to choice for family gatherings or sports events, the average person in the U.S. spends nearly $50 on pizza every month.
Dress it up or down, call in your order or place it on social media, the options for the perfect pizza may be near endless. Of course, those preferences could change if you've been indulging in a bit of cannabis before answering the call for your cravings. People we polled who knew a thing or two about getting high before getting down with their favorite flatbreads told us which toppings they preferred the most.
Life is too short to be boring, and only 13 percent of Americans we polled told us they preferred their pizza with nothing but cheese on it when they were feeling a bit baked themselves. More than 1 in 4 told us pepperoni was a non-negotiable, followed by more than 1 in 10 men and women who preferred to go with the "everything option" or meat lovers. While generally less popular, some veggies (including black olives, green peppers, and onions) made the cut too.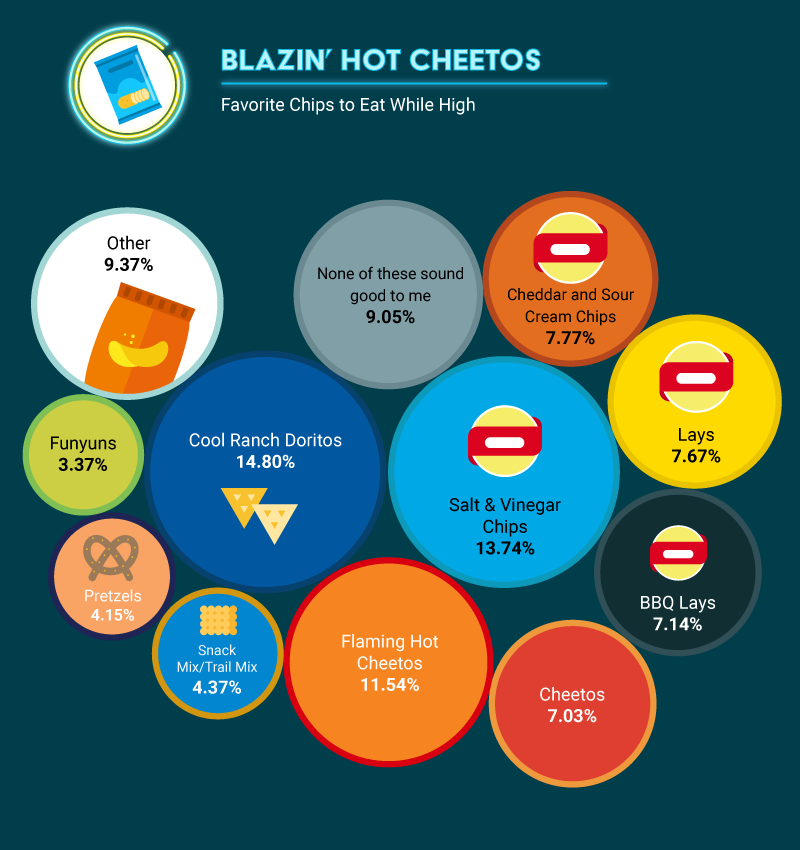 Bite-Sized Goodies
The undeniable satisfaction of enjoying the salty crunch of a newly opened bag of chips isn't just ubiquitous among the buzzed and baked. It's widely accepted by most Americans that chips are among the greatest snack food options around, though you may find yourself reaching for different brands or flavors when you're under the influence of a little something extra.
Our survey found less than 1 in 10 Americans weren't interested in chips at all after getting high on marijuana. For the other 91 percent, Cool Ranch Doritos beat out every other brand and flavor for the stoner chip of choice. Cool Ranch as a flavor may often lose the battle of best chip around to its older brother Nacho Cheese, but people we polled had a different opinion on the matter. If you're in the mood for something classic while your head's in the clouds, consider going with traditional Salt and Vinegar chips or spice things up with Flaming Hot Cheetos.
If chips are your go-to grub of choice, you might want to consider the science behind not being able to stop once you pop open that bag. Research suggests the salty nature of most chips can make it harder to stop eating once you've started, and high-sodium treats are often linked to obesity and excessive calorie consumption.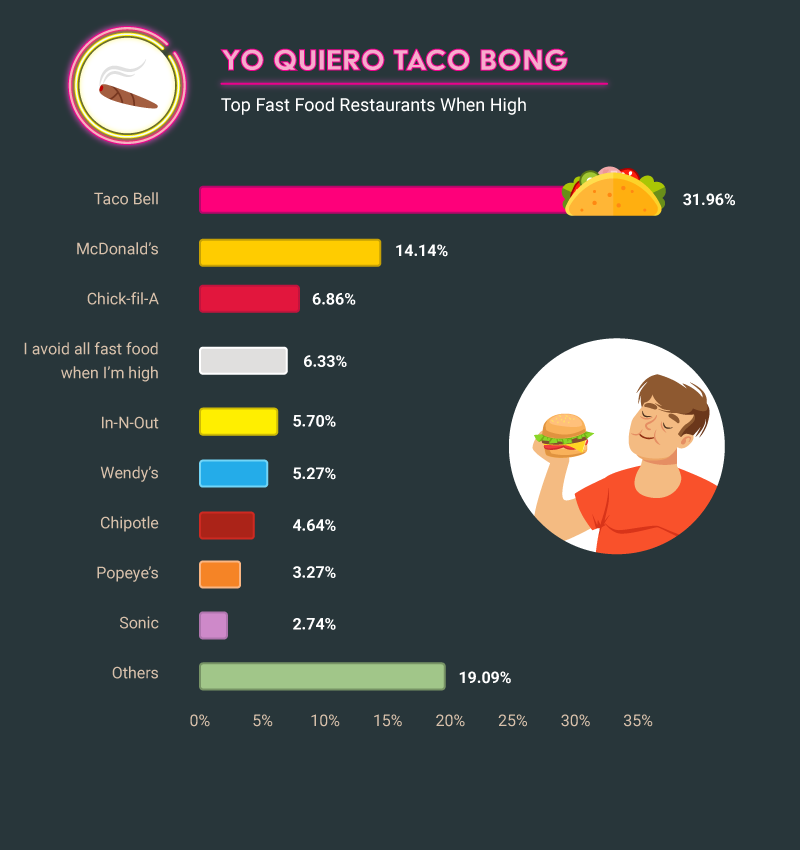 Casual Indulgences
Sometimes a simple snack or even a slice of pizza won't do the trick, and you need a bit more substance to feel full when you're under the influence. Whether you decide to go out and get it yourself or have it delivered to your doorstep, fast food could be the answer you're looking for.
If so, the choice was clear among Americans we polled. Nearly 1 in 3 told us they preferred the endless options and late-drive thru convenience of Taco Bell when high. Perhaps it's the excitement of secret menu selections or fan-favorite meals, but the combination of thinking outside the bun and cannabis have left employees with a few of their own crazy stories to tell.
If you're not in the mood for Tex-Mex food on-the-go, McDonald's and Chick-fil-A ranked as our second and third most popular fast food chains. Whether it's the chicken nuggets, golden fries, or just easier accessibility, McDonalds was the choice for over 14 percent of men and women on our smokers panel. Only six percent of Americans we polled told us they avoided all fast food selections after smoking weed.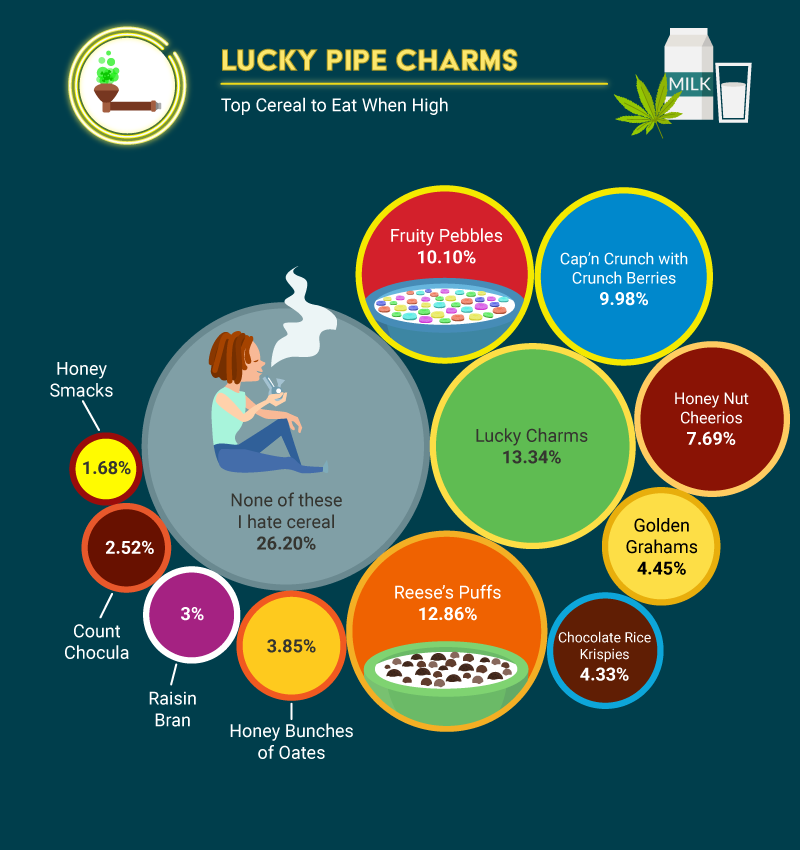 A Bowl Full Of Memories
Just because cereal sales across the country have been down in recent years and a majority of millennials don't indulge in a bowl for breakfast (for one reason or another) doesn't mean we can't get a sense of nostalgia thinking about those classic characters or when we come across our favorites on an artisanal donut or a new ice cream flavor.
Still, for more than 1 in 4 people we polled cereal was out as one of the sanctioned ways to satisfy your cravings. Whether it's the dairy, the sugar, or the mess it might leave afterwards, we found a majority of Americans didn't prefer any brand of cereal at all. For those who did, it was Lucky Charms with its orange stars, yellow moons, pink hearts, and green clovers which were the flavor of choice. Followed closely by Reese's Puffs and Fruity Pebbles, more than 13 percent of Americans told us Lucky Charms were the way to go.
Less popular in general but still making a stand were options like Honey Smacks, Count Chocula, Raisin Bran, and Honey Bunches of Oats.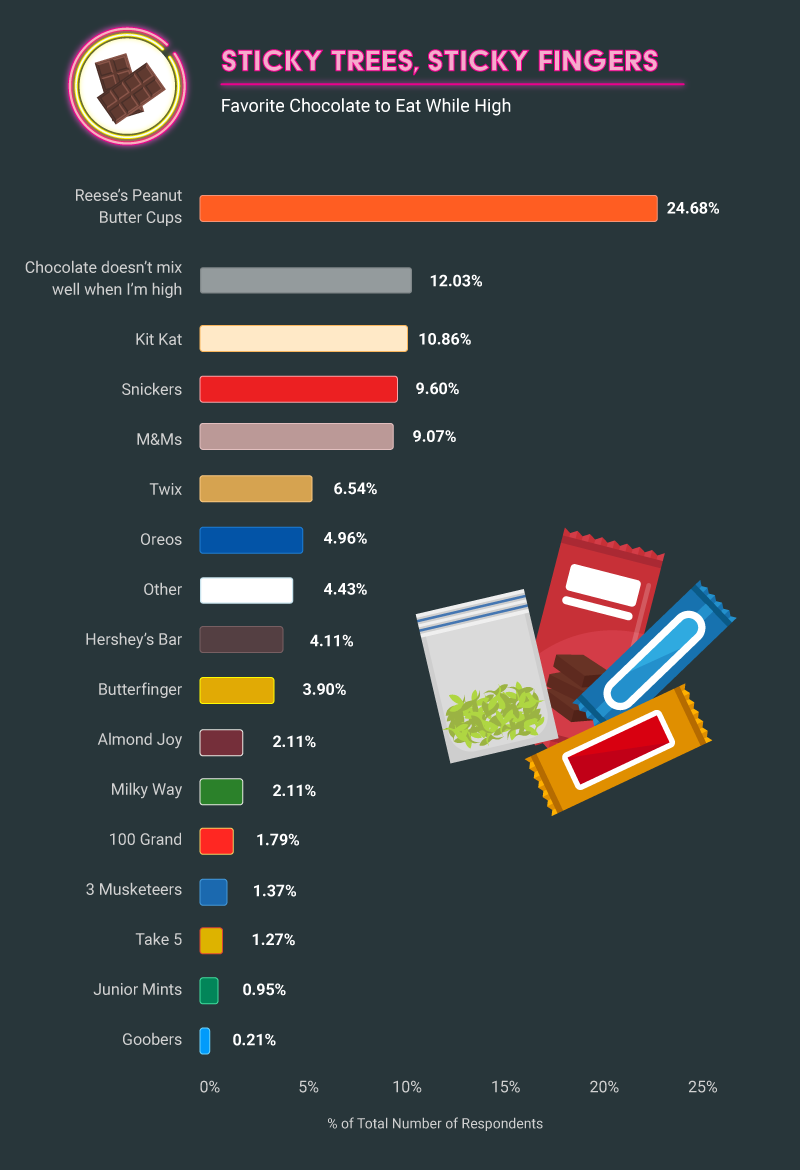 Perfect Pairings
You might be able to make the case that there's no bad time for chocolate, and when it comes to hitting the spot with your sweet tooth there's no better combo than chocolate and peanut butter. Milk chocolate or dark, smooth or crunchy, there are plenty of ways to enjoy the sweet and savory mix of a Reese's Cup and it could be the perfect solution to your extracurricular munchies.
Nearly 1 in 4 people we polled admitted the world-famous peanut butter cups were their favorite choice for rich and creamy chocolate treats, followed by Kit-Kats, Snickers, and M&Ms. While just over 1 in 10 Americans told us they stayed away from chocolate completely, others told us they preferred to mix up their flavors by going for the caramel and nougat combination of a Twix or the blend of cookies and cream filling that comes from having Oreos while high.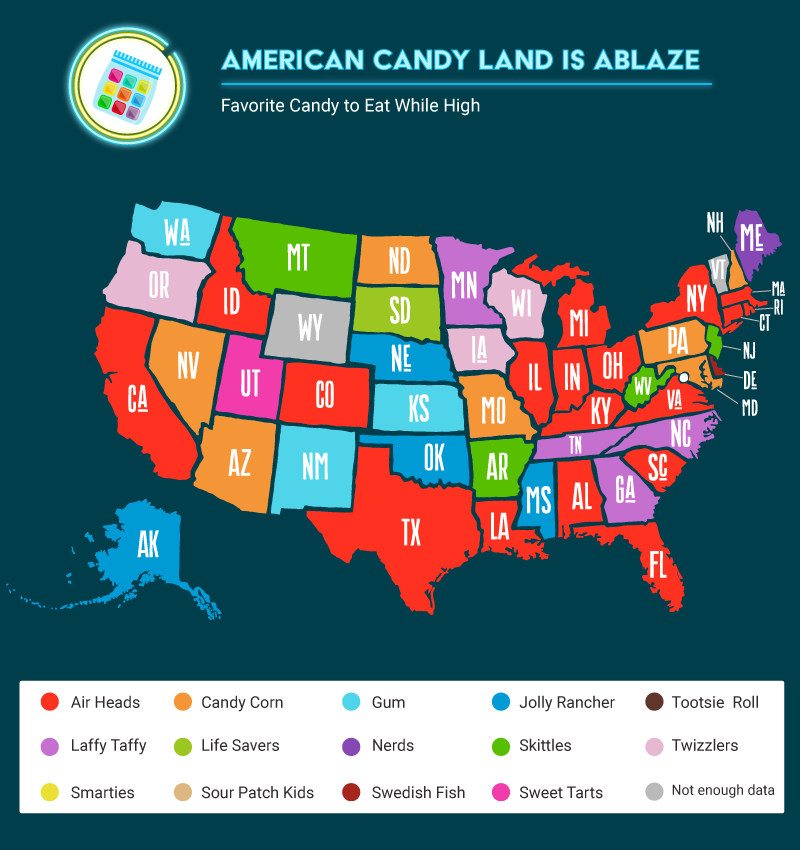 Sweet Like Candy
Chocolate isn't the only way to satisfy those cravings for something sweet, and candy can be just as enticing a post-smoking treat as chips or pizza, but it may not be great for your body or your mind.  
Research suggests Americans may be consuming as much as five times the amount of sugar needed to maintain a healthy diet and too many sweet treats can literally become an addiction in some cases. As with smoking too much, consuming too much sugar has been linked to impaired memory, learning skills, and cognitive capacity so when it comes to indulging in dessert – moderation is key.
According to the men and women we surveyed, Air Heads were the most popular candy type in 18 states including California, Texas, and Colorado. If you want to combine your favorite post-smoke treat with the fast food of choice among people we polled, Taco Bell has turned Air Heads into their next frozen drink to help you kill two birds with one stone. Despite the controversy surrounding it, Candy Corn was the most popular candy option in seven states among stoners including Nevada, Arizona, and Maryland.
Finding A Better Balance
Whether your vice is the savory fusion of cheese and carbs, the salty taste of a bag of Doritos, or even something sweet, snack food is best in moderation. There may be healthy alternatives to some of the most controversial treats for munching on, but they aren't always as delicious as the real deal. As with most things, portion control will help you stay healthy even as you indulge in the go-to snack options of the people we polled.
Like foods that are either too sweet, salty, or fatty, the long-term effects of marijuana use can pose serious health concerns as well. Marijuana addiction can pave the road to other more dangerous substances that can turn deadly for some. If you or someone you love is battling drug abuse, help is here for you. At Addictions.com we believe in helping you find a treatment program that works from the initial intervention to rehab and recovery. Don't wait until it's too late. Visit our rehab centers page to learn how to get free addiction treatment. 
Methodology
We surveyed 1,117 American cannabis consumers about their favorite foods while under the influence of marijuana.