Drugs in Music
Music and recreational substance abuse share a historic bond going back generations before the first fan was able to purchase a recording. History recounts countless examples of hymns sung by sailors celebrating the idea of drinking and other questionable activities.
However, attitudes regarding drug abuse and music took an abrupt turn in the 1930s, when American jazz musicians became some of the first truly international recording artists. The art changed forever when listeners suddenly had the option to take the songs they loved home with them, and enjoy them at any time.
Today, music is more accessible than ever before. Coincidentally, so are illicit drugs. U.S. President Richard Nixon even launched his controversial "war on drugs" at the height of the dissident-fueled golden age of rock n' roll in 1971. Parents of confused teens were shocked when it appeared musicians were no longer simply referencing intoxication, but actually encouraging it.
But can famous artists really be contributing to rising addiction rates? Which forms of music tend to demonstrate more drug-related themes? New research reveals surprising answers.
Has Music Gotten Worse Over Time?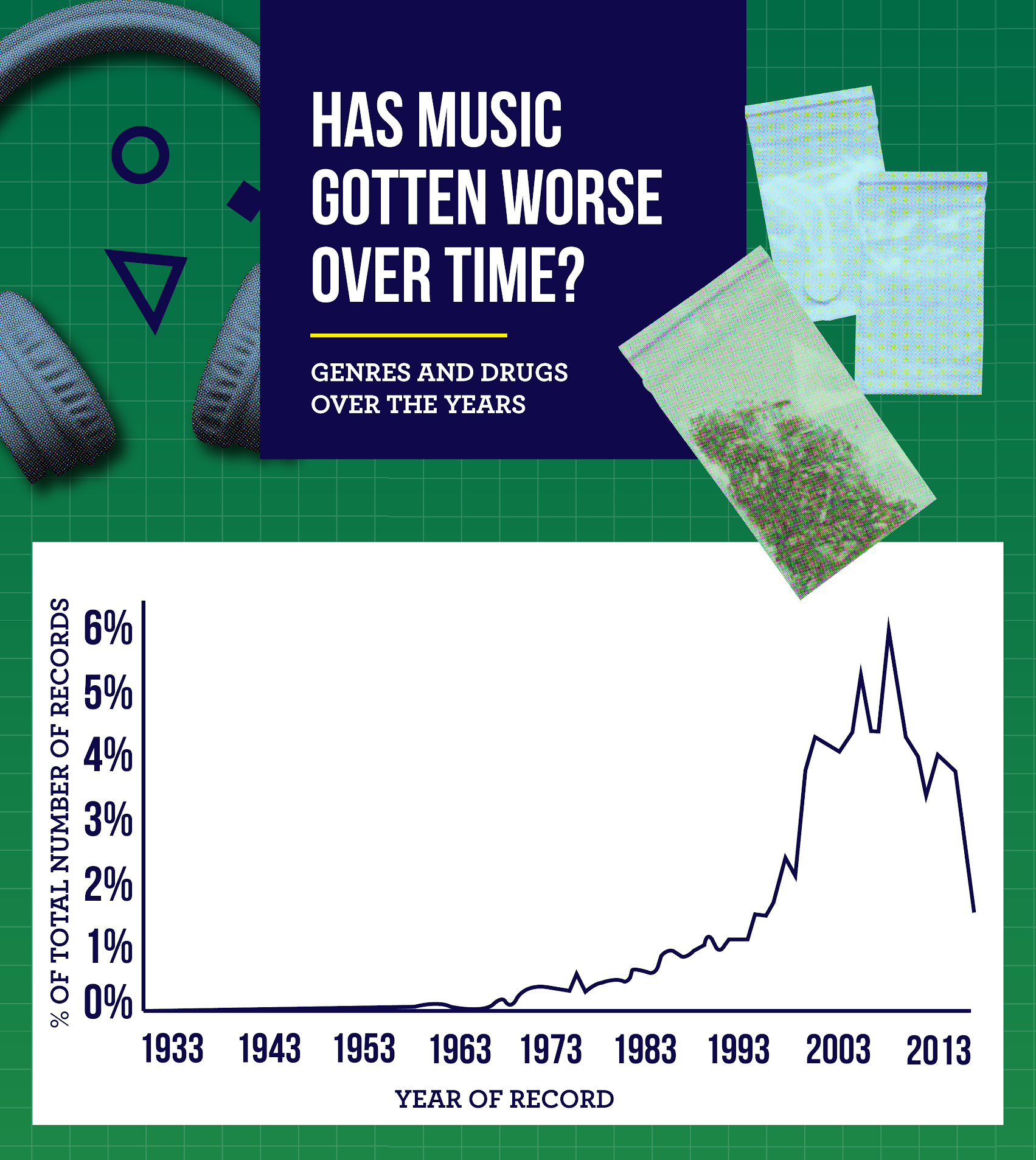 Using data collected from multiple sources, we first examined whether or not drug references have become more prevalent over time. The data suggests alarmists may have a reason to worry, as the number of illicit substances mentioned in song lyrics spiked between 1970 and the mid-2000s.
However, the trend took a curious dip after that time period, approaching similar levels to the early 1990s in 2013. Regardless, drug use is still mentioned far more frequently in music today than the years before MTV. This can also suggest artists are simply using less subtle ways to talk about intoxication.
Is Rock More Drug Ridden Than Rap?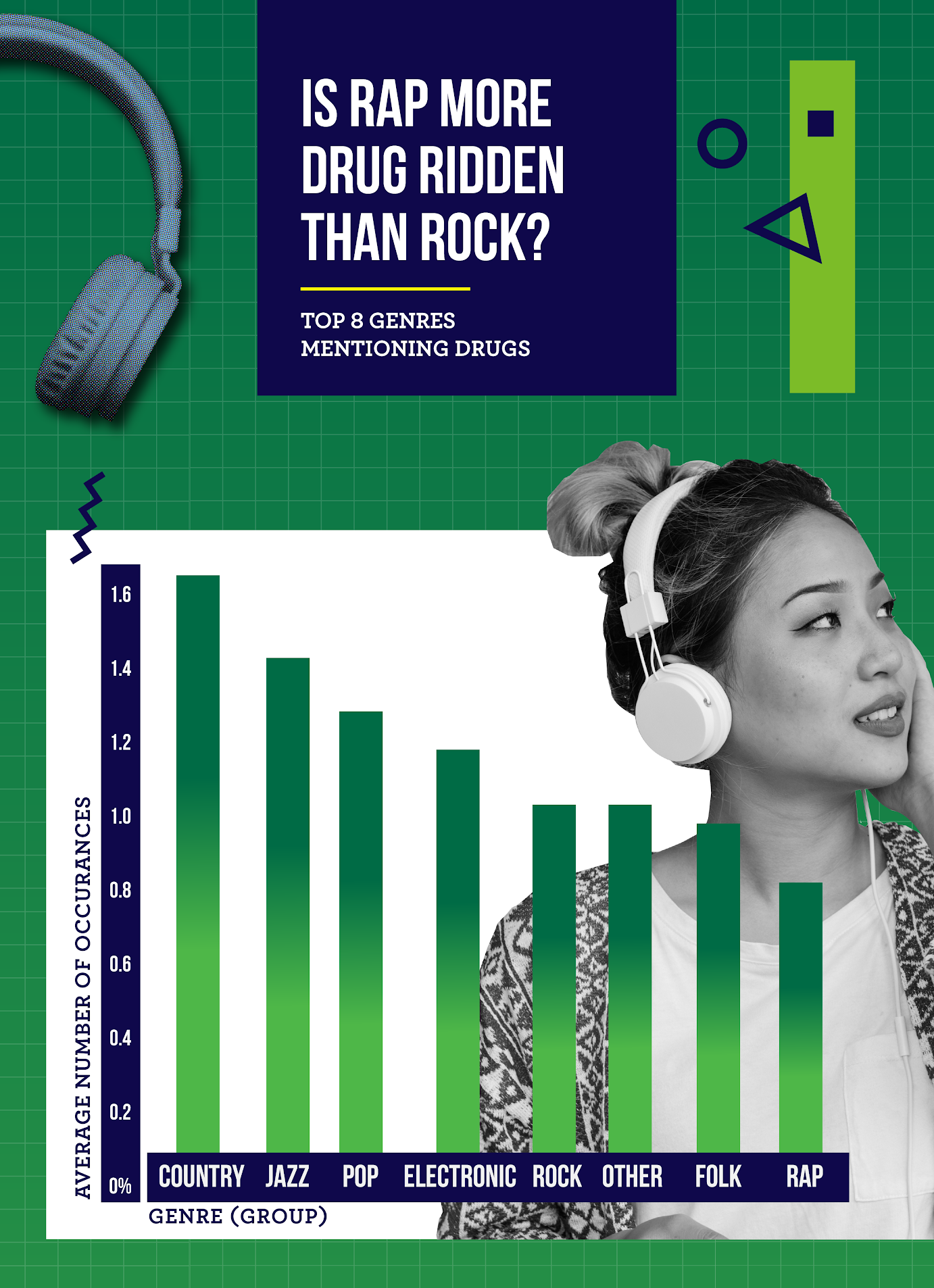 If you ask the casual music fan which genres are more likely to bring up recreational substance use, hip-hop or contemporary electronic music are likely to be the most common answers. But according to our research, both of these styles are relatively tame.
Out of eight categories, country leads the way with 1.6  mentions per song on average, followed closely by jazz and pop music. Hip-hop actually falls in the last place at less than 1.3 mentions behind folk, challenging the assumption that all rappers are lyrical drug peddlers.
Musician Drug Reference Awards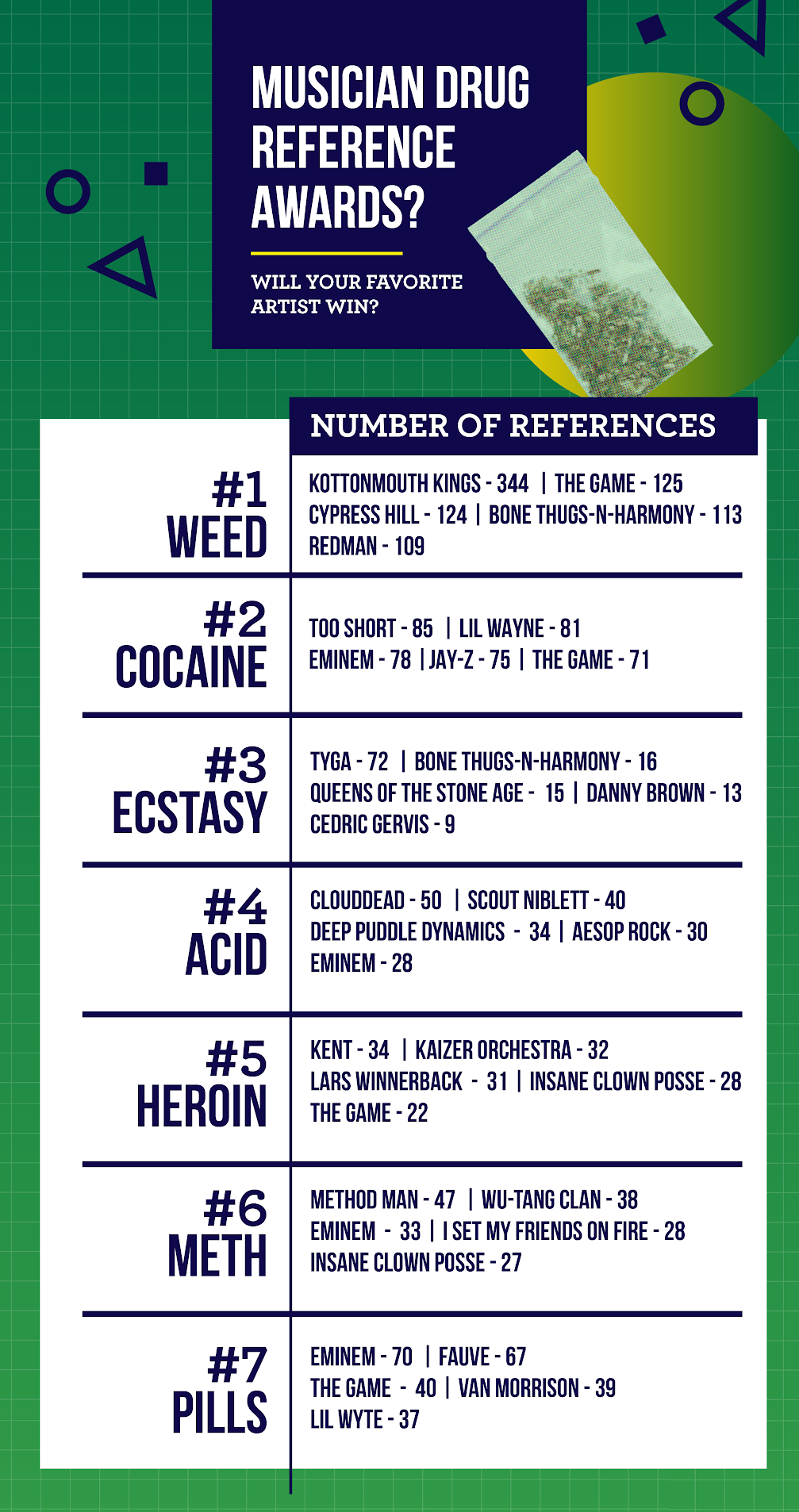 While country music as a whole tops the list for talking about illegal drug use, an investigation into individual artists tells a different story.
An analysis of the number of drug references by artists shows hip-hop dominating the field, even with drugs not typically associated with the scene.
Of course, there are several notable exceptions. English rock band Kent has 34 recorded mentions of heroin in its lyrics. Fauve, a Swiss musician, and singer, tops the "pills" category by suggesting their use 67 times.
Which Drug is Mentioned the Most?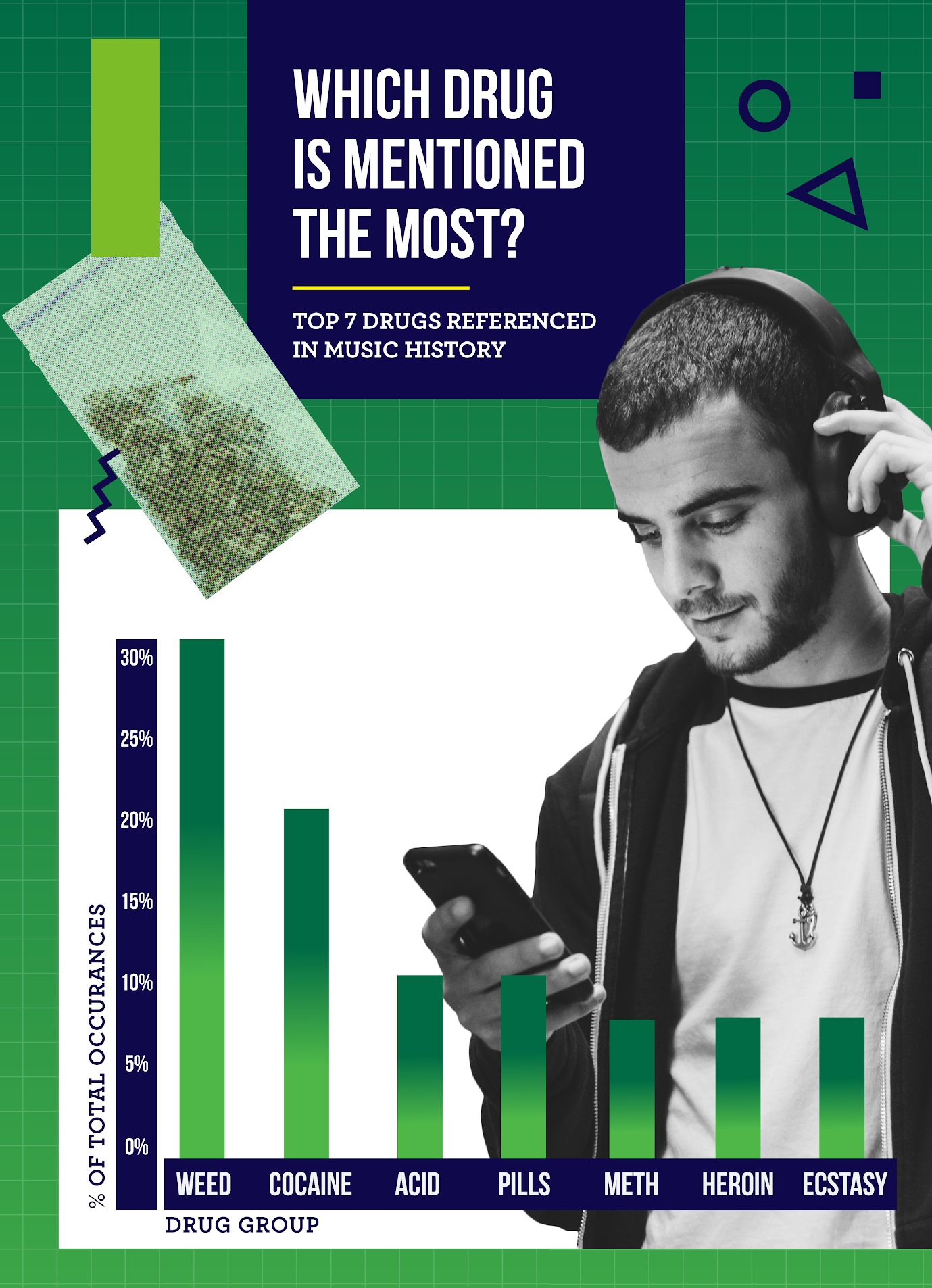 It's relatively easy to find a song about any drug you can imagine, but there is a very clear favorite among musicians – cannabis.
The earth-grown intoxicant is closely associated with just about every counter-culture in music, from the smooth vibes of reggae to the hard-hitting beats of underground rap.
Over 30 percent of all drug mentions in the music analyzed in our research refers to marijuana in one way or another. Cocaine follows at 22 percent, beating out acid, pills, methamphetamines, heroin, and ecstasy.
Top All-Time Druggie Artists

Pivoting further into drug references by individual recording artists, Kottonmouth Kings takes the gold in the top 10. For those more familiar with drug-related slang, this might not sound terribly surprising. The hip-hop band's own name is a clear giveaway, referring to one of the less-celebrated effects of cannabis.
Other leading contenders include the outspoken Eminem, who became public enemy number one for parents troubled by lyrics regarding degenerate behavior in the late 90s and early 2000s.
Additional top slots are occupied by modern hip-hop contemporaries including The Game, Jay-Z, and Tech N9ne.
Which Drugs and Genres Go Together?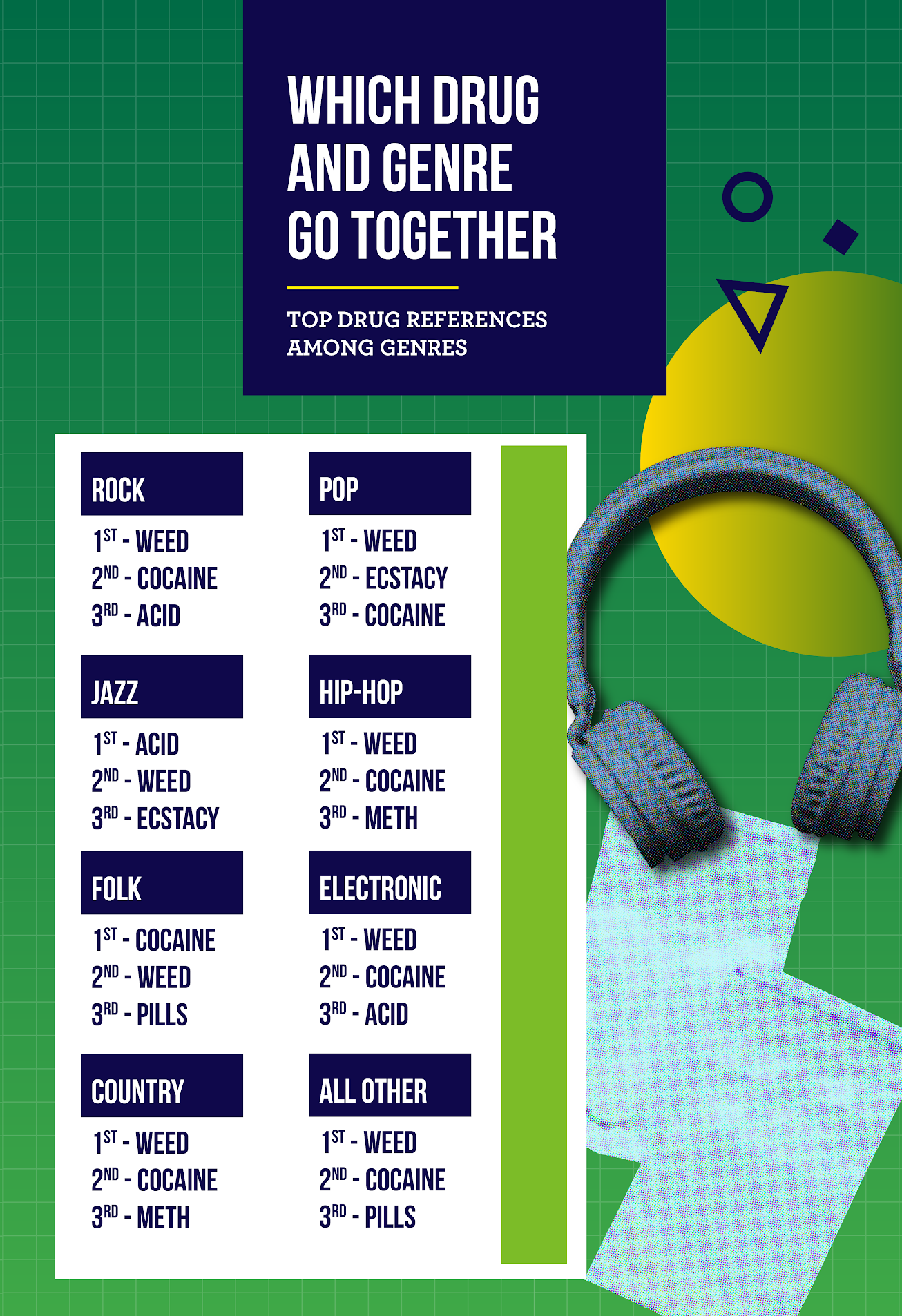 As mentioned above, marijuana is the drug of choice for musicians across almost all genres with an outlaw-ish element. According to our data, pot is the most commonly mentioned drug in country, electronic, hip-hop, pop, rock, and in miscellaneous categories.
The only two exceptions are folk, which favors cocaine, and jazz, which is closely paired with acid. Some jazz musicians have even branded their sound as "acid jazz", referring to a subgenre known to incorporate elements of soul, funk, and disco. The style became popular in the United Kingdom before gaining more momentum in Japan and the United States.
CONCLUSION
The nature of art allows and encourages musicians to explore various interpretations of personal strife, and substance abuse appears to be one of the most visible issues.
If we consider art as developing downstream from culture, it's very easy to see how musicians are becoming more direct and vocal about such habits. Illicit drug use saw an 8.2 percent increase between 2002 and 2013 in the United States alone.
Art is a powerful way for individuals to rationalize and understand these issues, but many people require an extra push to take back control of their lives. Addictions.com provides valuable information on how those who feel they have lost their way can take the first step to recovery.
The organization understands addiction is a different battle for everyone fighting it and can assist users with developing their own recovery plans.
Methodology
We scraped song lyrics from multiple sources for over 1.09 million songs and analyzed drug mentions, what drugs were involved, and how it changed over time. We grouped drug slang words together in their respected drug categories. After the lyrics were collected we scrubbed the data by hand to make sure the lyrics were in fact about drugs and not another definition of these nicknames. We then grouped the nicknames into 7 main categories: Pills (which includes all Opiates except Heroin, Benzodiazepines, Sleep medication, and ADHD medication), Heroin, Marijuana, LSD, Cocaine (which includes both crack cocaine and cocaine), Ecstasy (This includes MDMA and molly), and Meth.
Want to use our study on your website?
Please feel free! All that we ask is that you include a link back to this page so your readers can view the full study.