Drug and Alcohol Statistics in Cheyenne
Alcohol and drug poisoning can lead to death, and in Laramie County, fatal and nonfatal overdoses occur, especially when fentanyl is involved. Below are the rates per 100,000 residents in the county:1,2
261
261 marijuana-involved arrests
273
273 methamphetamine-involved arrests
Alcohol and drug abuse occur among teens and adults, and the consequences can be fatal. Below are the related statistics: 3

33.3%
33.3% of vehicle-related deaths involve alcohol
15.2%
15.2% of adults binge drink
23.5%
23.5% of teens binge drink
Levels of Care for Rehabs in Wyoming
A continuum of treatment is available to meet individuals at the level of care they need for successful recovery.
Detox
Detox is often the first step, which is completed before Wyoming residents begin a formal treatment program. It is the process of safely and comfortably clearing your system of all drugs and alcohol. This occurs in a supervised setting such as a hospital or inpatient rehab.
Residential or Inpatient
Residential or inpatient treatment is the most intensive level of care, offering 24/7 supervision while you live at a facility. In this setting, you will typically participate in individual, group, and family therapy sessions, and you may receive other holistic therapies as well as medication.
Partial Hospitalization Programs (PHPs)
PHPs often involve many of the same treatment methods used in an inpatient setting. The difference is, you only stay at the facility during treatment times, then return home.
Intensive Outpatient Programs (IOPs)
IOPs provide several hours of treatment throughout the week. This usually includes individual and group therapy. This type of program is a step down from partial hospitalization, and many Wyoming residents transition to IOPs after completing a residential or PHP program.
Standard Outpatient
Standard outpatient programs provide a couple of hours of care per week, typically with a therapist in their office or at an outpatient clinic. These programs are appropriate for individuals who have mild addictions and strong support systems.
Aftercare
After care, or relapse prevention, offers ongoing support after you complete a treatment program. This may include 12-step meetings, transitional housing, or therapy.
How to Pay for Addiction Treatment in Cheyenne, Wyoming
Private Insurance
The Mental Health Parity and Addiction Equity Act requires all insurance companies to cover substance abuse to some extent. However, each plan differs, so Wyoming residents must contact their provider to confirm specific coverage under their plan.
Wyoming Medicaid
Wyoming Medicaid is a joint state and federal government program that provides coverage for medical care for low-income Wyoming residents. This includes some drug and alcohol treatment services. To qualify, Wyoming residents must provide proof of residency and meet income requirements. Additionally, to use Medicaid coverage for treatment, the rehab center must accept Medicaid as a form of payment.
Wyoming Medicare
Medicare is a federal government health insurance program that provides coverage for Americans aged 65 and older, as well as individuals with certain disabilities. Some forms of addiction treatment are covered under various Medicare plans. Not all rehab facilities accept Medicare, so it's important to confirm accepted methods of payment before enrolling in a program.
TRICARE in Wyoming
TRICARE in Wyoming (West region) provides health insurance coverage for U.S. veterans, military personnel, and their dependents. This coverage includes addiction treatment services.
Sliding Scale Rehabs
A majority of Wyoming's rehab centers offer treatment services on a sliding-fee scale.6 This means you pay what you can afford based on your income. To qualify, you must provide proof of income.
IHS-Funded Drug Rehabs
The Indian Health Service (IHS) is a government health program that provides low-cost or free SUD treatment services for Native Americans and Native Alaskans.
Quality, accredited drug and alcohol rehabs in Laramie County are taking action by offering free and low-cost detox, inpatient, and outpatient treatment to those who need it.
Everything You Need to Know About Visiting Cheyenne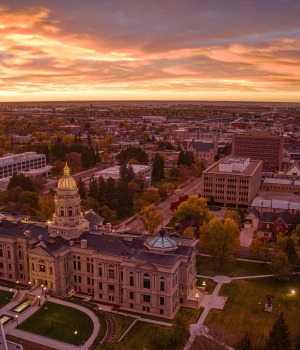 Interstate 80 runs east and west through Cheyenne. Interstate 25 runs north and south, making Cheyenne drug rehabs easily accessible by vehicle, Greyhound bus, or by purchasing an Amtrak bus pass that connects you with an Amtrak train.
The Denver International Airport is a 90-minute drive from Cheyenne, but those who don't prefer driving can hop on one of the daily flights to Denver from the Cheyenne Regional Airport. Other modes of transportation include the following:4
Shuttle services with Groome Transportation
Avis and Enterprise rental cars
UBER and LYFT rideshare services
Taxicabs
Cheyenne Transit
When experiencing all the great attractions in Cheyenne, take a ride on the Street Railway Trolleys. Cheyenne and Laramie County offer many indoor and outdoor adventures that support a person's recovery goals. For example:4
100 attractions (chuck wagon dinners, rodeos, train tours)
130+ arts and culture activities
50+ sports and recreation activities
8 Wellness spas
12-Step Support Groups
Where you stay should also support your new lifestyle. Whatever your lodging preference, Cheyenne has it. Whether you prefer luxury and pampering or rustic and remote, it's available along with the following:4
33 hotels and motels
2 resorts and ranches
Air BnB and VRBO
13 campgrounds and RV parks
With so many options for a supportive stay, recovery is possible for anyone at a Cheyenne drug rehab, no matter their financial status.
Wyoming Drug and Alcohol Laws
In Wyoming, the following laws govern substance use and addiction treatment policies throughout the state:1,2,3,4
Wyoming Good Samaritan Law: This law differs somewhat from other state Good Samaritan Laws. In Wyoming, any resident who renders care or assistance at the scene of an emergency (including drug overdose) won't be held liable for civil damages. However, the law does not provide legal immunity for possession of controlled substances.
Naloxone Standing Order: Wyoming law allows anyone who might be at risk of an opioid-related overdose to get naloxone from a pharmacy without a prescription. Anyone who might be in a position to help someone at risk of overdose can also get naloxone without a prescription.
Involuntary Commitment: In Wyoming, anyone with a serious mental health disorder who presents a danger to themselves or others can be involuntarily admitted to a treatment facility. However, this law only applies to drug or alcohol addiction if the addiction co-occurs as a secondary diagnosis with a mental illness. The law excludes addiction as a singular condition that would allow for involuntary treatment.
Court Supervised Treatment: Wyoming's Court Supervised Treatment Program allows non-violent and juvenile offenders who plead guilty to alcohol-related or drug-related crimes to complete a court-supervised addiction treatment program instead of being incarcerated. The program requires a 12-month minimum commitment
Resources