Substance Abuse Statistics in Sheboygan, WI
Substance misuse statistics for the city of Sheboygan and Sheboygan County as a whole include:3, 4, 5, 6

96%
In 2021, 96% of the county's opioid overdose deaths involved synthetic opioid drugs, and 65% of victims were male.
40
Sheboygan County hospitals recorded 40 opioid-related emergency room visits in 2021 and provided inpatient treatment for 17 patients.
22%
In 2021, roughly 22% of Sheboygan adults said they engaged in binge drinking behavior.
Levels of Care for Addiction Treatment Settings
There are various levels of addiction treatment, ranging in intensiveness and frequency of care. The right level for you depends on the length and severity of your addiction, your mental and physical health, your support system, and more.
Detoxification
Drug and alcohol detox is a controlled and supervised setting in which your body gets rid of addictive substances. Detox can occur in several settings, including outpatient and inpatient environments. Some are medically managed, which means doctors and nurses provide medications and medical care round-the-clock. Certain drugs, such as alcohol, benzodiazepines, and opioids, have particularly distressing and even dangerous withdrawal symptoms, so these drugs often necessitate detox.
Inpatient Care
Inpatient or residential drug rehab is the most intensive addiction treatment setting, providing 24/7 care, supervision, and monitoring. You live at the facility for the duration of the treatment program, which may last 30, 60, or 90 days. This setting may be best for someone with a severe addiction, polysubstance addiction, or co-occurring mental health disorder, like PTSD or depression.
Partial Hospitalization Programs (PHPs)
PHPs provide a high level of care while allowing you to live at home during the program. You go to the clinic every day for several hours per day but return home during non-treatment hours. It's a great option for step-down care after completing an inpatient program or as an initial treatment program for someone who can't necessarily go to inpatient care due to obligations.
Intensive Outpatient Programs (IOPs)
A step down from PHP, an IOP includes several hours of therapy for a few days per week. This option may be beneficial if you have a mild addiction and a strong support system. It may also be used as step-down care after completing inpatient or PHP.
Standard Outpatient
If you choose standard outpatient treatment, you attend therapy one to two days per week for one or two hours per session. Many people make their way through the continuum of care by first completing inpatient or an intensive outpatient program before stepping down to standard outpatient.
Aftercare
Once you've completed an addiction treatment program, you will want to continue receiving ongoing support, known as aftercare. You can collaborate with your treatment team on creating an aftercare plan that addresses your needs and preferences. Some people transition into a sober living home while others may join a support group, attending therapy, or all of the above.
How to Pay for Drug Rehab in Wisconsin
Cost shouldn't be a barrier to quality addiction treatment. There are many ways to finance drug rehab so that you can get the help you need.
Use Private Health Insurance
If you have private health insurance through work or the Healthcare Marketplace, you can use your plan to at least partially, if not fully, cover substance abuse treatment services. Every plan is different—some fully cover inpatient rehab for a certain period while others may only partially cover residential. Make sure to call your provider to learn more. And once you know what your insurance provider will pay, make sure to find a rehab that is in-network with your provider.
BadgerCare (Wisconsin Medicaid)
BadgerCare is Wisconsin's Medicaid program for low-income people, families, and pregnant individuals who don't have access to private health insurance. BadgerCare covers drug and alcohol rehab in Wisconsin, including inpatient, outpatient, medication-assisted treatment, assessments, and beyond. Not every treatment facility accepts Medicaid, though, so you'll want to do your research before committing to one.
Medicare
Medicare is a government program providing health insurance coverage to Wisconsin residents aged 65 and older or those with certain disabilities or health conditions. Like BadgerCare, Medicare covers substance abuse treatment services, such as outpatient rehab, residential treatment, and addiction treatment medications.
TRICARE in Wisconsin
TRICARE provides health insurance coverage for veterans, active-duty military personnel, and their families, and it covers much-needed drug rehab and alcohol rehab services as well as mental health treatment.
Sliding Scale Rehabs
Sliding scale rehabs are able to offer treatment at discounted rates depending on a person's income, meaning that they only charge you what you are reasonably able to pay. This can greatly reduce the financial burden of drug rehab and enable you to seek the treatment you need to recover from addiction.
IHS-Funded Drug Rehabs
Some drug and alcohol rehabs receive funding from the Indian Health Service, which is a federal health program for Indigenous people in the U.S., including Alaskan Natives. These rehabs offer no-cost addiction treatment to Native Americans, whether they already have health insurance or not. However, the majority of IHS-funded drug rehabs are located on reservations, which may make it difficult for Indigenous folks in cities to access them.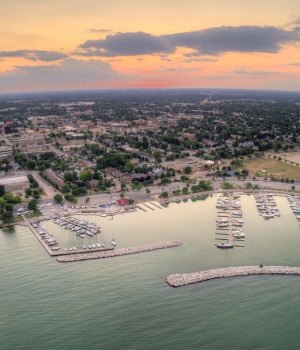 Traveling to and Within Sheboygan, WI
If you're traveling to an alcohol or drug rehab in Sheboygan to get treatment or to visit a loved one in recovery, here are some trip-planning tips:
If you fly into Green Bay Austin Straubel International Airport, you can make the 66-mile trip to Sheboygan in roughly an hour by car. General Mitchell International Airport in Milwaukee is also 67 miles away, but city traffic will increase your drive time to about 90 minutes.
If you're driving to Sheboygan, you'll enjoy quick access to a few major transit routes, including Interstate 43 and State Routes 23, 28, and 42.
If you need a place to stay, Sheboygan and nearby Sheboygan Falls are home to nearly 20 national-chain and non-branded hotels. Short-term rental homes and apartments are also available in the area.
Downtown Sheboygan is highly walkable and bicycle friendly, as are a few other areas of town. However, you'll want to double-check weather conditions before you head out, as winter temperatures are often well below freezing, and summer days can be uncomfortably humid.
Shoreline Metro provides public transit services in both the city of Sheboygan and surrounding Sheboygan County. It offers 10 fixed bus routes and shuttle services that can take you throughout the town and into neighboring Kohler and Sheboygan Falls.
Local attractions you may enjoy visiting include the John Michael Kohler Arts Center, Sheboygan County Historical Museum, Harbor Center Marina on Lake Michigan, and the James Tellen Woodland Sculpture Garden. Wade House, Riverfront Artwalk, North Point, and Wreck of Lottie Cooper are also worth checking out.
Alcohol and Drug Laws in Wisconsin
Alcohol and Drug Laws in Wisconsin:1,2
Wisconsin Naloxone Access and Administration Law: Residents of Wisconsin can obtain naloxone (Narcan) without a prescription and they can also administer it to an overdosing person once they've had proper training.
Wisconsin State Good Samaritan Law Amendment: Bystanders in possession of drugs can call 911 to help someone who is overdosing without the risk of being arrested and prosecuted for possession.