Substance Abuse Statistics in Eau Claire, WI
Data gathered by the Wisconsin Department of Health Services and the Centers for Disease Control and Prevention highlights these drug- and alcohol-use statistics for Eau Claire:1, 3, 4, 5
150%
From 2015 to 2020, Eau Claire County saw a 150% increase in opioid-related deaths. Most of the victims were between the ages of 18 and 44.
400
In 2019, nearly 400 Eau Claire County residents received opioid-related behavioral health treatment services through Medicaid's BadgerCare Plus plan.
41
Eau Claire County emergency rooms recorded 41 opioid overdose-related visits in 2021.
Local Information: Traveling to and Within Eau Claire, WI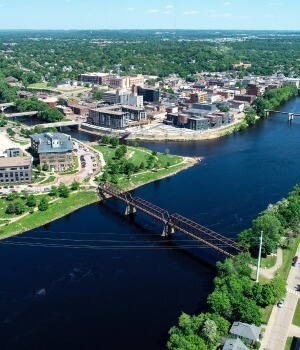 Are you thinking about traveling to Eau Claire for addiction treatment? Perhaps you're planning a visit to someone in drug rehab in Eau Claire? Either way, local information can help you plan your trip:6, 7
Chippewa Valley Regional Airport is your best option for flights into Eau Claire and sits roughly five miles north of downtown. Menomonie Municipal Airport is about 22 miles west of the city.
Interstate 94 passes through Eau Claire and leads west to the Minneapolis-St. Paul area and east to Madison and Milwaukee. U.S. Routes 12 and 53 also pass through the city, and State Routes 93, 37, and 29 lead into it.
Eau Claire is home to several national-chain lodging options offering 2- and 3-star accommodations. Short-term rentals are also available throughout the city.
On-demand ridesharing services, including taxi service, Lyft, and Uber, are available in Eau Claire, all with short wait times.
Eau Claire Transit operates several fixed bus routes that travel all over the city, most of which operate Monday through Saturday until 7:00 p.m. or later.
Downtown Eau Claire is packed with places to check out, including art galleries, locally owned shops and eateries, cafes, public parks, historic sites, and more.
The city's Chippewa Valley Museum ad the Paul Bunyon Logging Camp Museum are both worth a visit.
Big Falls County Park, the Chippewa River, Beaver Creek Reserve, Mount Simon, and nearby Lake Altoona offer a plethora of opportunities for outdoor fun.
If you're unsure how to choose the right drug or alcohol rehab in Eau Claire for yourself or a loved one, we're always available to help. Please call us anytime at 800-926-9037 (
Who Answers?) to connect with a specialist who can help you explore your local addiction treatment options.
Resources