Substance Abuse Statistics in Bellingham, WA
The following numbers provide an overview of the current substance abuse trends in Bellingham's Whatcom County, WA:2,3,4

35%
Whatcom County saw an 82.4% increase in opioid deaths between 2002 and 2021.
58%
In 2021, fentanyl was present in 58% of drug overdose deaths.
26%
Alcohol was present in 26% of the 2021 drug overdose deaths in Whatcom County.
20%
20% of adults reported excessive drinking in 2021.
Traveling to and Within Bellingham, WA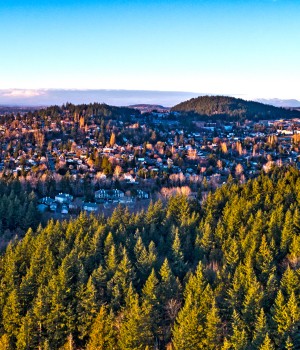 Snow-capped Mount Baker provides a picturesque backdrop for the coastal city of Bellingham, WA. The town is the last major city along the coastline before the land becomes Canadian. The shores of Bellingham Bay, North Cascades National Park, and the Salish Sea provide impressive views and an abundance of outdoor attractions. Within the city, well-preserved historical areas add further charm and appeal.
For those traveling to Bellingham, WA for substance abuse treatment or to visit someone in treatment, here are some helpful tips to guide your travels.
Bellingham International Airport is located in Bellingham, and offers flights on Alaska, Allegiant, Southwest, and San Juan Airlines.
Washington Transit Authority offers a BusTracker App to make accessing mass transit simple and convenient.
Bellingham is very walkable and bikeable, with many errands accomplishable on foot, and many bike lanes to make biking convenient.
Must-sees in Bellingham include Whatcom Falls Park, Fairhaven Historic District, and Spark Museum of Electrical Invention.
Bellingham is a popular spot for adventure activities, and is one of the top mountain biking destinations in the country.
If you have time for a scenic drive, check out Chuckanut Drive, a 24-mile scenic stretch offering stunning views of the San Juan Islands and Samish flats.
Downtown Bellingham is a go-to hot spot for live music, festivals, and other year-round activities.
Locals consider the north part of the city to be the safest area of Bellingham.
Resources