Alcohol and Drug Use Statistics in St. George, UT
Compared to other states, Utah has repeatedly ranked low for drug use among both adults and youth.2 But St. George and the surrounding region are not 100% free of substance abuse issues. The following statistics demonstrate recent trends for the area:3,4,5,6

5%
5% of 8th, 10th, and 12th graders reported past-month alcohol use.
4%
4% of 8th, 10th, and 12th graders reported past-month marijuana use.
3%
3% of high school students reported binge drinking in the last 30 days.
24.5
During the period between 2016 and 2020, there were 24.5 drug deaths per 100,000 population.
Everything You Need to Know About St. George Before Visiting or Attending Rehab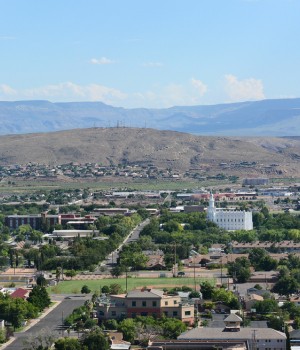 Home to some of the most spectacular scenery in the U.S., St. George, UT is a go-to destination for outdoor recreation. Its proximity to Zion National Park, the Grand Canyon, and several state parks attract visitors from across the nation.
Tucked into the scenic valley near the Mojave Desert and Pine Valley Mountains, St. George is surrounded by canyons, mesas, mountains, and cliffs, creating an alluring skyline not found in most cities. This natural beauty, combined with year-round recreation opportunities, has spurred incredible growth for the region.
The city has become a haven for people looking for retirement relocation spots as well as those seeking destination retreats and outdoor adventures. St. George offers a growing arts scene, fine dining and shopping opportunities, a mild climate, and exciting events. With so much to attract all ages and interests, St. George has become one of the fastest-growing areas in the country.
Low crime rates, top-rated schools, a rich history, and a below-average cost of living add to the city's appeal.
For those traveling to St. George, UT for substance abuse treatment or to visit someone in treatment, here are a few helpful tips to guide your travel plans.
From ski resorts, to glamping, to vacation rentals and affordable hotels, St. George offers myriad options for overnight accommodations.
Harry Reid International Airport in Las Vegas is your best option for flights to St. George, UT.
Several shuttle services are available for travel from Las Vegas airport to St. George.
Greyhound bus lines serve St. George, with a stop just off I-15.
SunTran is St. George's local public transit system, with over 140 bus stops serving the area.
This is THE destination for outdoor recreation, with opportunities for fun on the water, snow, rocks, and more.
Popular outdoor destinations for St. George visitors include Snow Canyon State Park, Pioneer Park, and Zion National Park.
If you're looking for live entertainment, check out the Tuacahn Amphitheater & Center for the Arts.
For local history buffs, great stops include the Daughters of the Utah Pioneer Museum and Brigham Young's winter home.
George offers a low overall crime rate, and locals consider the southeast part of the city to be the safest.
Temperatures vary with season and elevation, so be sure to pack for a range of weather conditions.
Resources