Substance Abuse Statistics in Kingsport, TN
Kingsport is no exception to the steadily increasing rates of overdose deaths across the United States since 1999.1 Tennessee's rate of drug poisoning from 2006 to 2012 was 16 deaths per 100,000.1 Then, Sullivan County continued to increase to 20 deaths per 100,000 people in 2014.1 Additional drug and alcohol statistics concerning Kingsport include:1, 2, 3

500
The number of adults admitted to treatment facilities in Sullivan County was higher than all the surrounding counties at over 500 admissions in 2013.
80%
80% of crimes in Tennessee are related to drug use.
Levels of Care for Rehabs in Tennessee
To meet diverse treatment needs, several levels of addiction treatment are available.
Detox
Detox is the process of safely and comfortably clearing your system of all drugs and alcohol. It occurs in a supervised setting, to manage withdrawal symptoms and allow you to move forward with recovery services.
Residential or Inpatient
Residential or inpatient treatment involves receiving 24/7 care while you live at a rehab facility. Treatment methods include individual, group, and family therapy. Additional methods may include medication, recreational therapy, and other holistic therapies.
Partial Hospitalization Programs (PHPs)
Partial Hospitalization Programs usually provide similar treatments as inpatient services, but you only stay at the facility during treatment times, then return home.
Intensive Outpatient Programs (IOPs)
A step down from PHPs, IOPs often serve as a transition from PHPs to outpatient treatment. IOPs provide several hours of treatment over several days per week. Treatments often include individual and group therapy.
Standard Outpatient
Standard outpatient programs are the least intensive treatment option. They involve two to three hours of care per week, typically at an outpatient clinic or a therapist's office.
Aftercare
Aftercare provides follow-up and ongoing support after you complete an inpatient or outpatient program. It may include 12-step meetings and continued therapy, with the goal of relapse prevention.
How to Pay for Addiction Treatment in Kingsport, Tennessee
Private Insurance
Tennessee residents are protected under the federal Mental Health Parity and Addiction Equity Act. This law requires all insurance companies to provide at least some coverage for substance abuse treatment. However, plans differ regarding specific coverage, and copays and deductibles may apply.
Tennessee Medicaid
TennCare is Tennessee's Medicaid program. It provides healthcare coverage for Tennessee residents who are parents or caretakers of a minor, pregnant, elderly, or have a disability. To qualify for Medicaid, residents must meet income and resource limits.4
Tennessee Medicare
Medicare provides healthcare coverage for Tennessee residents 65 and older and those with certain disabilities. This government program includes coverage for addiction treatment under various plans. However, not all rehab facilities accept Medicare as a method of payment. The Tennessee State Health Insurance Assistance Program (TN SHIP) provides free counseling and assistance to Tennessee residents who qualify for Medicare, to help them understand and access these benefits.
TRICARE in Tennessee
TRICARE in Tennessee provides health insurance coverage, including coverage for addiction treatment, for military personnel, veterans, and their families.
Sliding Scale Rehabs
Tennessee residents who attend a sliding scale rehab program pay only what they can afford based on their income. To qualify, they must provide proof of income when applying for treatment in Tennessee.
IHS-Funded Drug Rehabs
The Indian Health Service (IHS) is a health program for indigenous people, funded by the federal government. The program offers free or low-cost SUD treatment for Native Americans and Native Alaskans.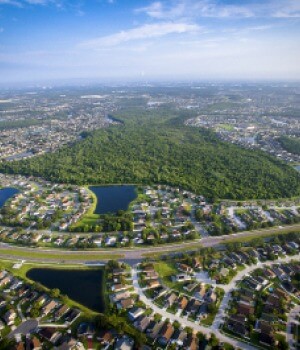 Getting to and Around Kingsport, TN
Traveling to Kingsport, TN, for your own health or to visit a loved one can be an easy trip. To make sure your planning goes as smoothly as possible, the following tips are available to help.
The nearest airport is Blountville Tri Cities TN/CA (TRI), which is just under 10 miles away from Kingsport. The next closest is Asheville (AVL), which is 77 miles away.
Depending on your budget, there are hotels, motels, and private rentals available, ranging from Motel 6 to the Meadowview Marriott Conference Resort & Convention Center.
Surrounded by natural beauty, Kingsport makes enjoying the outdoors easy. Kingsport Greenbelt, Fort Patrick Henry Lake, Warriors Path State Park, and Bays Mountain Park and Planetarium are all available to enjoy some fresh air with many free options.
Getting around without a car is easy with taxi services, Uber, Lyft, and other rideshares available throughout the city and surrounding areas.
Kingsport Area Transit Service is also available to help you get around by bus. Call 423-224-2613 for schedule and route information during their business hours, M-F, 8 a.m.–5 p.m.
If there's anything you forgot when packing or just want to do some shopping, Fort Henry Mall or Kingsport Pavilion on Shopping Center are available in Kingsport to meet your needs.
Tennessee Drug and Alcohol Laws
Tennessee law includes the following policies regarding substance use and addiction treatment:1,2,3,4
Good Samaritan Overdose Prevention Act: Passed in 2014, this law centers on the opioid overdose antidote, naloxone. The law includes four key components:
Provides immunity from civil suits to those who prescribe naloxone
Allows the Department of Health to provide training on naloxone use
Grants civil immunity for administering naloxone to someone who appears to be overdosing on an opioid
Requires Tennessee residents to receive basic instruction on how to administer naloxone, in order to be protected by this law
Tennessee Naloxone Distribution: Enacted in March 2022, Public Chapter 749 increased access to naloxone in Tennessee. The law allows organizations such as schools, homeless shelters, recovery organizations, and hospitals to prescribe and distribute naloxone. It also allows health care practitioners to prescribe naloxone to individuals at risk of an overdose as well as to family and friends of those at risk.
Adult Drug Court: This law protects Tennessee residents who seek medical assistance for a person who is experiencing a drug overdose, as well as the person who is experiencing the overdose, from arrest, charge, or prosecution for simple possession. The law is designed to prevent overdose deaths by removing fear of legal repercussions when calling 911.
Tennessee Drug Treatment Instead of Incarceration Act: This bill allows nonviolent drug offenders to participate in a rehab program instead of serving jail time. If they successfully complete treatment, the court will dismiss the charges.
Resources
Alford, E., Leinaar, E., May, A.S., Mayes, G., McGee, A., & Mullins, H. (2017). 2016 Sullivan County Community Health Assessment. Sullivan County Regional Health Department. Blountville, TN.
East Tennessee State University Academic Health Sciences Center. (2014). Substance abuse services Sullivan County.
Tennessee Bureau of Investigation. (n.d.). Current drug trends.