Substance Abuse Statistics in Jackson, TN
Jackson is the county seat for Madison County, Tennessee. The overdose and substance abuse statistics for Madison County and its substate region are shown below:1,2

42%
Close to 42% of residents 12 and older reported alcohol use in the past month from 2016 to 2018.
21%
Almost 21% of residents 12 and older reported binge alcohol use in the past month, from 2016 to 2018.
1%
Less than 1% of residents 12 and older reported methamphetamine use in the past year from 2016 to 2018.
4%
About 4% of residents 12 and older reported pain reliever misuse in the past month, from 2016 to 2018.
Levels of Care for Rehabs in Tennessee
To meet diverse treatment needs, several levels of addiction treatment are available.
Detox
Detox is the process of safely and comfortably clearing your system of all drugs and alcohol. It occurs in a supervised setting, to manage withdrawal symptoms and allow you to move forward with recovery services.
Residential or Inpatient
Residential or inpatient treatment involves receiving 24/7 care while you live at a rehab facility. Treatment methods include individual, group, and family therapy. Additional methods may include medication, recreational therapy, and other holistic therapies.
Partial Hospitalization Programs (PHPs)
Partial Hospitalization Programs usually provide similar treatments as inpatient services, but you only stay at the facility during treatment times, then return home.
Intensive Outpatient Programs (IOPs)
A step down from PHPs, IOPs often serve as a transition from PHPs to outpatient treatment. IOPs provide several hours of treatment over several days per week. Treatments often include individual and group therapy.
Standard Outpatient
Standard outpatient programs are the least intensive treatment option. They involve two to three hours of care per week, typically at an outpatient clinic or a therapist's office.
Aftercare
Aftercare provides follow-up and ongoing support after you complete an inpatient or outpatient program. It may include 12-step meetings and continued therapy, with the goal of relapse prevention.
How to Pay for Addiction Treatment in Jackson, Tennessee
Private Insurance
Tennessee residents are protected under the federal Mental Health Parity and Addiction Equity Act. This law requires all insurance companies to provide at least some coverage for substance abuse treatment. However, plans differ regarding specific coverage, and copays and deductibles may apply.
Tennessee Medicaid
TennCare is Tennessee's Medicaid program. It provides healthcare coverage for Tennessee residents who are parents or caretakers of a minor, pregnant, elderly, or have a disability. To qualify for Medicaid, residents must meet income and resource limits.4
Tennessee Medicare
Medicare provides healthcare coverage for Tennessee residents 65 and older and those with certain disabilities. This government program includes coverage for addiction treatment under various plans. However, not all rehab facilities accept Medicare as a method of payment. The Tennessee State Health Insurance Assistance Program (TN SHIP) provides free counseling and assistance to Tennessee residents who qualify for Medicare, to help them understand and access these benefits.
TRICARE in Tennessee
TRICARE in Tennessee provides health insurance coverage, including coverage for addiction treatment, for military personnel, veterans, and their families.
Sliding Scale Rehabs
Tennessee residents who attend a sliding scale rehab program pay only what they can afford based on their income. To qualify, they must provide proof of income when applying for treatment in Tennessee.
IHS-Funded Drug Rehabs
The Indian Health Service (IHS) is a health program for indigenous people, funded by the federal government. The program offers free or low-cost SUD treatment for Native Americans and Native Alaskans.
Traveling to and Within Jackson, TN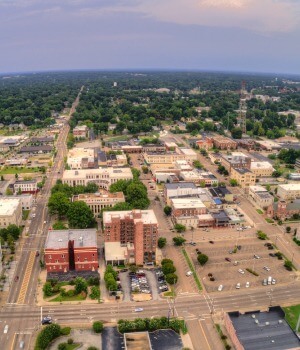 If you are considering an addiction treatment center in Jackson, Tennessee, or visiting friends or family in a facility at a Jackson drug and alcohol rehab, these tips may be useful to help you make your travel plans.
Travel options to and from Jackson include driving, rail, bus, and airlines.
I-40 connects Jackson to Nashville to the east and Memphis to the west and provides a convenient means of traveling to explore nearby cities during your stay.
Memphis is 70 miles west of Jackson, TN, and an hour and 20 minutes away on I-40.
Greyhound Bus Service is another option for travel to and from Jackson.
McKellar-Sipes Regional Airport is the closest airport serving Jackson, TN, and your best flight option in and out of Jackson.
Jackson is not a very walkable city, and you may need a car to run your errands. However, the downtown area is the most walkable neighborhood, and you can expect to run errands on foot if you stay there.
Jackson Transit Authority bus line serves the city and provides a means for running errands.
Rideshare options, including Uber and Lyft, as well as taxis, are options for in-city travel.
Hotel and motel options to consider for your stay in Jackson include the Old English Inn, Quality Inn Jackson, Hampton Inn & Suites Jackson, Econo Lodge Inn & Suites, Courtyard by Marriott, and Hilton Garden Inn Jackson.
Tourist attractions to explore during your stay in Jackson include the Cypress Grove Nature Park, Casey Jones Village, Rusty's TV, and Movie Car Museum, Samuel T. Bryant Distillery LLC, and the International Rock-A-Billy Hall of Fame.
Tennessee Drug and Alcohol Laws
Tennessee law includes the following policies regarding substance use and addiction treatment:1,2,3,4
Good Samaritan Overdose Prevention Act: Passed in 2014, this law centers on the opioid overdose antidote, naloxone. The law includes four key components:
Provides immunity from civil suits to those who prescribe naloxone
Allows the Department of Health to provide training on naloxone use
Grants civil immunity for administering naloxone to someone who appears to be overdosing on an opioid
Requires Tennessee residents to receive basic instruction on how to administer naloxone, in order to be protected by this law
Tennessee Naloxone Distribution: Enacted in March 2022, Public Chapter 749 increased access to naloxone in Tennessee. The law allows organizations such as schools, homeless shelters, recovery organizations, and hospitals to prescribe and distribute naloxone. It also allows health care practitioners to prescribe naloxone to individuals at risk of an overdose as well as to family and friends of those at risk.
Adult Drug Court: This law protects Tennessee residents who seek medical assistance for a person who is experiencing a drug overdose, as well as the person who is experiencing the overdose, from arrest, charge, or prosecution for simple possession. The law is designed to prevent overdose deaths by removing fear of legal repercussions when calling 911.
Tennessee Drug Treatment Instead of Incarceration Act: This bill allows nonviolent drug offenders to participate in a rehab program instead of serving jail time. If they successfully complete treatment, the court will dismiss the charges.