Sobriety Solutions of New Jersey
200 Independence Boulevard
Sicklerville, NJ 08081
Get Help Now - 609-400-4136
Who Answers?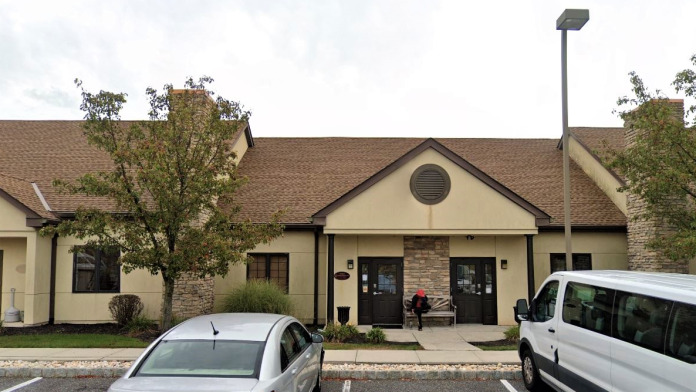 Amenities
Art Activities
Business Center
Executive Setting
Luxury Accomodations
Music Therapy
Private Setting
Pick Up/Drop Off
Wifi Available
Addiction Treatment Programs
Adult Rehab
Alcohol Rehab
Cognitive Behavioral Therapy
Substance Abuse
Men's Program
Opioid Rehab
Women's Program
Young Adult Program
Levels of Care
Detox Treatment
Inpatient Addiction Treatment
Partial Hospitalization
Outpatient Addiction Treatment
Aftercare Support
Intervention Services
Insurance
Financial Assistance Available
Financing Available
Private Insurance Options
Self-Pay
Contact Sobriety Solutions of New Jersey
856-302-1362
sobrietysolutions.com
200 Independence Boulevard
Sicklerville, NJ 08081
Location Details and Hours
Other Facilities Near Sicklerville
Thumbnail
Name
Address
Phone
Treatment
Insurance

ARS of Turnersville

110 American Blvd Suite 5, Turnersville, NJ 08012

856-352-5999

Detox

Inpatient

Outpatient

Private

Epiphany Wellness Drug & Alcohol Rehab New Jersey

461 NJ-168, Blackwood, NJ 08012

609-710-9423

Detox

Inpatient

Outpatient

Private

Maryville Addiction Treatment Center Turnersville

129 Johnson Road
Turnersville, NJ 08012

856-823-3428

Outpatient

Medicaid

Private

Center for Family Services Community Connections Outreach Program

1324 Little Gloucester Road
Blackwood, NJ 08021

609-238-0685

Outpatient

Medicaid

Oaks Integrated Care

128 Cross Keys Road
Berlin, NJ 08009

856-210-1500

Outpatient

Medicaid

Recovery at the Crossroads

509 New Jersey 168
Blackwood, NJ 08012

856-373-4434

Inpatient

N/A
More Addiction Facilities Near Sicklerville
View more listings near Sicklerville or search by the letter of cities in New Jersey.
View More (A)
Rate by Category and Submit a Review!
Find a Rehab Center
Select a state to find options for rehab centers in your area.
Browse By State