Alcohol and Drug Use Statistics in Bend, OR
Some facts about drug and alcohol use in Bend, OR include:1

20%
Between 2014 and 2017, 20% of adults in Deschutes County reported binge drinking.
12%
In 2020, 12% of 11th graders in Deschutes County reported binge drinking.
100,000
In 2020, the rate of naloxone use was three people for every 100,000 residents.
Pay for Alcohol and Drug Rehab in Bend, OR
The cost of alcohol or drug rehab in Bend, OR does not need to be a barrier to getting the help you need for a substance use disorder. You can find rehab programs that have financial assistance for people who might not be able to afford treatment otherwise. Financial assistance can include the following:

Government-funded treatment facilities: Federal, state, or local governments give funding to rehab programs so they can provide low-cost and free care. This includes federal government funding for methadone clinics, which provide medication-assisted treatment for opioid addiction.
Sliding scale rehab centers: Some drug rehabs in the area around Bend, OR, receive grants from private entities, such as SAMHSA or other non-profit funders. Grant money allows the facilities to reduce the fees for people who might not otherwise be able to afford rehab.
Rehab scholarships: Some churches and organizations like 10,000 Beds offer scholarships that pay for some or all of the cost of attending rehab. Rehab facilities may have money budgeted to financially aid people who need assistance paying for their care.
There are state-funded rehabs in Oregon that provide care to residents who meet financial eligibility guidelines and who don't have insurance. This funding applies to 1,427 residential rehab beds throughout the state.2 You may need to travel outside the Bend area for treatment under this program. To locate an available bed, call the Alcohol and Drug Helpline at 1-800-923-4357.
The State of Oregon has been steadily expanding its Behavioral Health Resource Network (BHRN) in each county. A BHRN can be one agency or a group of agencies that provide screenings, referrals, and substance abuse treatment. The services provided by BHRNs are free. There are six BHRN-approved organizations in Deschutes County.3
You can also find a rehab program in the Bend, OR, area by typing "alcohol rehab" or "drug rehab" in a search engine or directory website.
Private Insurance, Medicare, and Medicaid
All health insurance policies are required by law to cover substance abuse treatment. This applies to private insurance, including employer-sponsored health plans and any health insurance you buy for yourself. It also applies to government insurance plans like Medicare, Medicaid, and military insurance.
Private Insurance
Many Bend, OR, rehabs and facilities in Deschutes County, accept private insurance. This includes policies from companies like Aetna, UntiedHealthCare, Blue Cross Blue Shield, and Kaiser Permanente. Private insurance may cover a significant portion of your rehab costs. Private insurance usually pays for more of your care if you attend a program within their preferred network. Talk to the rehab to confirm that it will accept your insurance before you enroll.
Medicaid
Medicaid is a federal-state partnership that provides health insurance to people who meet income requirements, are pregnant, and people with certain disabilities.
The Oregon Medicaid program is called the Oregon Health Plan (OHP). OHP rehab care. It includes residential and outpatient programs, group and individual counseling, plus alternative care like acupuncture, medication-assisted treatment4, and detox.
In Bend, OR, programs like Rimrock Trails Bend Counseling Services and facilities in the Saint Charles Health System accept Medicaid.
Medicare
Medicare is the federal insurance plan that covers people 65 and older or individuals with certain health conditions or disabilities. Medicare covers a variety of addiction treatment options, including:5
Medication-assisted therapy, such as methadone treatment
Alcohol misuse screenings
Outpatient rehab, including partial hospitalization
Telehealth
Group and individual therapy
Visiting Bend, OR: Local Information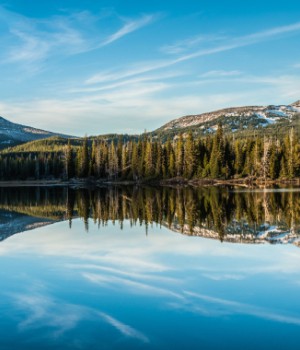 Bend, OR, is located in central Oregon, about 90 miles east of Eugene. The nearest airport is the remind Municipal Airport. Bend is accessible by US Routes 20 and 97. The city is located close to ski resorts in the Cascades Mountains range, and it's a destination for people who enjoy outdoor activities like hiking and camping in the warmer months.
Families visiting loved ones in rehab in Bend can choose to stay in hotels, resorts, and vacation rentals. The thriving restaurant scene offers a spectrum of cuisines and many food trucks operating in town.
There is limited bus service in downtown Bend. Having access to a car will make getting around town easier. Bicycles are a popular option for getting around town, and there are stores in the area that rent bikes.