Alcohol and Drug Use Statistics in Wilmington, North Carolina
Substance abuse, overdose, and addiction treatment data gathered by the North Carolina Department of Health and Human Services for New Hanover County shows that:1, 5, 6
Financing Alcohol and Drug Rehab in Wilmington, North Carolina
If you're ready to seek treatment at a drug or alcohol rehab in Wilmington, you have several options for paying for your therapy and care. Even if you don't think you can afford rehab, you can still get help. Several Wilmington drug rehabs and alcohol rehabs can work with you, regardless of your ability to pay.
If you're seeking low-cost or free treatment in Wilmington, here are a few options you may want to look into:

Publicly funded rehab centers: These state-licensed facilities get funding from the government and other public sources. That funding allows them to provide evidence-based treatment for individuals who cannot afford to pay for rehab.
Sliding scale treatment facilities: If you have an opioid-use disorder, you may be eligible for reduced-cost or free medication-assisted treatment (MAT) at one of these facilities. Many offer various forms of payment assistance to help ensure anyone needing therapy for opioid dependence can access it.
Methadone clinics: Treatment centers that have a sliding fee scale use your income to determine the cost of your rehab program. The lower your income is, the less you'll pay for treatment, as these facilities will only charge you what you can realistically afford.
You may be able to qualify for reduced-cost or free care at one or more of the following three treatment centers within 25 miles of Wilmington:7
Reflections of Hope
Coastal Horizons Center
Community Support Agency
Paying for Addiction Treatment With Health Insurance
If you have a health insurance plan, you may be able to use it to pay for treatment at various Wilmington alcohol rehabs and drug rehabs. Under the Affordable Care Act, most private insurers must cover addiction treatment to some extent.8 Public health plans such as Medicare and Medicaid also cover "medically necessary" inpatient and outpatient substance abuse treatment services.9, 10
Keep in mind that each plan has unique coverage stipulations and limits. While some plans cover the full cost of care, others only pay for specific services, program lengths, or specific percentages of total treatment expenses. If you're unfamiliar with your plan's coverage, call your insurance provider to get a breakdown of your benefits and a list of local facilities that take your insurance.
In and near Wilmington, you'll find 15 quality rehab facilities that take private insurance from various providers, including Cigna, Magellan, United Healthcare, and others. You'll also find 14 treatment centers that take Medicaid and 10 that accept Medicare.7 If you'd like assistance determining which treatment center locations take your insurance, call our helpline to speak with a specialist who can help verify your coverage.
How Easy Is It to Travel to and Within Wilmington, North Carolina?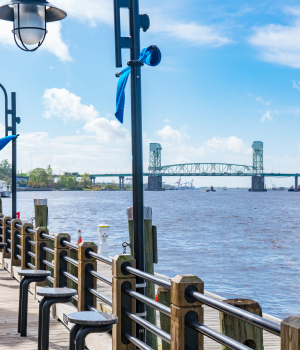 Whether you're interested in traveling to Wilmington for rehab or want to visit a loved one who's in treatment, here's what you should know:
Traveling to the city: You can fly into Wilmington International Airport, which is located just six miles north of the city. Driving to and throughout Wilmington is easy, too. Several major transit routes lead into and around the city, including Interstates 40 and 140, as well as U.S. Highways 17, 74, 117, and 421.
Lodging: If you need a place to stay, you'll find dozens of hotels in the Wilmington area. Most are 2- and 3-star establishments, but you'll find a handful of 4- and 5-star hotels, too.
Getting around on foot: While Wilmington's historic downtown area is highly walkable and bikeable, you'll need vehicle transportation to get around the rest of the city efficiently.
Public transit: Wilmington's public transportation operator, Wave Transit, has 16 regular bus routes throughout the city. All but one of those routes runs seven days a week.
Things to see and do: Popular attractions include Riverwalk, Airlie Gardens, Wrightsville Beach, and the refurbished World War II Battleship North Carolina. Live Oak Bank Pavillion and Riverfront Park host several national touring musical acts, and the city also boasts several public parks, museums, and two golf courses.
Call our 24/7 helpline at 800-926-9037 (
Who Answers?) to chat with a treatment support specialist who can help you find Wilmington drug rehabs that suit your needs.
Resources