Drug and Alcohol Use Statistics in White Plains, NY
Drug and alcohol misuse and overdose affect many residents of White Plains, NY, and Westchester County. Some statistics about drug and alcohol use in the region include:1,2,3,4

339
There were 339 emergency room visits for opioid overdoses in Westchester County in 2019.
2,558
In 2020, 2,558 Westchester County residents enrolled in rehab programs certified by the Office of Addiction Services and Support in order to treat opioid addictions.
16%
In 2018, 16% of adults in Westchester County reported binge drinking.
Levels of Substance Abuse Treatment
Multiple levels of addiction treatment are available. Some New York residents begin treatment with detox and work through the entire continuum of care. Others require only the least intensive levels of treatment.
Detox
Detox takes place in a supervised setting, such as a hospital or inpatient rehab facility. This is the process of safely clearing your system of all drugs and alcohol.
Residential or Inpatient
The most intensive treatment setting, residential or inpatient treatment involves 24/7 supervised care. At this level of care, you typically participate in individual, group, and family therapy sessions, and you may receive medication and additional recreational therapies.
Partial hospitalization programs (PHPs)
PHPs are less intensive than inpatient, because you only stay at the facility during treatment times, then return home. Treatment often involves some of the same methods used in residential care.
Intensive Outpatient Programs (IOPs):
A step down from PHPs, IOPs provide several hours of treatment over several days per week. Methods often include individual and group therapy. Many New York residents transition to IOPs after completing a residential or PHP program.
Standard Outpatient
Standard outpatient programs involve a couple of hours of care per week, typically with a therapist at an outpatient clinic or at their office. This level of care is appropriate for individuals who have mild addictions and strong support systems.
Aftercare
Once outpatient or inpatient treatment is completed, aftercare begins. This ongoing support includes methods such as 12-step meetings, transitional housing, or therapy. It is an important component of relapse prevention.
How to Pay for Drug Rehab in White Plains, New York
Private Insurance
Per the Mental Health Parity and Addiction Equity Act, all insurance providers must cover substance abuse treatment to some extent. Each plan differs, so New York residents should contact their providers to confirm exactly what is covered under their plan.
New York Medicaid
New York Medicaid is a government program for low-income residents whose resources/income are below specific levels. Eligible New York residents include pregnant women, children, and individuals certified blind or disabled. To use this program, residents must apply for Medicaid coverage in New York, and the treatment facility must accept Medicaid as a method of payment.
Medicare
Medicare is a government health insurance program that provides coverage for New York residents aged 65 and older, and individuals with certain disabilities. Some forms of addiction treatment are covered under Medicare Parts A and B. However, not all rehab facilities accept Medicare as a payment method, so it's important to research the program before enrollment.
Sliding Scale Rehabs
Sliding scale rehabs allow New York residents to pay only what they can afford based on their income. To qualify, residents must provide proof of income when applying for treatment in New York.
TRICARE in New York
TRICARE in New York (East region) provides health insurance coverage for U.S. military personnel, veterans, and their dependents. Coverage includes addiction treatment services; however, various plans differ in what they cover.
IHS-Funded Drug Rehabs
At Indian Health Service (IHS) rehabs, Native Americans and Native Alaskans who need SUD treatment can receive low-cost or free services, even if other insurance coverage is available.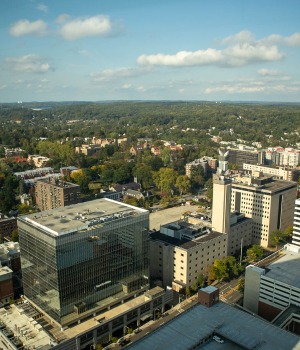 Everything You Need to Know About Visiting White Plains, NY
Here are some helpful travel tips if you are planning to attend rehab in White Plains or if you will be visiting loved ones receiving treatment in the area:
The closest airport to White Plains is Westchester County Airport. New York JFK and LaGuardia airports are about an hour's drive from White Plains. You can also reach White Plains by Metro-North train.
You can drive to White Plains via Interstate 287.
There is a regional bus service for the area in and around White Plains. Having access to a car or ride-share service can also make getting around easier.
White Plains has a thriving restaurant scene. You can choose between a variety of cuisines such as Italian, Greek, Brazilian, and pub fare.
There are a few hotels in White Plains, most of which are fairly costly. You can find more accommodations at lower price points in nearby communities like Tarrytown and Yonkers. You can also look for rental accommodations on sites such as Air BnB.
There are many entertainment options in and near White Plains, including Legoland Discovery Center, the Westchester Children's Museum, the Lyndhurst Mansion, and the Hudson River Museum. In addition, there is a variety of historic Revolutionary War sites. New York City is an hour away by train, and visitors can enjoy all the New York attractions like Broadway shows, shopping, sporting events, and concerts.
New York Drug and Alcohol Laws
New York laws include the following policies regarding substance use and overdoses:1,2,3,4
911 Good Samaritan Law: This law protects New York residents who seek or receive emergency medical assistance for a suspected overdose. It does not cover drug felonies or those who have open warrants out for their arrest. It is meant to save lives by removing fear of legal repercussions for:
Possession or use of a controlled dangerous substance
Possession or use of drug paraphernalia
Providing alcohol to minors
Overdose Prevention Bills: The governor of New York has signed five bills into action, S.911/A.2354, S.1795/A.533, S.2523/A.868, S.6044/A.128, and S.7228/A.5511, to reduce the number of overdoses across the state and encourage New York residents to seek help for substance use disorders. Each bill seeks to decriminalize individuals with substance use disorders and provide care for all. For example, one bill is designed to encourage judges to order individual treatment instead of incarceration for nonviolent crimes.
Employee Protections for Addiction Treatment: The state of New York considers substance use disorders a disability. This status protects employees with SUDs under the Americans with Disabilities Act. They can't be discriminated against or fired for their SUD, although the law does not protect those who use substances during work, which may be grounds for disciplinary action.
Drug and Alcohol-Free Workplace: In New York, on-the-job use of, or impairment from, alcohol and controlled substances is prohibited. If employers have reasonable suspicion of job duty impairment due to the use of alcohol or controlled substances, they may require the employee to undergo medical testing. If the employee is found to have an SUD disability, they may refer the employee to the state Employee Assistance program, pursue disability leave procedures, or enact disciplinary measures if applicable.